Enjoy a healthy start to your morning with these easy to make and tasty Gluten Free Carrot Coconut Pancakes that are high in fiber and protein.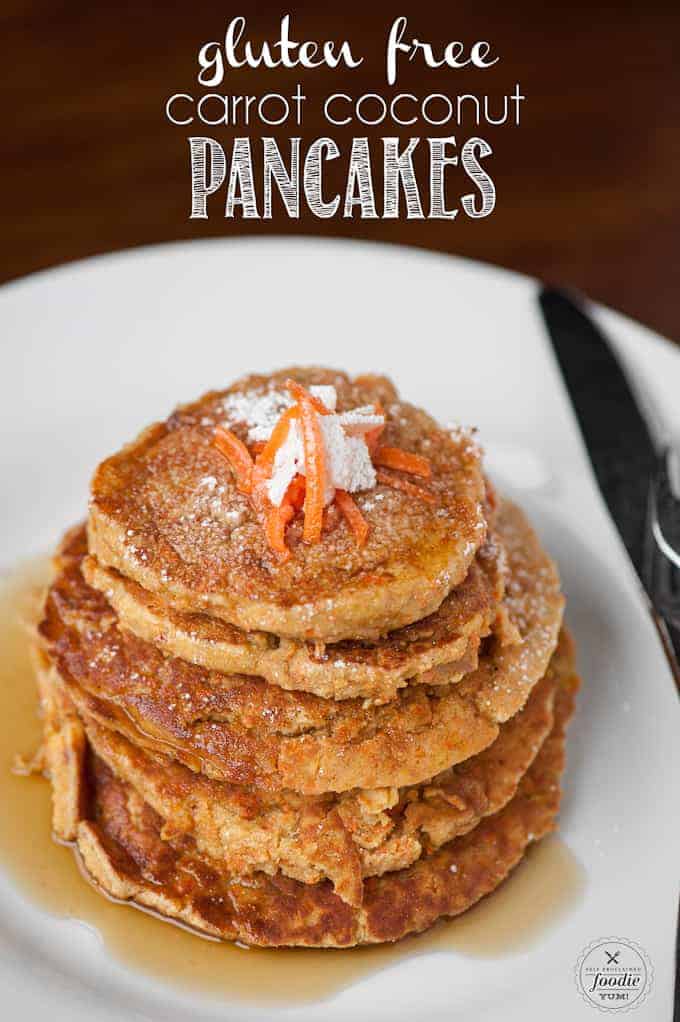 We're not a gluten free household. We're extremely fortunate to not have any dietary restrictions in our household, and if you saw the quantity and variety of food our kids inhale on a daily basis, you would see that they eat pretty much anything and everything. Occasionally I do like to experiment with gluten free options because a) I could definitely live with a little less processed flour in my diet and b) one of my best friend's is gluten intolerant and she has promised me that she'll come visit soon, so I need to get creative in the kitchen (yes, Malynda, I'm referring to you). Do you like my carrots? I buy the organic colorful ones at Trader Joe's. They make me happy.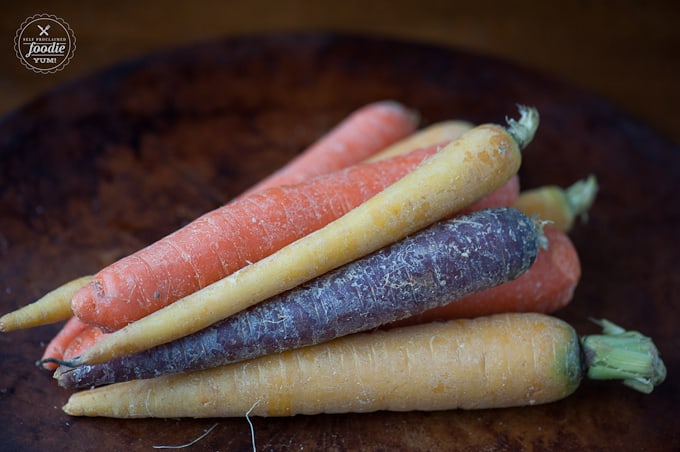 Here's how my brain works when it comes to recipes like these: 1) Easter is coming soon, I should make something with carrots. Because bunnies eat carrots, and when I think of Easter, I think of bunnies. 2) Oh, I know. I like carrot cake, so I'm sure carrot pancakes would be really good. 3) Look at that big bag of organic coconut flour I've never used. Carrot would go really well with coconut. I should use that. 4) Weird, the bag of coconut flour says you can use it for part of the flour in your recipe, but you need some other kind of flour too. Carrot and coconut seem pretty healthy… should I go the healthy route? 5) Yeah, let's do healthy and dial it up and notch and make them gluten free too by using oats. 6) Why not go the extra mile and give them a little protein push with some greek yogurt.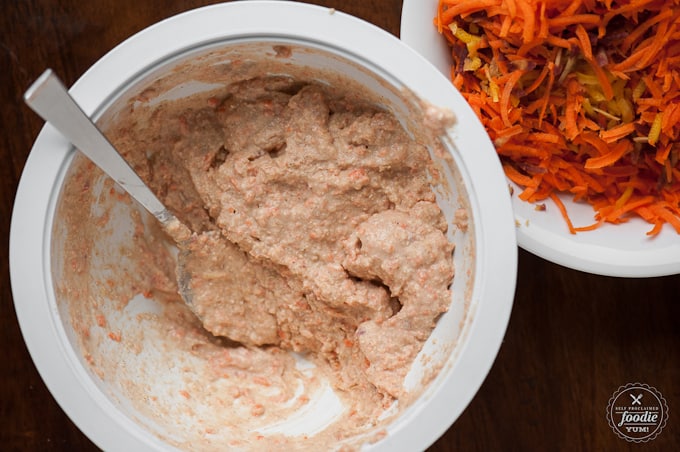 So, I have never cooked with coconut flour before. It smells divine. This stuff is super high in fiber, though, which means that it will suck up any liquid instantly. I feel like I had the right amount of liquid between the coocnut mulk and the yogurt and the syrup, but the batter was still thick.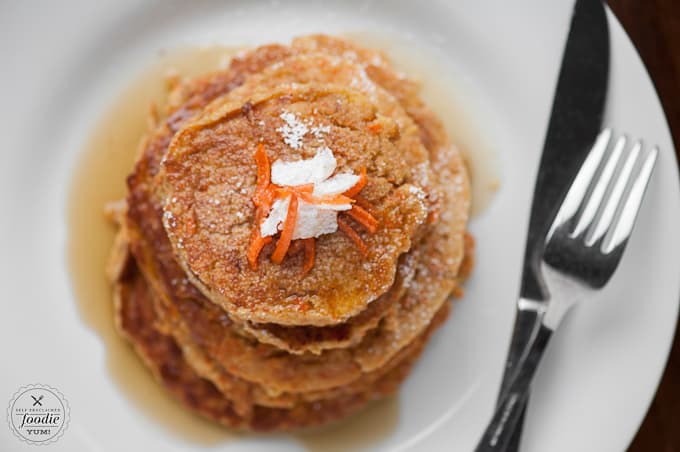 I started off by making "normal" sized pancakes, however these little gems were pretty hard to flip. My advice to you is to make lots of little pancakes that are no wider than your spatula. You should also cook them on very low heat to allow them to set without burning before you flip them. The result is a super delicious good-for-you pancake that will fill your belly and give you energy to sustain you through the morning. My kids gobbled them up and were fighting over the last ones. I plan on making this many more times. YUM!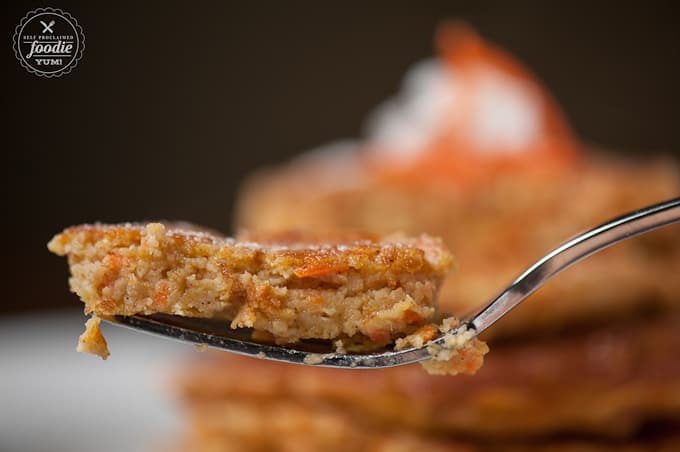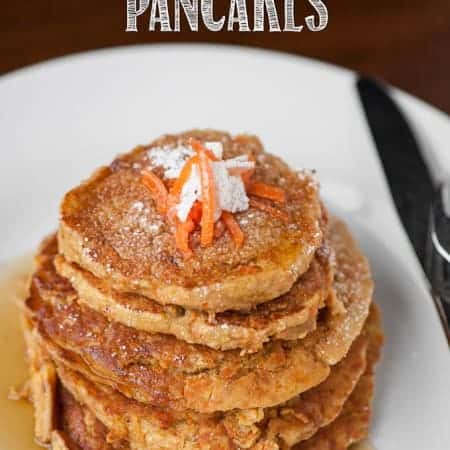 Carrot Oat Waffles
Enjoy a healthy start to your morning with these easy to make and tasty Gluten Free Carrot Coconut Pancakes that are high in fiber and protein.
Print
Pin
Rate
Ingredients
1

cup

rolled or steel cut oats

1/2

cup

coconut flour

1

teaspoon

cinnamon

1

teaspoon

baking powder

1/2

teaspoon

salt

2

large eggs

5.3

ounce

container nonfat greek yogurt

I used Trader Joe's honey flavor

1/2

cup

unsweetened applesauce

I used vanilla bean pear sauce I had on hand

2

tablespoons

maple syrup

1

teaspoon

pure vanilla extract

1

cup

shredded carrots

packed

2/3

cup

lite coconut milk

I use canned

1

tablespoon

butter
Instructions
Process oats in blender until they are as fine as flour. Add oat flour to medium sized bowl and combine with coconut flour, cinnamon, baking powder, and salt. Set aside.

Add eggs, yogurt, applesauce, maple syrup, vanilla, shredded carrots, and coconut milk to blender. On low speed, process until well combined and shredded carrots are as small specs. Add wet contents of blender to dry ingredients and stir just until combined. Do not over mix.

Heat griddle on low heat and melt butter. Spoon small amounts of batter onto griddle to form small pancakes. These are tricky to flip, so smaller is better. Cook until pancake isn't very wet, then flip only once and do not smash down. Remove from griddle when both sides are lightly golden brown. Serve with pure maple syrup and toasted coconut.