Do you know How to Freeze Fruit? Discover how to pick your own fruit or buy it in bulk at the Farmer's Market, flash freeze it, and use only what you need.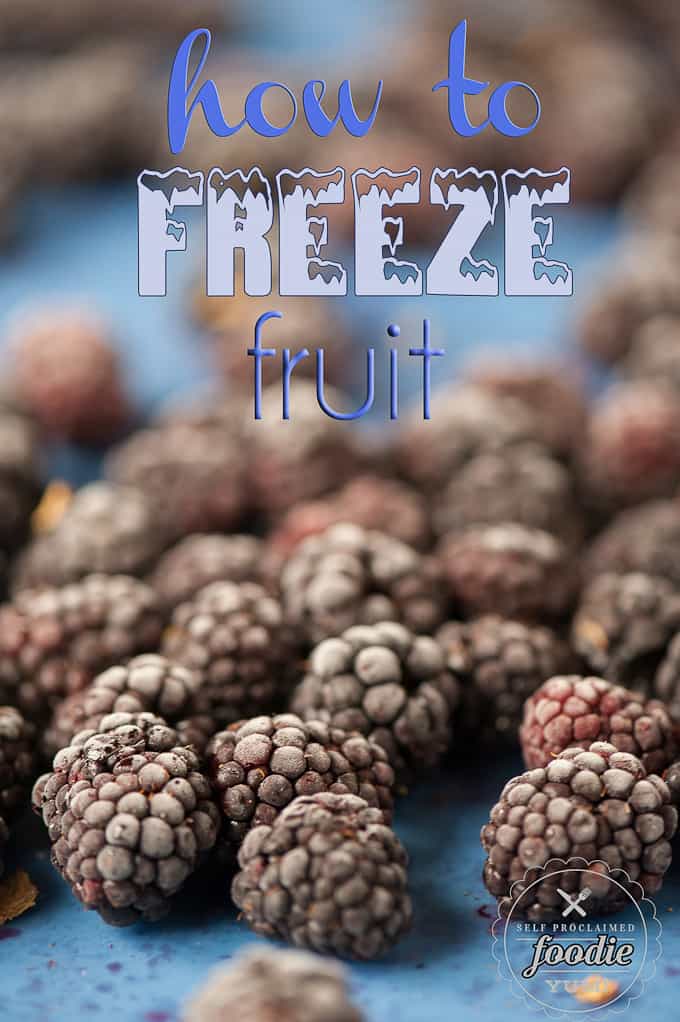 I've been cooking pretty much my entire life but I think this method of freezing fruit was only discovered a couple years ago. You see, I've always purchased fruit that is fresh or already frozen. The stuff that is already frozen never ever really tasted that good to me. My smoothies always seemed a bit bland in the winter months when I couldn't throw in fresh produce. I felt like I was cheating when I wanted to make a fruit dessert and used a bag of pre-frozen fruit from the store. Not now. Now I live in the beautiful state of Oregon where fresh berries and stone fruit are abound. When I have an abundance of frozen fruit at my disposal, I can throw together a make ahead blueberry peach oven baked french toast and have a wonderful breakfast that tastes like summer ready to cook when we wake up.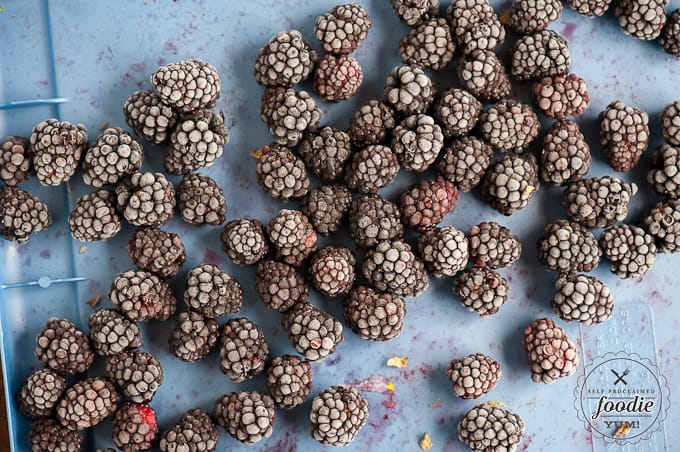 Now I take great pride in picking boxes and boxes of my own fruit and freezing it that very day. You can't get much more fresh than that, now can you? On the days when its just too hot to go picking, or (let's face it) I'm feeling a bit too lazy, I'll buy a big box of it at the farmers market. They usually give you a bulk discount too which is always nice.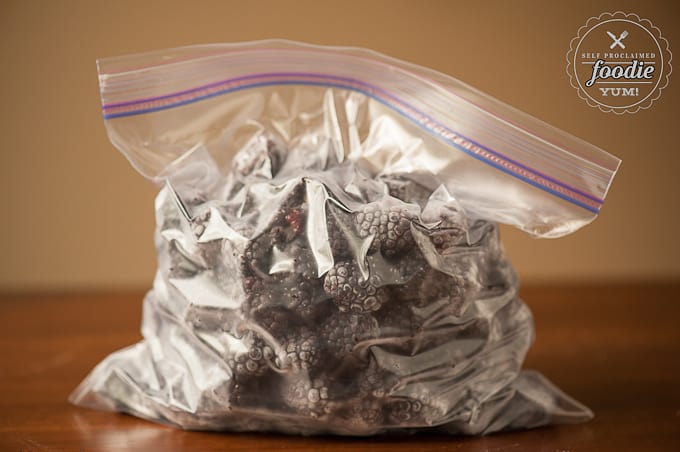 The trick is to lay the fruit out in a single layer and allow it to freeze this way. Then, once its frozen, you throw it in your resealable freezer bag and away it goes to hibernation. If you were to just throw the fresh fruit into one big bag and freeze it, it would likely all stick together. When you're making an awesome smoothie in the dead of winter and only want a handful of blueberries to throw in there, look no further than your well stocked freezer.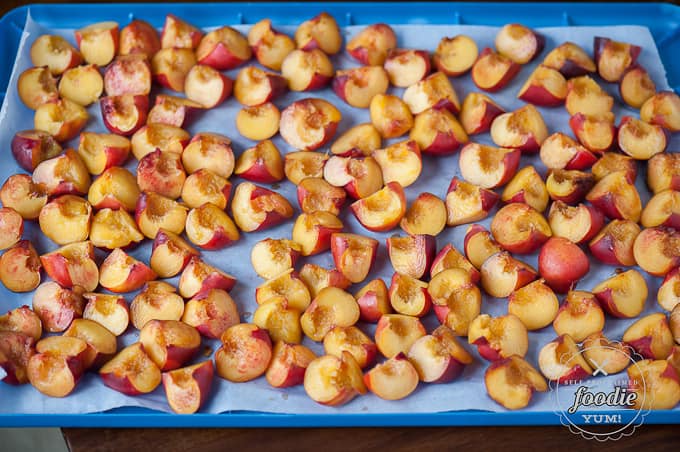 See these beauties? They are called donut, or saturn, nectarines and they are WONDERFUL. I usually throw in a handful of berries and a handful of nectarines along with some beautiful greens into my superfood smoothies. I picked the blackberries that you see in this post but the nectarines came straight from the farmer's market.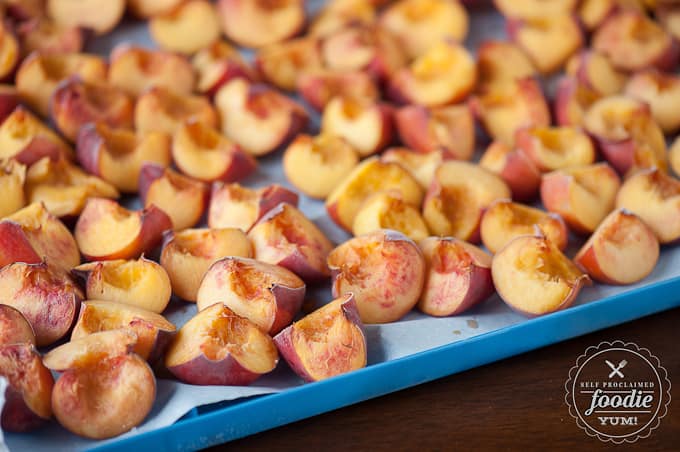 If you were to take a peek at my freezer right now, you'd see a ton of meat from the quarter cow and half pig that I buy every year along with more blueberries, raspberries, strawberries, nectarines, peaches, and green chile (oh yes – green chile) than the average person would know what to do with. I'm prepared for the end of days as long as I don't lose my electricity!
So, that's how I freeze fruit. Its a pretty simple trick, but if I helped just one person out there, this Self Proclaimed Foodie has done her job.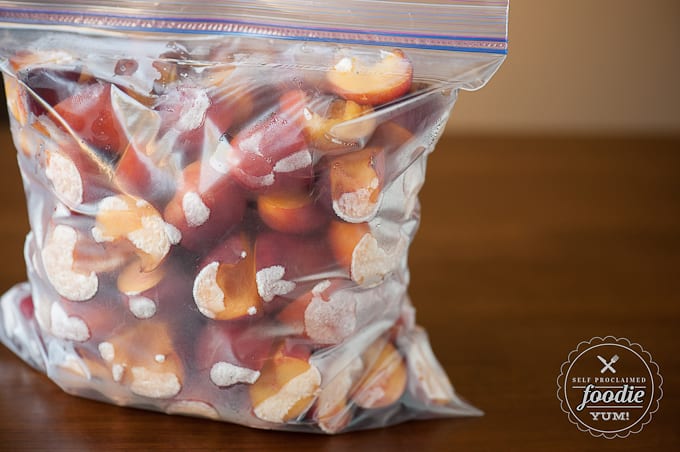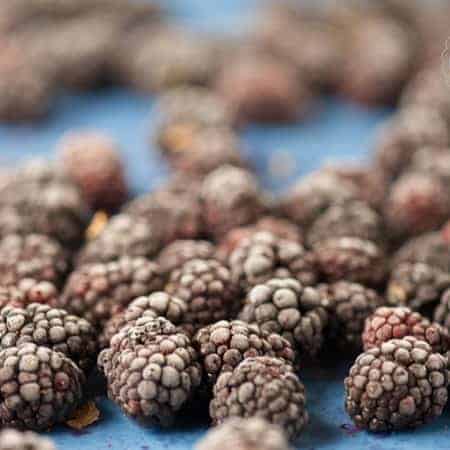 How to Freeze Fruit
Do you know How to Freeze Fruit? Discover how to pick your own fruit or buy it in bulk at the Farmer's Market, flash freeze it, and use only what you need.
Print
Pin
Rate
Instructions
Find a flat plastic lid. I use the largest storage bin lid I can find that will fit in my deep freezer.

Line your lid with parchment paper.

Arrange fruit in single layer. If washing prior to freezing, be sure to ensure fruit is dry before freezing.

Freeze until solid, then add frozen fruit to a resealable freezer bag and immediately return to freezer for storage.