Cream Cheese Brownies are a great variation from your average brownie with a thick, cake like texture and gorgeous swirly look. They are crowd pleasers!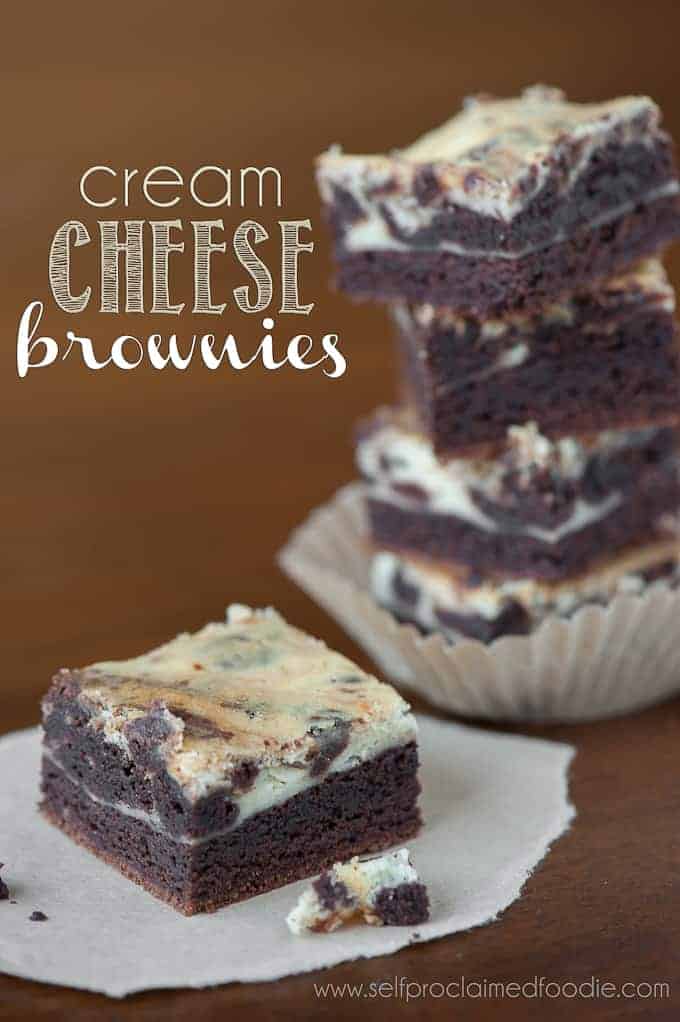 I love brownies.
Confession: I grew up in a house of four dessert loving women.  I have memories of making brownies and cutting the finished pan into four even sections, each of us claiming what looked like the biggest section, and then devouring them with a large cold glass of milk.  Good times.

MY OTHER RECIPES
I believe my dessert loving gene was stronger than my husband's salt loving gene because my kids can lick the batter bowl cleaner than when I wash it with soap and hot water.  Good job kids.  You make mom proud.
I wasn't so sure about this recipe when I made them.  The brownie portion is super thick and the cream cheese portion is really thin.  I wasn't able to achieve a beautiful swirl pattern.  If you have any tips, I'm all ears.  I did the best I could to make them look pretty and just reminded myself that the only thing that really matters is how they taste.  Now here's the best part about these brownies – they tasted good for the entire week that they lasted.  Gone are the days where I take a pan of brownies out of the oven, divide them into four, and they're immediately devoured.  One exception – I was visiting my little sister just last week and we did that very thing with brown butter brownies.  Okay, let me start over.  Nowadays, I make a pan of brownies and they typically last a full week.  This particular batch got packaged up into glass tupperware and taken with us on a camping trip.  I snuck a little brownie every day, only to test the freshness of course, despite the fact that I had two big s'mores every night.  I'm happy to report that these delicious cake like brownies tasted just as good, if not better, than the day they were cooked.  Odd, but appreciated.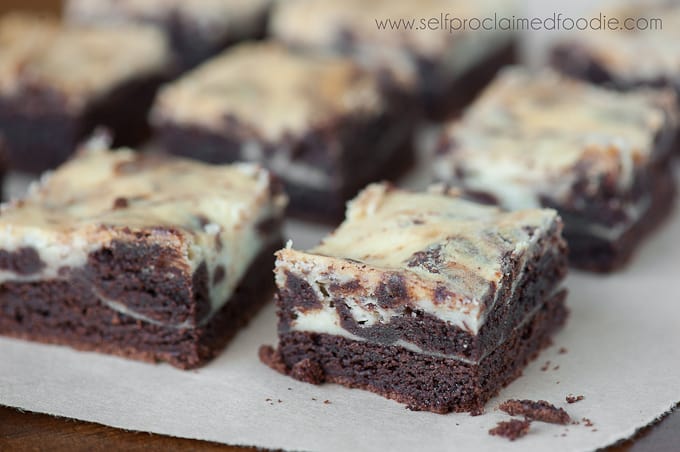 Cream Cheese Brownies
Cream Cheese Brownies are a great variation from your average brownie with a thick, cake like texture and gorgeous swirly look. They are crowd pleasers!
Ingredients
Cream Cheese Portion:
6 ounces cream cheese
2 tablespoons butter
1/4 cup white sugar
1 large egg
1 tablespoon all purpose flour
1 teaspoon vanilla
Brownie Portion:
4 ounces dark chocolate
3 tablespoons butter
2 large eggs
3/4 cup sugar
1/2 teaspoon baking powder
1/4 teaspoon kosher salt
1/2 cup all purpose flour
2 tablespoons cocoa powder
1 teaspoon vanilla
Instructions
Preheat oven to 350 degrees F and line an 8x8 inch baking dish with parchment paper.
Cream butter and cream cheese on high in stand mixer until creamy and smooth. Gradually add 1/4 cup sugar and continue to blend until light and fluffy. Blend in 1 egg, 1 tablespoon flour, and 1 teaspoon vanilla. Set aside.
Chop chocolate into small chunks to enable even melting. Melt dark chocolate and butter on stove over very low heat or on 50% power in microwave. Heat, stir, check and stop heating just when chocolate is melted. Set aside.
In separate bowl, sift together baking powder, salt, flour, and cocoa powder.
Beat two eggs in stand mixer until light and fluffy. Gradually add in 3/4 cup sugar and continue beating until mixture thickens. On low speed, incorporate the dry ingredients. Fold in the melted chocolate butter mixture until well combined. Stir in vanilla.
Spread brownie mixture into bottom of prepared baking dish. It will be very thick. Pour cream cheese mixture over the top. This will be much thinner. With a knife or spatula, swirl some of the brownie mixture into the cream cheese mixture.
Cook in preheated oven 35-40 minutes or until knife or toothpick comes out clean. Allow brownies to remain in baking dish 10 minutes before removing.