Take your pumpkin pie to a whole new level this holiday season. Surprise your guests with some delicious Coconut Macaroon Pumpkin Pie.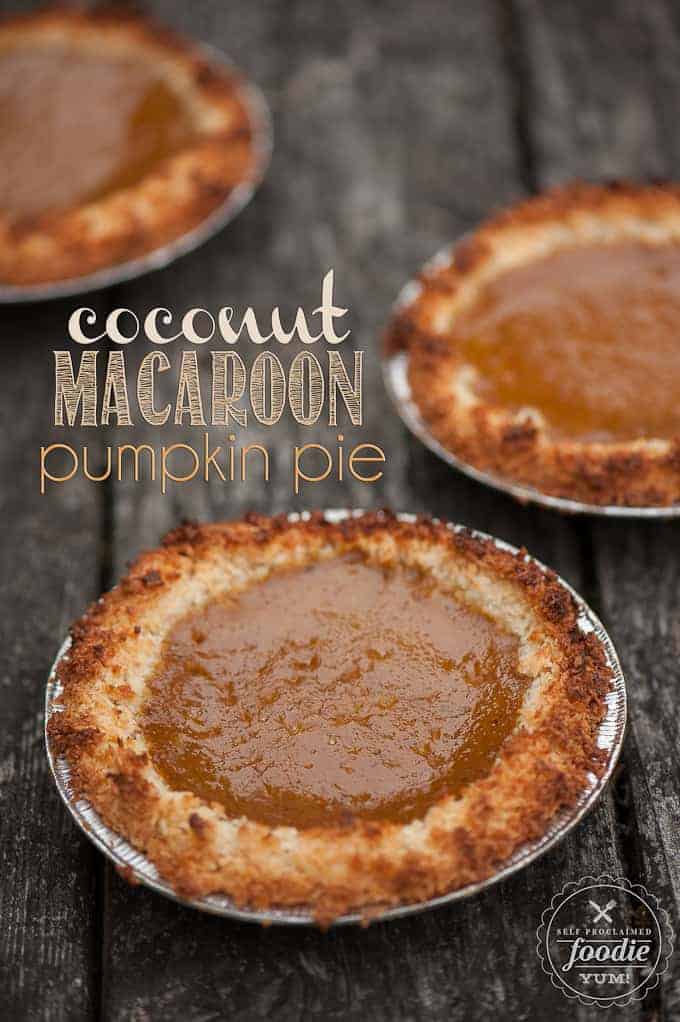 I have some pretty amazing friends. Over the past few years, I was fortunate enough to make even more friends with people who bake for a living. These are quite possibly the best friends to have. My friend Trista owns and operates Cheery Pies. She makes the best damn pies I've ever eaten (sorry mom). In fact, not only did she make these pies in this post but I'll be featuring more of her pies in my upcoming posts, so stay tuned.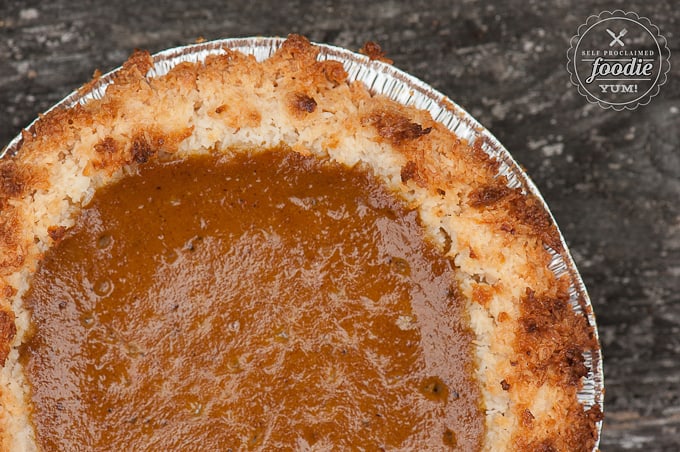 Ladies and gentlemen, may I present to you a pumpkin pie unlike any other you've ever tasted. If you've never considered using a coconut macaroon crust in lieu of a traditional pie crust, you must try it. You see, I like pumpkin pie, maybe more than the average person but not as much as some. It tastes good to me and I will certainly have a slice at Thanksgiving, but I wouldn't say I love it. Now, bake a chewy and sweet coconut macaroon crust underneath and I'm in heaven.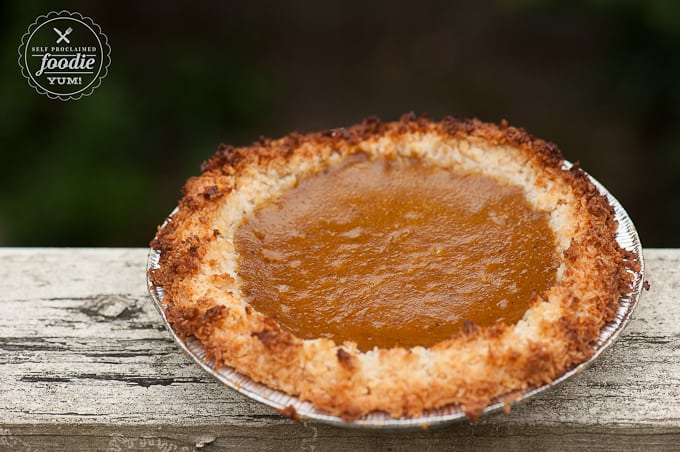 With this recipe, you can either make three 6 inch pies like you see here, or you can make one large 9 inch pie, or you can do the right thing and double the recipe and make twice as much pie! Yeah. That's what you'll want to do.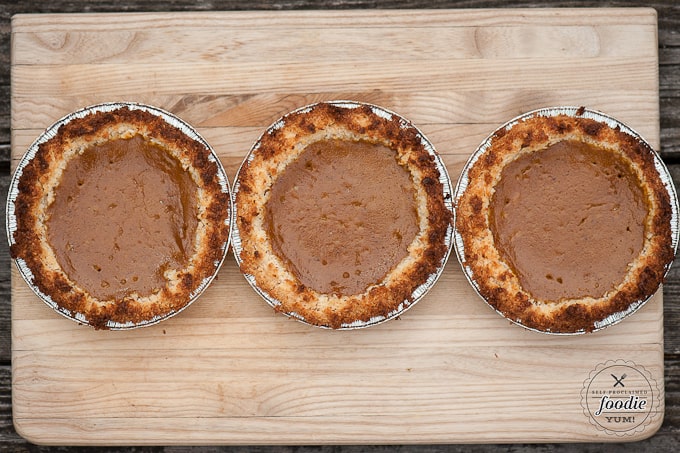 So this Fall, when the name of the game is anything pumpkin, surprise your guests when you say you're serving pumpkin pie and pull one of these marvelous creations out of the oven. Don't tell them what you've created before they've eaten dinner, though, otherwise they may abstain from eating the meal and jump right into dessert.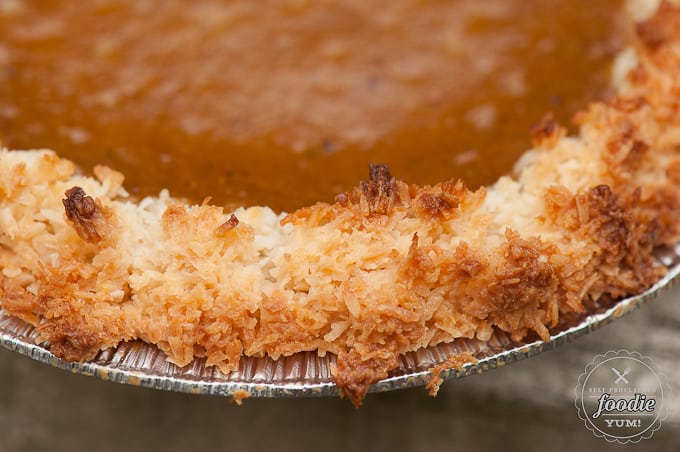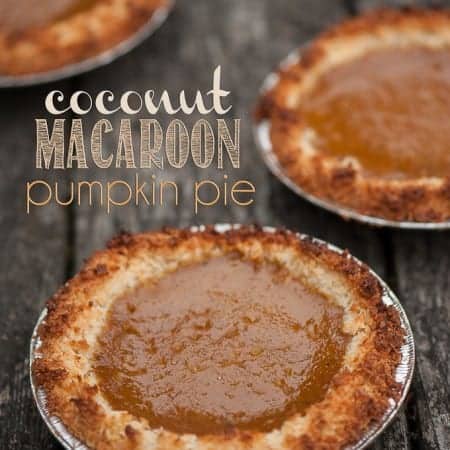 Coconut Macaroon Pumpkin Pie
Take your pumpkin pie to a whole new level this holiday season. Surprise your guests with some delicious Coconut Macaroon Pumpkin Pie.
Print
Pin
Rate
Cook Time:
1
hour
20
minutes
Total Time:
1
hour
50
minutes
Ingredients
This recipe yields three 6 inch pies or one large 9 inch pie
Coconut Macaroon Pie Shell
2/3

cup

sweetened condensed milk

1

large egg white

1 1/2

teaspoons

coconut extract

1/8

teaspoon

salt

3 1/2

cups

unsweetened coconut*
Pumpkin Pie filling
2

cups

pumpkin puree

homemade or caneed

1/2

cup

packed brown sugar

1/2

cup

granulated sugar

2

teaspoons

ground cinnamon

2

teaspoons

ground ginger

1

teaspoon

ground nutmeg

1/4

teaspoon

ground cloves

1/2

teaspoon

salt

2/3

cup

heavy cream

2/3

cup

milk

4

large eggs
Instructions
Preheat the oven to 325 degrees F.

In a large bowl, stir together the sweetened condensed milk, egg white, coconut extract, and salt. Stir until well combined. Stir in the unsweetened coconut and mix well.

Spoon the mixture into a 9 inch pie pan or into three 6 inch pie tins. Using a measuring cup, build up the edges of the macaroon crust and make sure the top edge is as even as possible. Place the pie pan(s) on a rimmed baking sheet in the center of the oven.

Bake the crust(s) for 17 to 20 minutes, or until slightly golden brown. Prepare the pie filling while the crust is cooking, because it is important that the shell(s) and the filling both be hot when they come together to cook in the oven.

While the crust is cooking, place the pumpkin puree, brown sugar, granulated sugar, spices and salt into a large food processor. Process about 1 minute or until well combined. Transfer the mixture to a large saucepan and bring it to a simmer over medium high heat. Cook and stir the pumpkin mixture until it is thick and shiny, about 5 minutes.

After the pie shell comes out of the oven, increase the temperature to 400 degrees F.

Whisk the cream and milk into the pumpkin mixture on the stove.

Whisk eggs together in a small bowl. Incorporate them into the pumpkin mixture.

Pour the filling immediately into the warm shell. Wrap foil around the outer crust so that it does not over brown.

Bake the pie for about 25 minutes. The center will wiggle slightly when shaken. Allow pie to cool on wire rack for 1 hour.
Notes
* Bob's Red Mill small flaked unsweetened coconut recommended