Citrus Brut Artichokes are fresh globe artichokes that are steamed to perfection in a bath of fresh orange juice and brut sparkling wine, then finished off on the grill.
These lovely appetizers are served with a quick and easy citrus brut aioli dipping sauce. Fresh artichokes have never been so easy and delicious!
This post was sponsored by Safeway, but all opinions are 100% my own. #SWYBloggerTours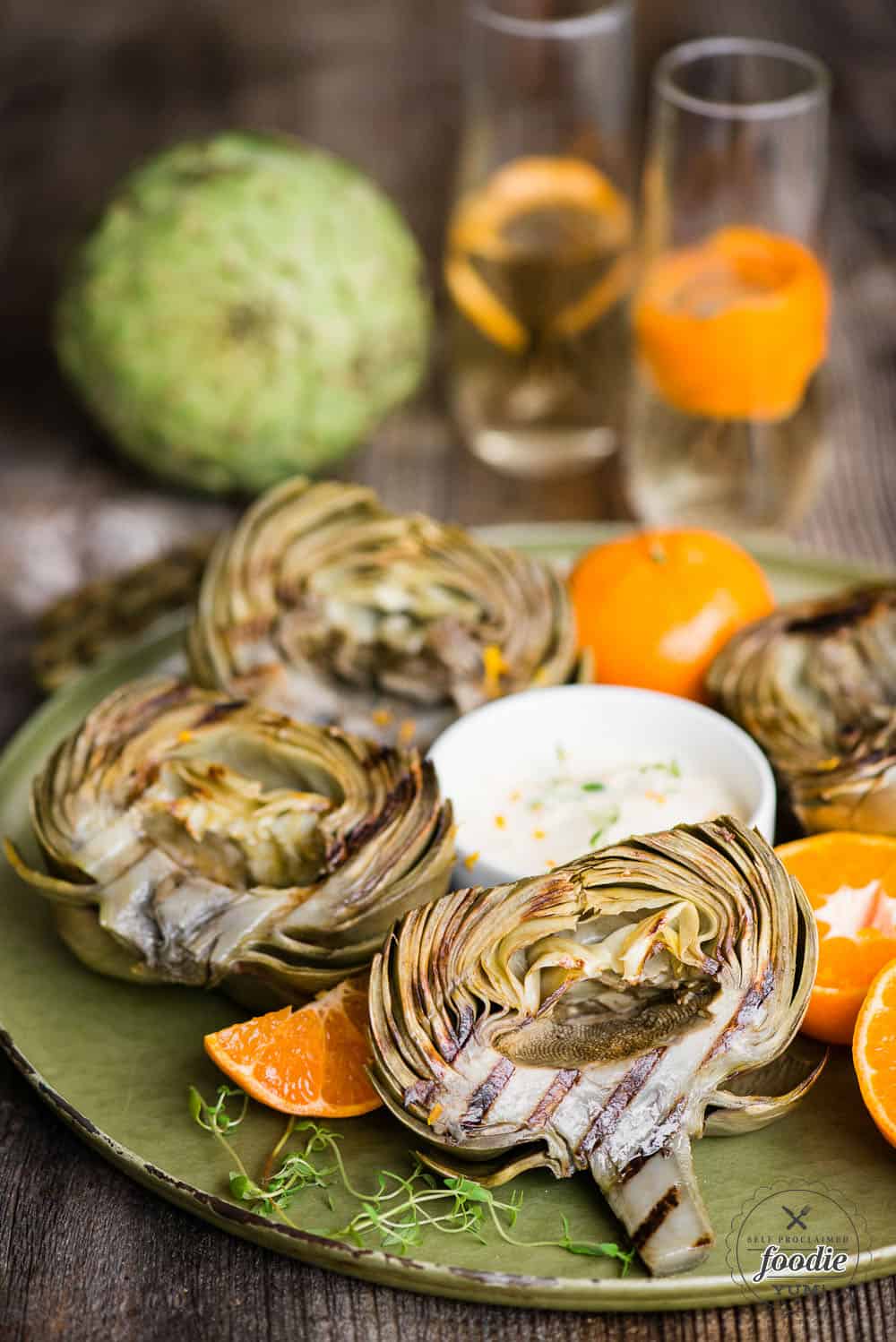 CITRUS BRUT FRESH ARTICHOKES
Pin it to your APPETIZER BOARD to SAVE it for later!
Follow Self Proclaimed Foodie on Pinterest for more great recipes!
Citrus Brut Artichokes was a recipe that was entirely supported created from a Northern California Safeway Blogger Tour that I was lucky enough to be part of a couple of weeks ago. What is a Safeway Blogger Tour, you might be wondering? Well, Safeway is very select in the vendors they choose to carry in their stores. They want to ensure that each and every product they deliver to their customers is a quality product they can stand behind. They especially take pride in carrying locally grown produce. I got to learn about three very unique Northern California brands and now I get to share my experience with you, along with an amazing recipe.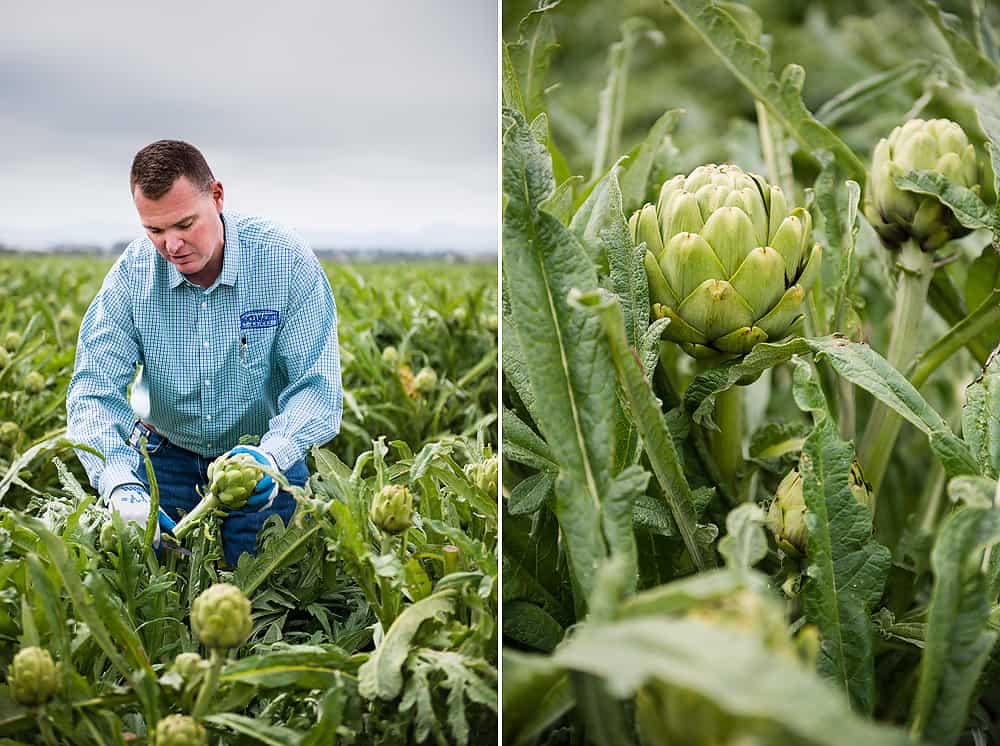 Our incredible day began surrounded by artichoke plants at Ocean Mist Farms in Castroville. There's a reason this town is known as the artichoke capital of the world. Ocean Mist Farms is the largest grower of fresh artichokes in the United States. They are able to farm year-round in three ideal California growing regions: Castroville, Oxnard and Coachella . Why the different areas? Well, each area is known for fertile ground and productive microclimates, plus, depending on the time of year, the artichokes are harvested at different locations.
Interesting facts about growing artichokes:
Did you know that giant artichokes and baby artichokes all come from the same plant? I didn't. The largest artichokes are harvested from the primary branch. Next in size are the ones that grow on the secondary branches. The baby artichokes are small artichokes that grow on the tertiary branches and they will never grow to full size artichokes.
The heart, i.e. the most desired part to eat in the artichoke, actually also runs down the middle of the stem.
Artichokes should be harvested when the leaves are still tight, like a young flour. If you find an artichoke that has bloomed fully open, it is most likely not the best tasting in the bunch.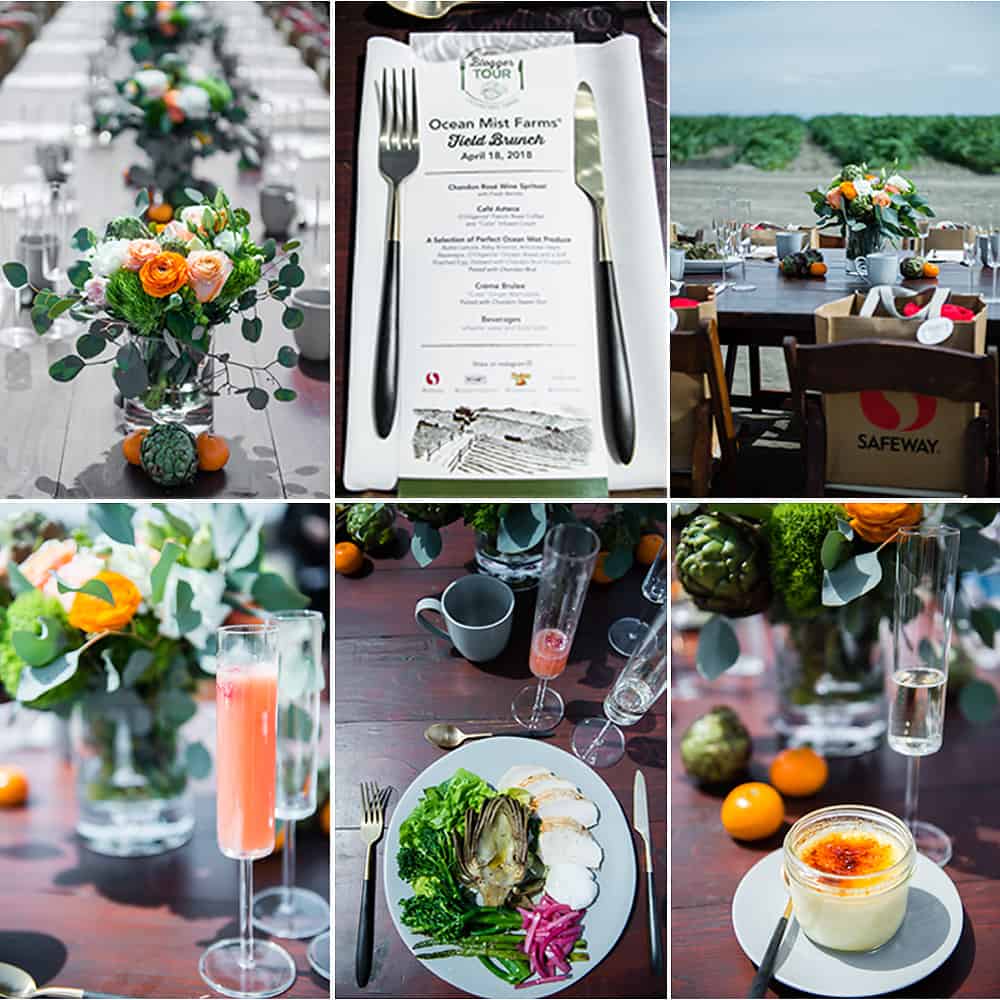 The perfect farm brunch:
Our Safeway Blogger Tour highlighted artichokes from Ocean Mist Farms as well as Cuties and Chandon. How amazing does this meal sound?
Chandon Rosé Wine Sprizer with Fresh Berries
Café Azteca with O Organics French Roast Coffee and Cutie Infused Cream
A Selection of Perfect Ocean Mist Produce including butter lettuce, baby broccoli, artichoke heart, asparagus, O Organics Chicken Breast and a soft poached egg, dressed with Chandon Brut Vinaigrette and paired with a glass of chilled Chandon Brut
Crème Brulee with Cutie Ginger Marmalade and paired with Chandon Sweet Star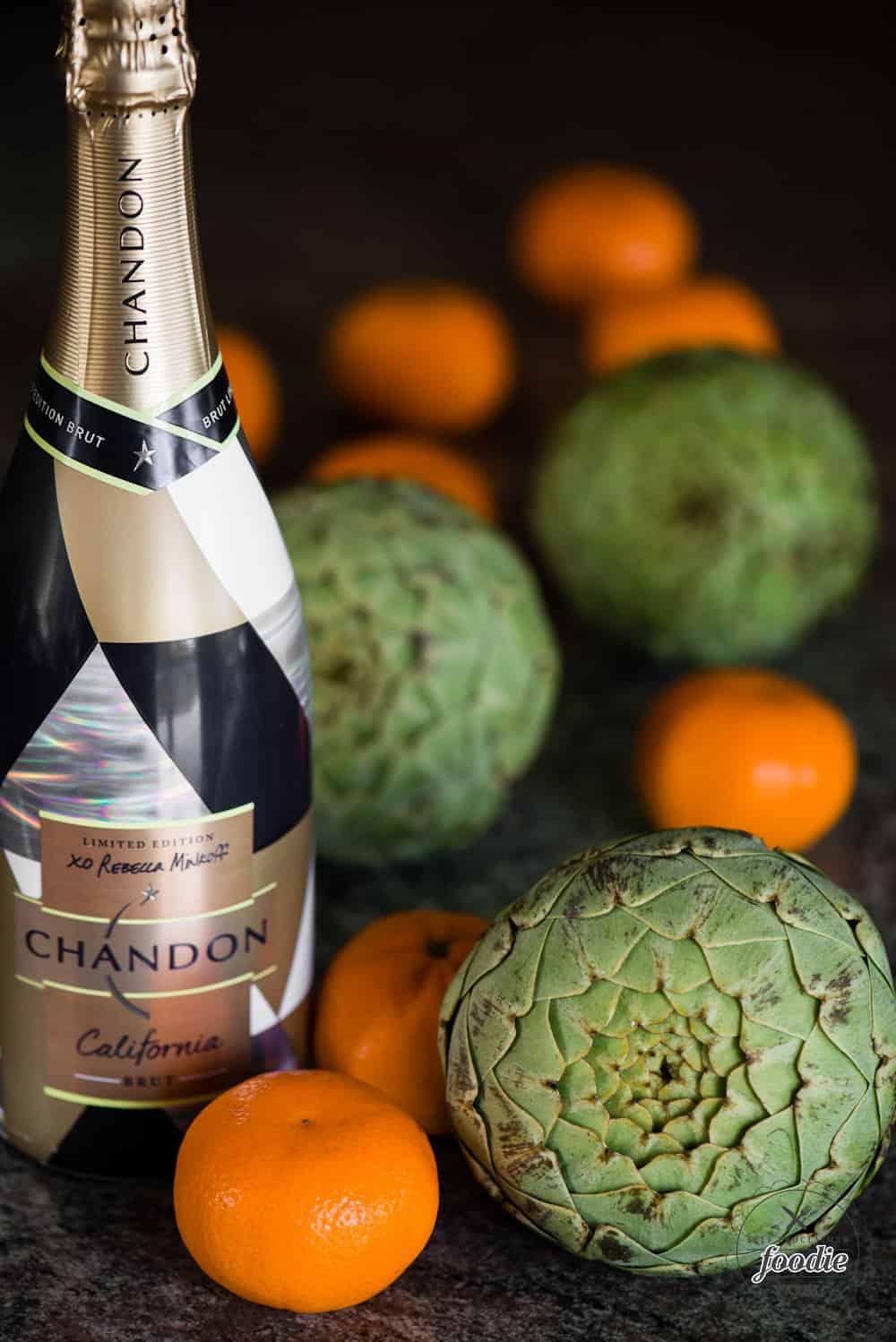 One of the best parts about the Safeway Blogger Farm Tour was getting to know more about the brands.
Let's start with Cuties.
We all love them. What mom doesn't always have cuties on hand for that quick, easy, delicious and nutritious snack for their little ones? I got to learn some fun facts…
Cuties season is from November to April. They are actually my saving grace during the winter months when everything else seems to have gone into hibernation. Citrus to the rescue!
All cuties are mandarins, but they are either clementines or murcotts depending on the time of year they're grown.
Cuties make the best snack for kids because they are completely seedless and super easy to peel.
Sun Pacific are the growers of cuties and they move more than 75 million boxes of fresh fruit from their farmland in California all across the country. I'm pretty sure my house alone consumed a fair amount of them!
And brunch wouldn't be brunch without bubbles!
We were introduced to Chandon Sparkling Wine during our farm tour. My goodness, it is absolutely delicious!
Chandon California is celebrating it's 45th anniversary this year! In 1973, 'M & H Winery' was renamed to Chandon and became the first French-owned sparkling winery in California.
Chandon unites unbeatable California grown grapes with classic French wine making techniques. It's the perfect pairing.
The location of their vineyards are the perfect environment for growing their grapes. The proximity of the bay moderates the vineyard microclimates with morning and evening fog along with afternoon breezes. These conditions result in optimum acidity for our sparkling wines.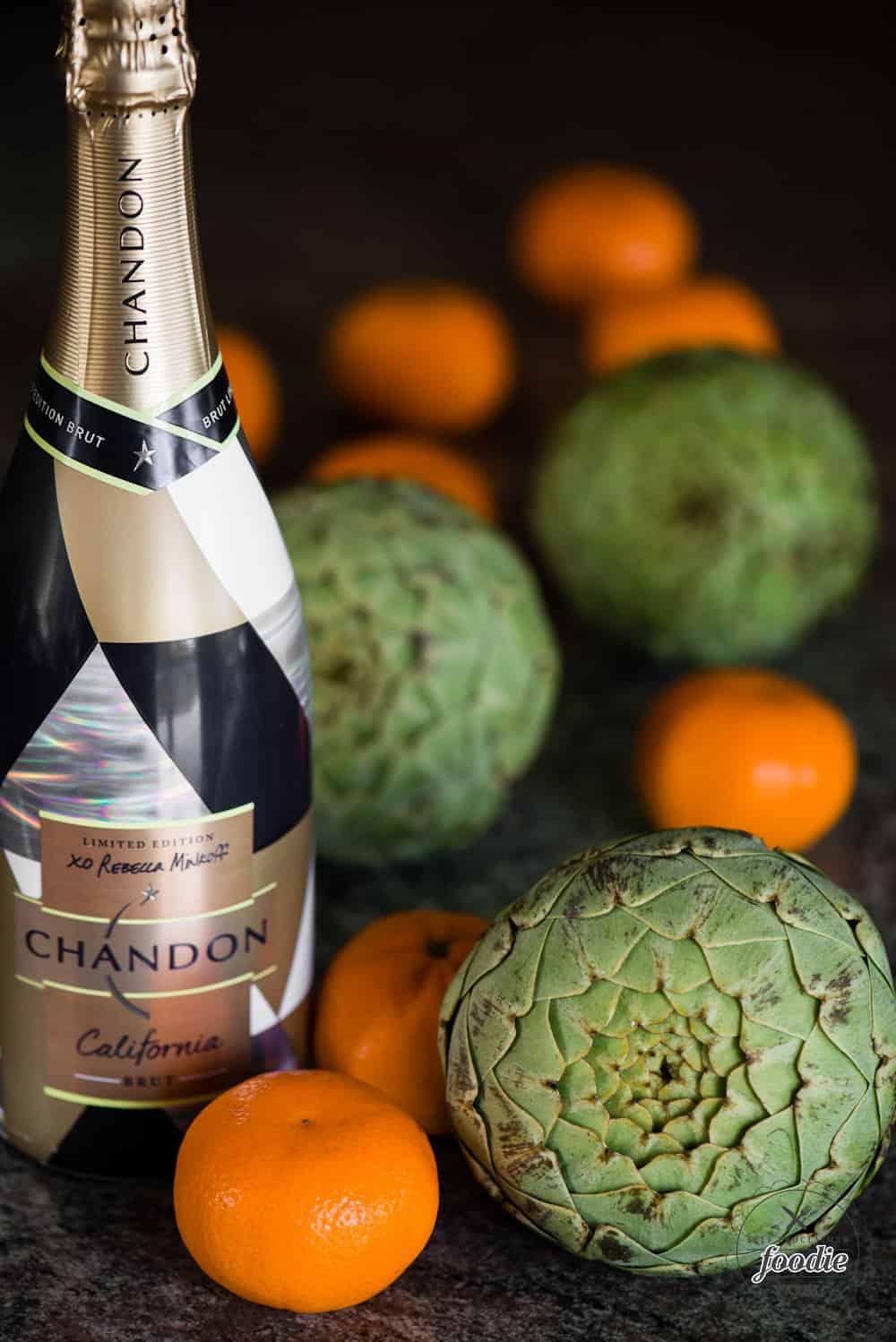 How to cook fresh Ocean Mist globe artichokes with Cuties and Chandon Brut Sparkling Wine.
That was our challenge. After this amazing farm tour getting to learn about these three awesome California companies, I got to go home and come up with a recipe.
I had the option to pair the Chandon with my creation, but my decision was to incorporate it into the recipe and pair it with the final recipe. That's a win-win decision if you ask me.
What kind of recipe would you make? The options are limitless, but I decided to prepare the artichokes how I always make them… with a few twists. I decided to steam them in my electric pressure cooker and then grill them for additional flavor. Typically I add lemon and a bay leaf to the water. For this recipe, I wanted the flavor of the Cutie and the Chandon to not only be infused into the artichoke, but also incorporated into the aioli, so I changed up my method a bit. It was a wild success.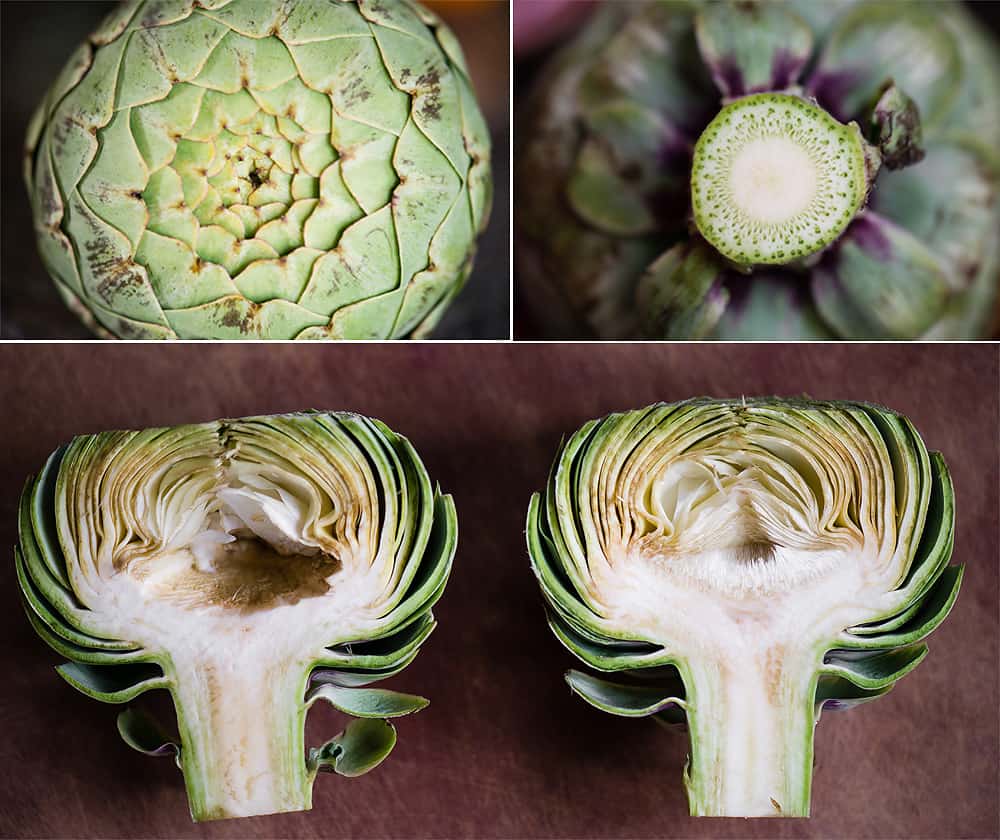 How to trim a fresh artichoke:
One thing to keep in mind when trimming an artichoke is that as soon as you cut into the flesh, it begins to oxidize (much like an apple). To prevent browning, you can immediately coat with fresh lemon juice. Since the color darkens when you cook, I usually don't bother with this step.
Think of your artichoke as a flower. You'll want to cut the bottom of the stem off to have a clean, fresh end.
Use a serrated knife to cut the top off. You won't be eating the tips.
Use a pair of kitchen scissors to trim the tips of each leaf off. Sometimes there's a sharp thorn in the tip and trimming them makes eating the artichoke easier.
You can either cook the artichoke whole, or you can do what I did and use that serrated edge knife to cut it in half lengthwise. This allows you to easily access and remove the choke, the small hairs, from the center of the artichoke with a small pairing knife. To do this, cut along the heart and just under the choke. You can then easily pull it out. You can see in the photo above that the choke was removed on the left but is still in place on the right.
Did you know the heart extends on down through the center of the stem? Prior to cooking, you can remove the outer fibrous layer of stem so that you can easily eat the center once it's done cooking.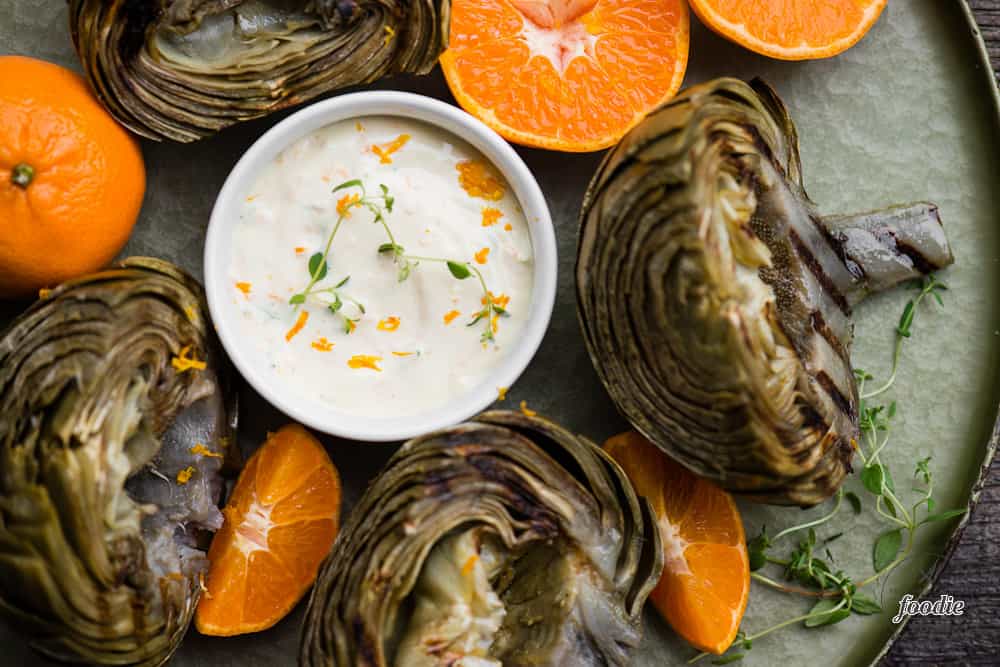 Why this the best cooking method for fresh artichokes:
These were the most soft, tender, flavorful fresh artichokes I have ever eaten… and I've eaten a lot of artichokes in my day. I have a few theories as to why this particular cooking method was so outstanding.
Using the Chandon sparkling wine and cuties in the pressure cooker to steam the artichoke not only infused a delicate flavor into the artichoke, but I believe it helped make the flesh more creamy and tender.
Cutting the artichokes in half allowed them to cook quicker and more evenly. Removing the choke made it easier to devour every edible part of the artichoke once cooked.
Coating the steamed artichoke halves with olive oil and then grilling them over high heat for a few minutes added the most incredible flavor. Who doesn't love some good grill marks, after all?
The aioli is incredible. A good dipping sauce is critical to a freshly cooked artichoke. The Cutie zest adds just the right amount of citrus flavor that comes out in the taste and the aroma. The Chandon thins the aioli perfectly but also adds that dry flavor profile you get from an outstanding brut. Fresh thyme and salt are always necessary when eating artichokes. Perhaps that's just my opinion, but I consider it to be a fact.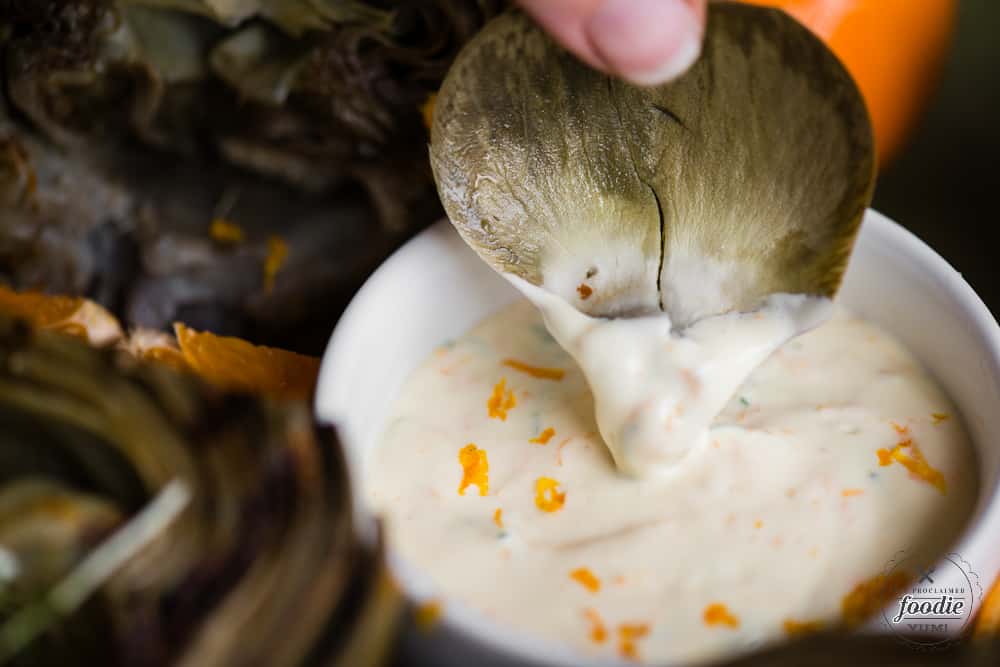 To learn more about Safeway, Ocean Mist Farms, Chandon, or Cuties, please visit their websites. Until the next Safeway Blogger Tour… bon appetit!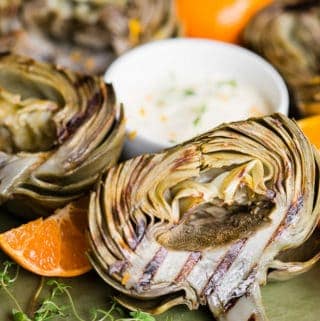 Citrus Brut Artichokes
Citrus Brut Artichokes are fresh globe artichokes that are steamed to perfection in a bath of fresh orange juice and brut sparkling wine, then finished off on the grill. These lovely appetizers are served with a quick and easy citrus brut aioli dipping sauce. Fresh artichokes have never been so easy and delicious!
Print
Pin
Rate
Ingredients
Artichokes:
4

globe artichokes

fresh

1/2

cup

water

1/2

cup

Chandon Brut

1

Cuties mandarin orange

halved

1

tbsp

olive oil

extra virgin
Aioli:
1/4

cup

mayonnaise

zest from one Cuties mandarin orange

1

tsp

Chandon Brut

1/4

tsp

salt

1

tsp

thyme

fresh
Instructions
Trim artichokes. To do this, use a serrated edge knife to cut off the very top portion. Use kitchen scissors to cut the tips off of each leaf to remove the thorn. Cut the bottom of the stem off (much like you would a flower). Then, use the serrated edge knife to cut the artichoke in half, lengthwise. Use a small pairing knife to cut the choke (the small hairs) out of the center. Optional but recommended: leave 2-3 inches of the stem in tact, but remove the outer fibrous section. What's left in the center is an extension of the heart (ie the best part)!

Add water, 1/2 cup Chandon Brut, and halved Cutie with juice squeezed to the cooking pot of an electric pressure cooker. Add the rack and place the trimmed artichoke halves on top of the rack. Seal the lid and cook on high pressure for 6 minutes (slightly firm) or 8 minutes (very soft), depending on how you prefer your artichokes to be cooked. Quick release the pressure when done cooking and transfer to a cutting board or plate.

Alternatively, if you do not have a pressure cooker, you can cook them in a covered pot on the cooktop for 15-30 minutes. They are done when a leave easily pulls away from the artichoke.

To grill, cover the cut ends of the artichokes with the olive oil. Place cut side down on an extremely hot griddle for about 2 minutes.

To make the aioli, combine the mayonnaise, Cutie zest, teaspoon of Chandon Brut, salt and fresh thyme in small bowl. Stir well to combine.

Serve warm or cold and enjoy with a chilled glass of Chandon Brut sparkling wine!
Nutrition
Calories:
157
kcal
|
Carbohydrates:
6
g
|
Protein:
2
g
|
Fat:
14
g
|
Saturated Fat:
2
g
|
Cholesterol:
5
mg
|
Sodium:
296
mg
|
Potassium:
236
mg
|
Fiber:
3
g
|
Vitamin C:
7.8
mg
|
Calcium:
28
mg
|
Iron:
0.8
mg