Christmas Tree Meringue Cookies are a light and crisp bite sized sweet treat that everyone will love around the holidays!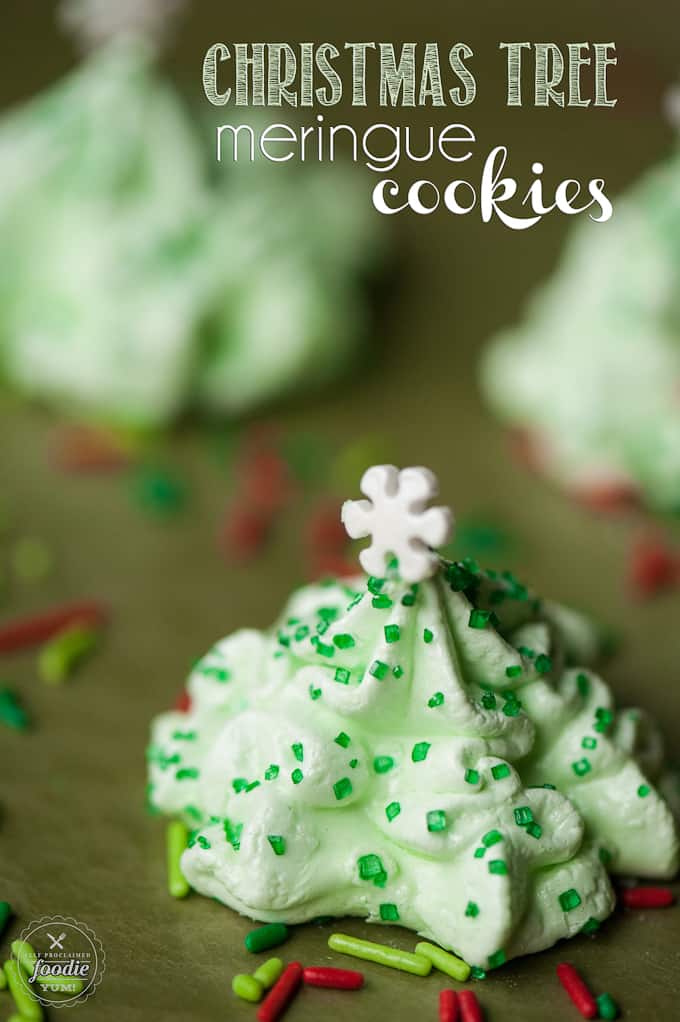 Day 11 of 12! We're almost done!!!

I'd better get all these treats packaged up and mailed off. My poor family may be watching all of these posts, wondering where the heck their package is!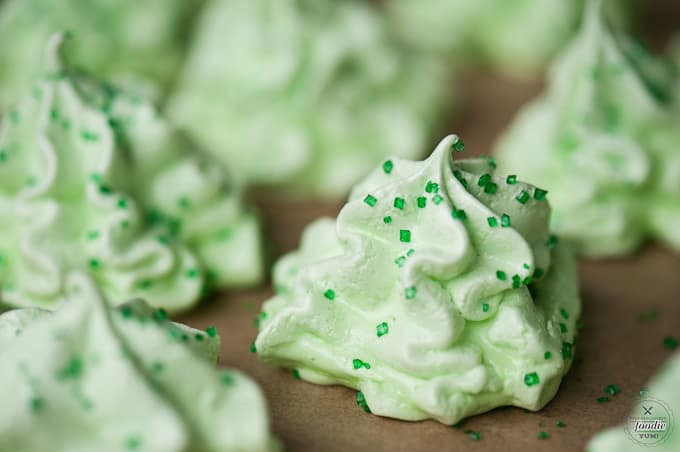 I first made little merengues like this at Halloween. I turned them into ghosts and set them on top of chocolate cupcakes. Those were pretty darn cool, if I do say so myself. Meringues are really quite easy to make and they're quite forgiving as long as you don't make them too big and you give them the proper amount of time to dry in the oven. These little treats are essetially egg whites and sugar. No flour means they're gluten free without the hassle of actually trying to make them gluten free, and the egg whites mean that they're full of healthy protein and basically good for you. Right? Right. Okay, we'll go with that. Either way, they're a fun little addition to your holiday treat line up and they are rather easy to make. They just take a little bit of time. My recommendation is to make them in the early evening on a night when you're using your crockpot instead of the oven, let them cook, and before heading to bed all you need to do is turn the oven off and crack the oven door. Then, they'll be perfect in the morning!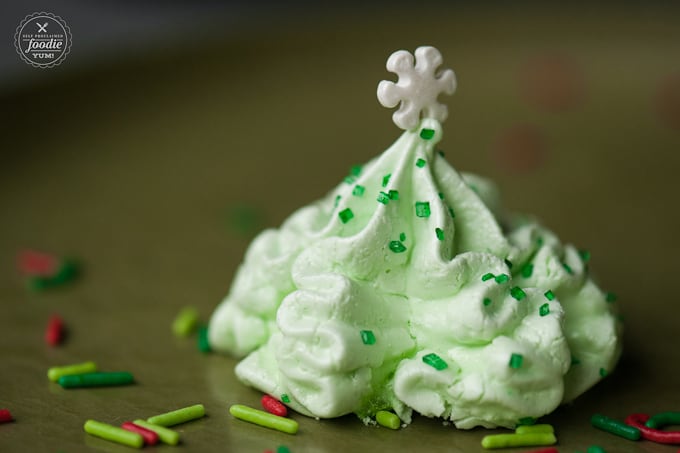 Be sure to scroll down past the recipe to see all of my holiday treats from 2014 & 2015.
This recipe uses pure vanilla extract. Did you know you can make your own homemade vanilla extract? It makes the perfect gift too. Watch how in the video below.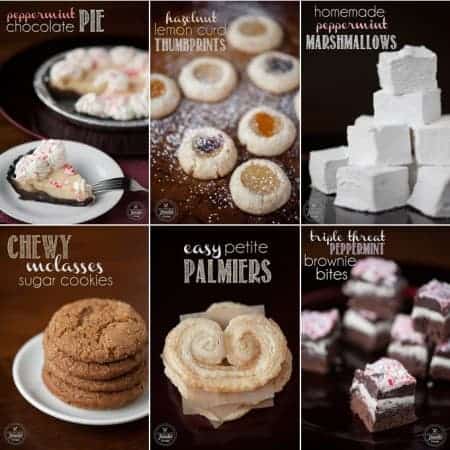 Christmas Tree Meringue Cookies
Christmas Tree Meringue Cookies are a light and crisp bite sized sweet treat that everyone will love around the holidays!
Print
Pin
Rate
Cook Time:
1
hour
30
minutes
Ingredients
120

grams

egg whites

about 4 eggs worth

1/2

teaspoon

cream of tartar

200

grams

superfine baking sugar

about 1 cup

1/2

teaspoon

pure vanilla extract

1/2

teaspoon

peppermint extract

green gel food coloring

sprinkles of your choosing
Instructions
Preheat oven to 200 degrees F. Prepare a baking sheet by lining with a silpat or parchment paper.

Note - if you don't have super fine baking sugar, you can run it through your food processor for a minute or two to turn it into a finer grain.

In the bowl of a stand mixer using the whisk attachment, beat the egg whites on low-medium speed until foamy. Add the cream of tartar and continue to beat the whites until they hold soft peaks. Add the sugar, a little at a time, and continue to beat until the meringue holds very stiff peaks. When you think they're done, rub a small amount in between your fingers to ensure all the sugar has dissolved. Do not over process; you want them to have a nice sheen. Beat in the vanilla and peppermint extract. Add enough green gel food coloring to achieve desired color.

Use either a pastry bag fitted with a 1/2 inch star tip, or just a plastic storage bag with the corner snipped off. Transfer the meringue to the bag and, holding the bag vertically, pipe with even pressure little swirly mounds about 1-2 inches tall. Be aware that the larger and taller you make your meringues, the more likely they are to fall over during the drying process.

Bake the meringues for approximately 90 minutes or until they are dry and crisp to the touch. Turn off the oven, open the door, and leave the meringues in the oven to finish drying several hours, or even overnight.

Store in air tight container and they will keep several days at room temperature.

Makes 20-24 Meringue Ghosts.
To see all of 2014's holiday treats, click the links below: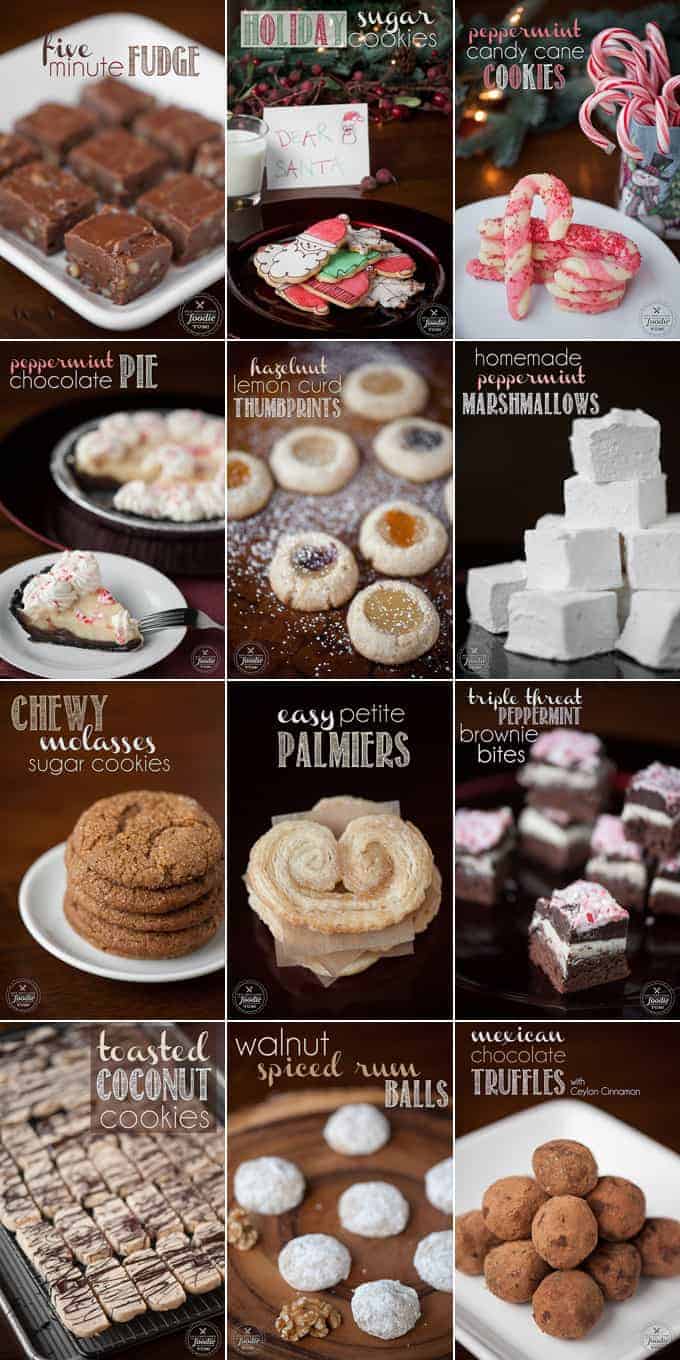 Five Minute Fudge | Holiday Sugar Cookies | Peppermint Candy Cane Cookies
Peppermint Chocolate Pie | Hazelnut Lemon Curd Thumbprints | Homemade Peppermint Marshmallows
Chewy Molasses Sugar Cookies | Easy Petite Palmiers | Triple Threat Peppermint Brownie Bites
Toasted Coconut Cookies | Walnut Spiced Rum Balls | Mexican Chocolate Truffles
To see all of 2015's holiday treats, click the links below: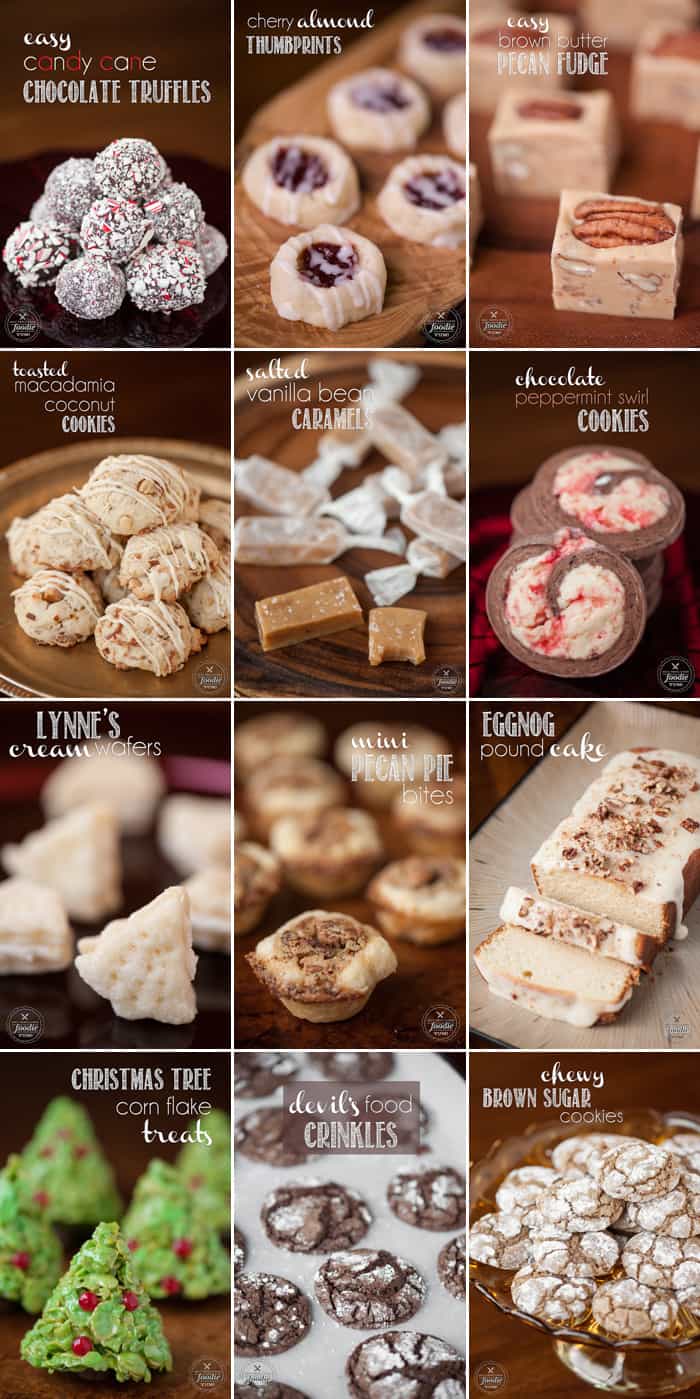 Easy Candy Cane Chocolate Truffles | Cherry Almond Thumbprints | Easy Brown Butter Pecan Fudge
Toasted Macadamia Nut Cookies | Salted Vanilla Bean Caramels | Chocolate Peppermint Swirl Cookies
Lynne's Cream Wafers | Mini Pecan Pie Bites | Eggnog Poundcake
Christmas Tree Corn Flake Treats | Devil's Food Crinkles | Chewy Brown Sugar Cookies