MY OTHER RECIPES

Make an impression this Valentine's Day with this easy to make yet romantic, rich, and decadent Ghirardelli Chocolate Raspberry Pots de Crème dessert.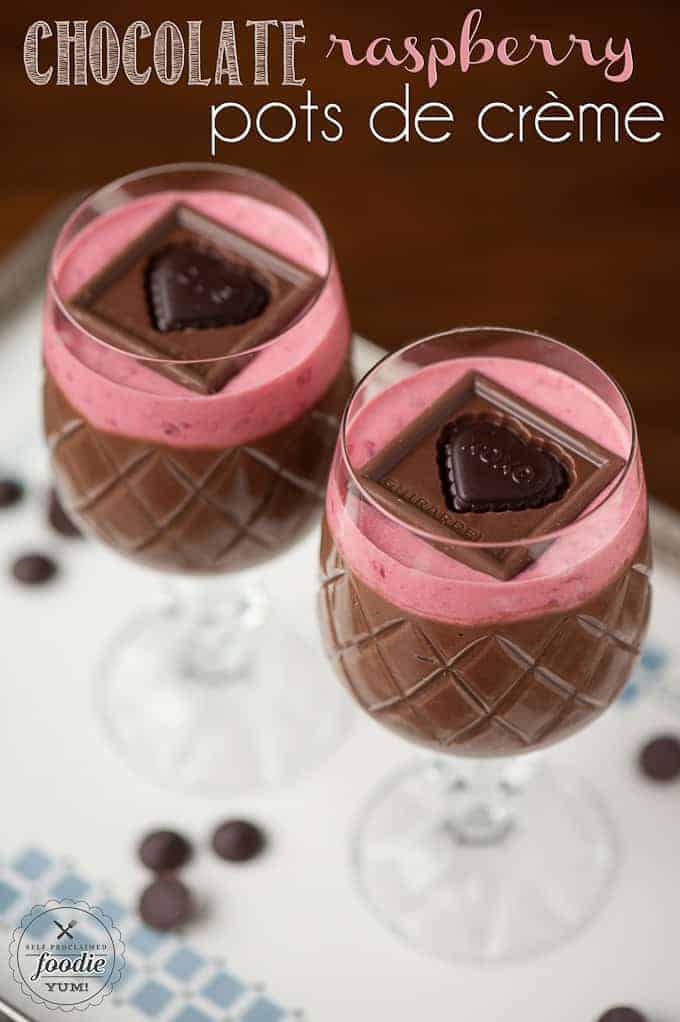 If you read my 25 Valentine's Day Treats post from yesterday, you'll see how my best Valentine's Day ever was just last year. We had such a great time that I've already let my husband off the hook this year and he doesn't have to do a single thing for me! I'm letting last year count for two because I'm (self admittedly) a pretty rad wife. My most favorite memory about last year wasn't the romantic cabin we got to stay in nor was it the awesome mineral bath I got to soak in… it was being able to enjoy some special Valentine's sweets in the romantic cabin after the relaxing mineral bath. I hereby deem delicious Valentine's Day treats my most favorite part of the holiday. That's why I made these beautiful, rich, decadent, delicious chocolate raspberry pots de crème.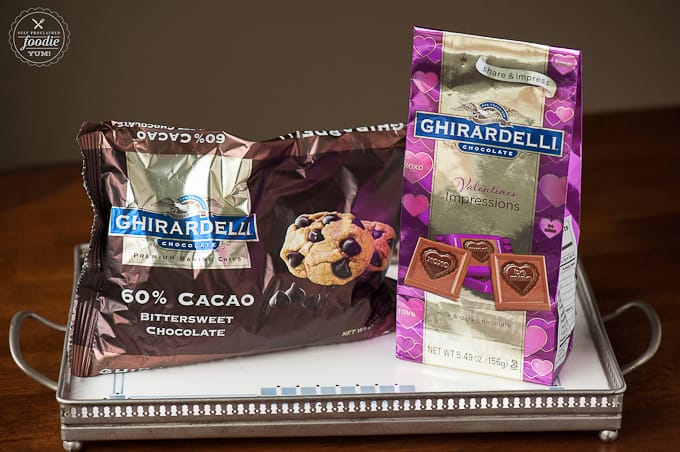 If you've never made pots de crème, don't be intimidated. They are super easy. You start with good chocolate. I have a love affair with Ghirardelli that goes back years. In fact, you'll never find my freezer without Ghirardelli 60% cacao premium chocolate baking chips because they are perfect to satisfy when I need a large handful taste of chocolate to satisfy a craving. If you've never cooked with it, Ghirardelli chocolate is an essential ingredient in any baker's kitchen, with its signature smooth-melting chocolate taste. I use it every time I cook, whether it be in chocolate toffee cookies or red velvet fudge. It will ensure the best taste and texture to any baked treat or decadent confection.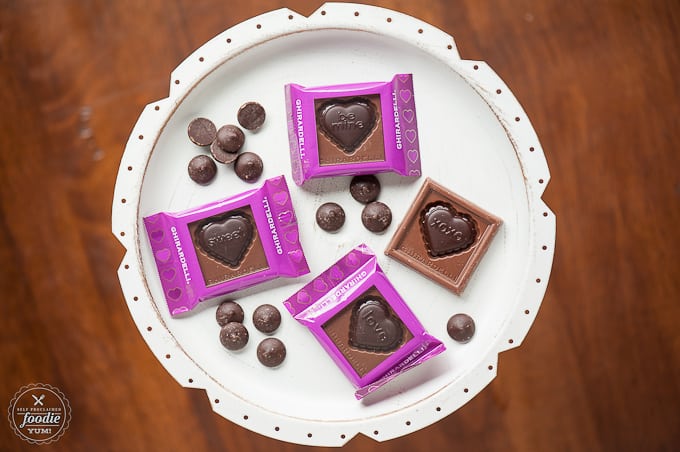 You can imagine my excitement when I saw these adorable Ghirardelli Valentine's Day Impressions Chocolates at the store. I knew exactly how I was going to use them. They are the perfect premium gift to impress that someone special this Valentine's Day, whether given alone or topped on a treat! They leverage the format of candy conversation hearts in premium chocolate with four different Valentine's Day messages: "love," "xoxo," "sweet," and "be mine" – the perfect candy dish filler or casual gift for your friends and family!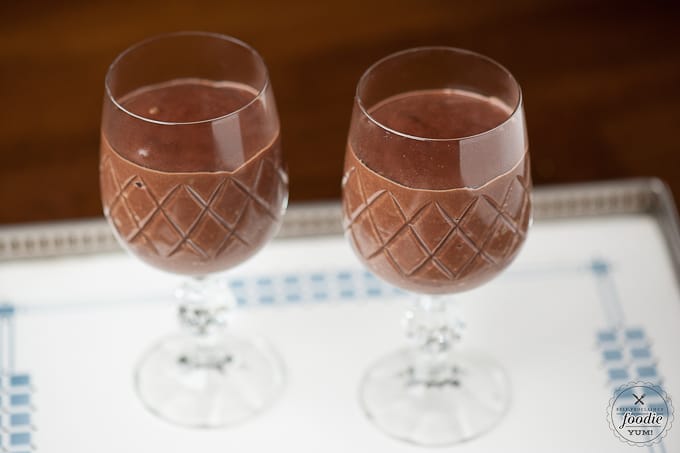 You can use any kind of serving dish you like, but since these desserts were meant to be special, I got out my special fine cut Bohemian crystal glasses that my sister bought me when she was living in Austria. They are the nicest thing she's ever gotten me which is why I keep them safely hidden except for special occasions. You just pour the hot chocolate mixture into your dish and refrigerate until ready to serve. Its the ultimate make ahead dessert.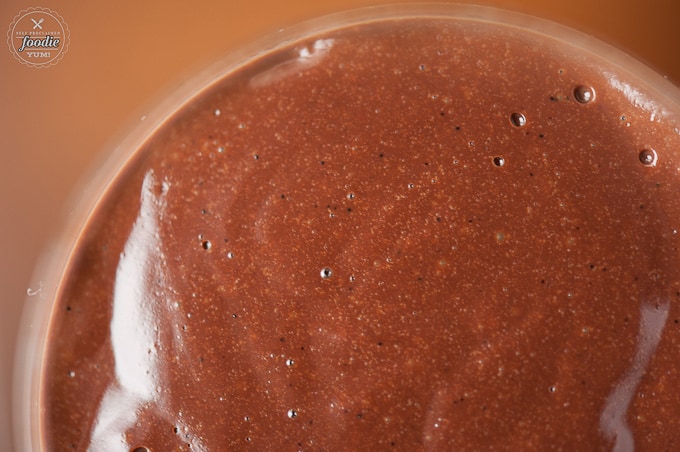 I wanted to take a close up of the top of the dessert to show you the little specs of vanilla bean, which you know I love because I use it in most everything, plus I wanted you to see that you should have some bubbles, but very few.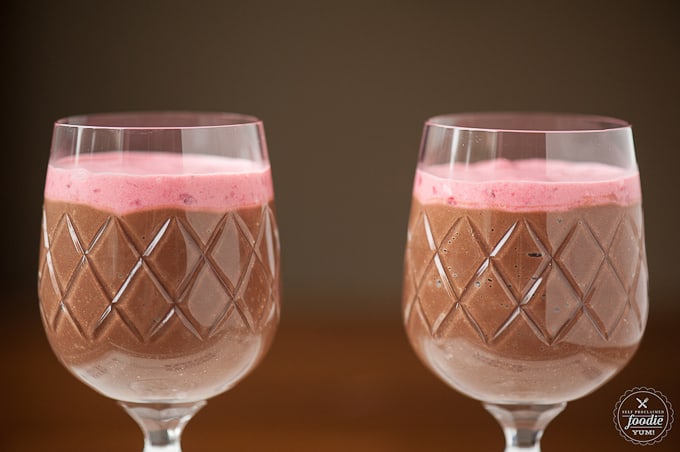 Isn't it pretty with that thin pink layer?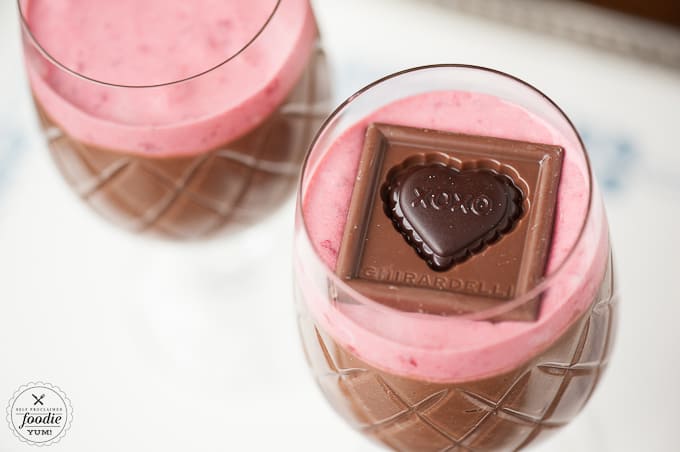 My little Ghirardelli Valentine's Day Impressions fit perfectly on top.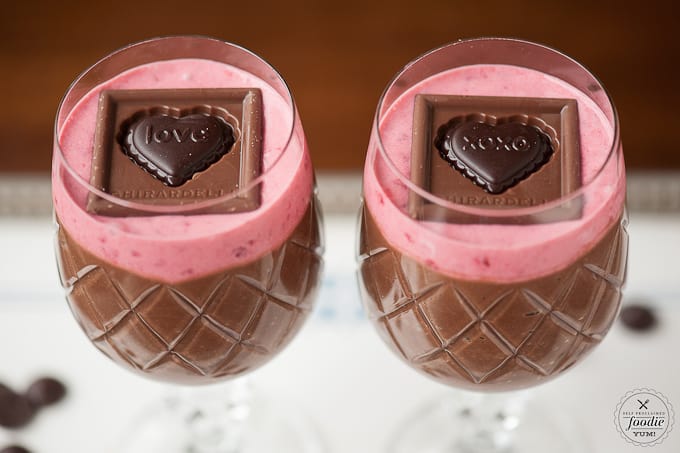 I just can't get over how pretty they turned out.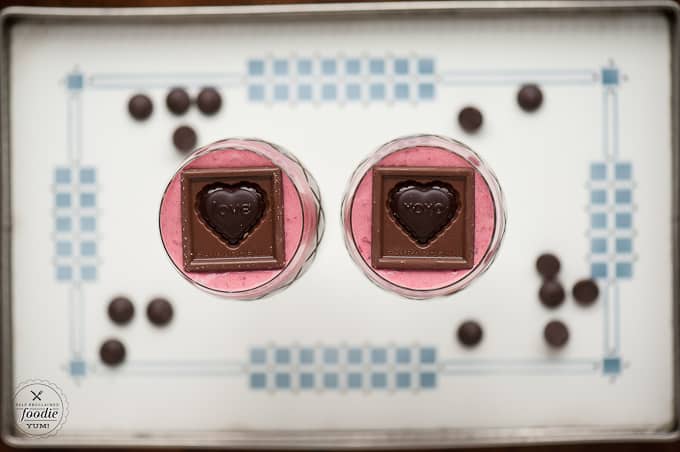 Besides wine, there are fewer things that go better with good chocolate than raspberry. These Ghirardelli Valentine's Day Impressions have a fantastic little snap to them. I intentionally didn't add much sugar to the raspberry cream because I like the way the tartness goes with the chocolate, but you can add more if that's how you role.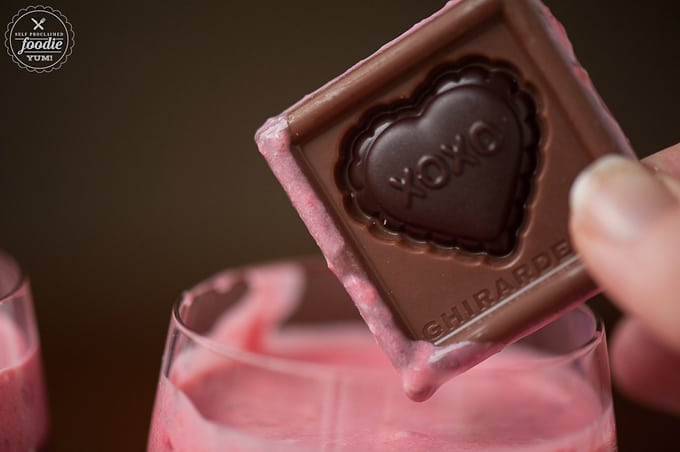 The end result is amazing with a luxurious sexy texture. This recipe makes two large servings but you can easily make it into three if you want less, or double it if you want to make 4-6. Whatever you do, it will be loved.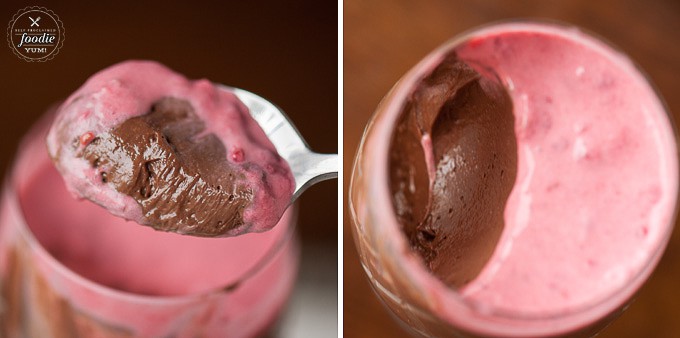 Make an impression this Valentine's Day with this easy to make yet romantic, rich, and decadent Ghirardelli Chocolate Raspberry Pots de Crème dessert.
Ingredients
6 ounces Ghirardelli 60% cacao premium chocolate baking chips (a little more than a cup)
1/2 cup milk
1/2 cup heavy cream
2 large egg yolks
1 vanilla bean, split
1/4 cup raspberries
1/4 cup heavy whipping cream
1 teaspoon confectioners sugar (more if desired)
Ghirardelli Valentine's Day Impressions (Milk & White or Milk & Dark)
Directions
Add chocolate baking chips to blender and pulse several times to break up into small pieces.
In a medium sized pot over medium heat, whisk together milk, heavy cream, egg yolks and split vanilla bean. Continue stirring over heat while pressing onto the vanilla bean to release as much flavor as possible until mixture starts to thicken, about 5-10 minutes. Once it starts to coat the whisk and bottom of the pot, remove it from the heat. Discard vanilla bean pod.
Pour hot mixture into blender with chocolate pieces and blend until smooth, about 30 seconds to one minute. Transfer chocolate mixture to desired serving dishes and refrigerate until cold, at least 2 hours.
Combine the raspberries, heavy whipping cream and confectioners sugar in the blender until desired consistency is reached. Transfer to a glass cup and store in refrigerator until ready to serve. Alternatively, you can store in freezer if you need it to chill and thicken up faster.
To serve, spoon raspberry cream on top of pots de crème. Top with a Ghirardelli Valentine's Day Impressions chocolate with your message of choice.