Make a fabulous weekend breakfast and serve your family these easy to make Chipotle Huevos Rancheros. They have just the right amount of heat.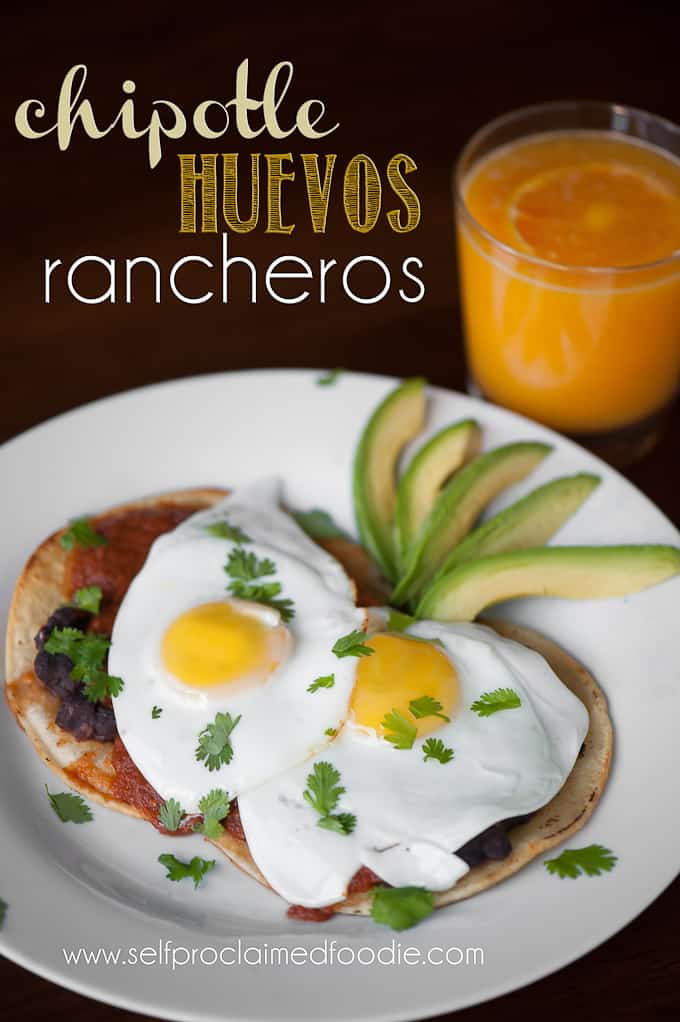 I like all the recipes I post on my blog. I would never deceive you by posting something gross, nor would I take the time to actually photograph anything that was less-than-delicious. But some recipes make me wish I could reach into my screen and shove into my mouth. This chipotle huevos rancheros recipe is that kind of recipe.
My convert-foodie husband and I devoured this breakfast. Well, truth be told, he devoured it first and I took photos of mine before I could devour it. This recipe came to be when I had half a can of leftover chipotle chiles after making the most delicious chipotle aioli that I served with some awesome oven baked rosemary french fries and a spicy jalapeno poblano chili burger with homemade hamburger buns. Whoa, that was a mouth full (pun intended). I did what any hungry person would do with half a can of leftover chiles… I made breakfast! I could go on and on about how delicious this breakfast was, but instead I'll let the photos do the talking. If you make this, let me know you loved it as much as I did!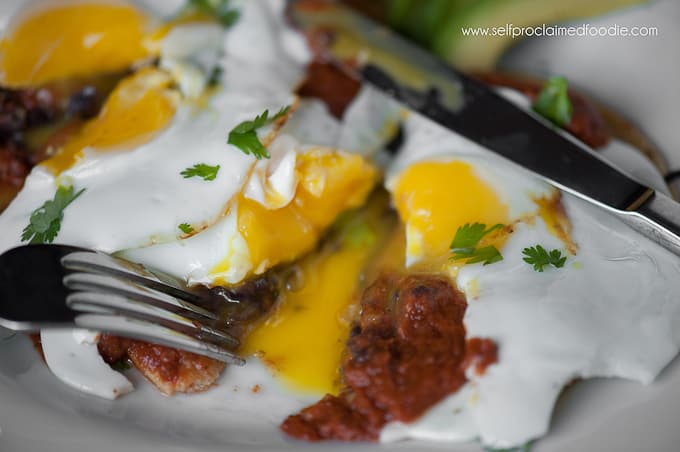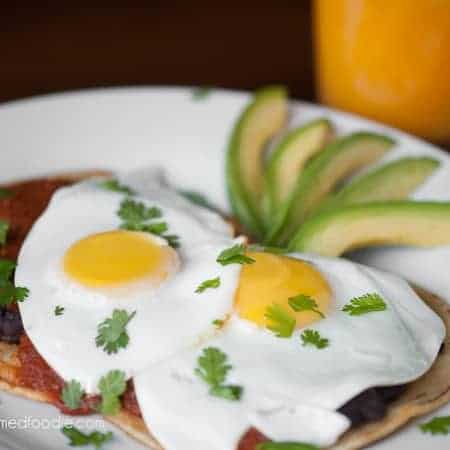 Chipotle Huevos Rancheros
Make a fabulous weekend breakfast and serve your family these easy to make Chipotle Huevos Rancheros. They have just the right amount of heat.
Print
Pin
Rate
Ingredients
1/2

cup

vegetable oil

8

corn tortillas

28

ounce

can whole tomatoes in juice

1/2

yellow onion

minced

handful chopped cilantro

minced, some reserved for garnish

1-2

tablespoons

chopped canned chipotle chiles in adobo

2

garlic cloves

minced

1

teaspoon

salt

14

ounce

can refried black beans

8

large eggs
Instructions
Preheat oven to 200 degrees F.

Heat 1 tablespoon oil in a skillet over moderate heat until hot but not smoking. To perfectly fry your tortillas, stack 2 tortillas and allow to cook for about 30 seconds. Then flip the stack. Once flipped, turn over the top tortilla. Then, after 30 seconds, turn the stack again. Continue to turn the stack and flip the top tortilla until both sides of the tortilla have been cooked. Then you can replace it with a new tortilla and continue the process. Add additional oil, as needed. Be careful not to brown the tortillas, you just want them crisp. Wrap tortillas loosely in foil and keep warm in oven.

To cook the eggs over easy, add enough vegetable oil to your skillet to generously coat the bottom. Heat oil on low. Crack two eggs into the frying pan. Spoon hot oil over the egg whites to speed up cooking process, careful to avoid the yolk. Once egg white is fully cooked, finish off egg by spooning hot oil over the yolk. Once egg is cooked, place on a paper towel to allow oil to drain off. You may keep cooked eggs on plates in the oven to keep warm.

To make the sauce, combine canned tomatoes with their juice, onion, cilantro, chipotle, garlic, and salt in a blender and process until smooth. Add sauce to saucepan and cook over medium heat until flavors combine, about 10 minutes.

In separate pot, heat black beans over low heat.

To assemble, place two slightly overlapped fried tortillas on each plate. Spread black beans over tortillas. Top each one with a generous spoonful of the rancheros sauce. Then top each tortilla with an egg.

Garnish with cilantro.