Cheesy Chicken Mediterranean Pasta Bake is an easy to make flavorful one dish dinner full of tons of tasty ingredients that your entire family will love.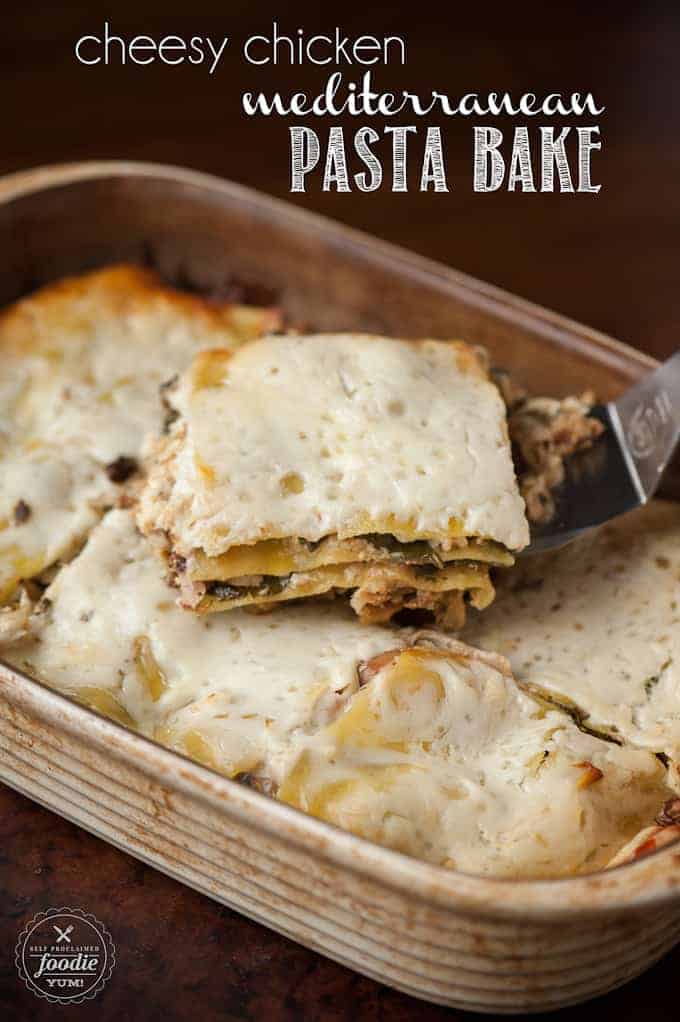 I'm going to put a disclaimer at the beginning of this post: I overcooked this super tasty and delicious cheesy chicken Mediterranean pasta bake. It was still really good and I've had many cravings for it since, but the entire inspiration for making it in the first place was because I wanted a photo of me lifting a square out of the casserole dish and you would see nothing but cheesy goodness stretching from the lifted piece to the pan. Well, this is what happened. I took it out of the oven and it was perfect. Perfect, I tell you. Super ooey gooey on top. I thought it was too hot for the photos, so I figured I'd give it a minute or two to cool, and then I would snap my final photos. In typical Krissy fashion, I got distracted with the 20 other things I had going on at the moment and it cooled too much. No problem, right? Just heat it up again and the cheese will once again be all melty. That *may* have been true, but this time I let it go too long in the oven and I just never reached the ultimate melt-y-ness again. You're just going to have to believe me in knowing that this pasta bake was outstanding and I plan to make it again and again.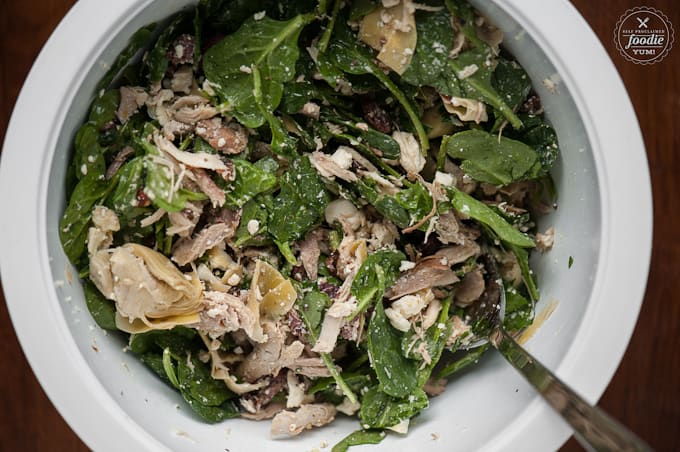 I threw TONS of ingredients into this dinner. Part of my rational was that each thing would taste great. The other part of my thinking was that I had some food in my refrigerator that needed to be used up. Fun fact – about half of what I make is created as a last ditch effort to clean out the abundance of food lying in waiting in the refrigerator. The fact that I over buy combined with my disdain of wasting food means lots of home cooked meals in our house. You start by tossing together what is basically a huge gorgeous salad that's made of shredded chicken which I had on hand because I had just made a slow cooker whole chicken, spinach, feta cheese, artichoke hearts, kalamata olives, and sun dried tomatoes that were packed in oil. I should have, at this point, made that salad look all pretty and created a separate blog post just for that because it really was that good on its own.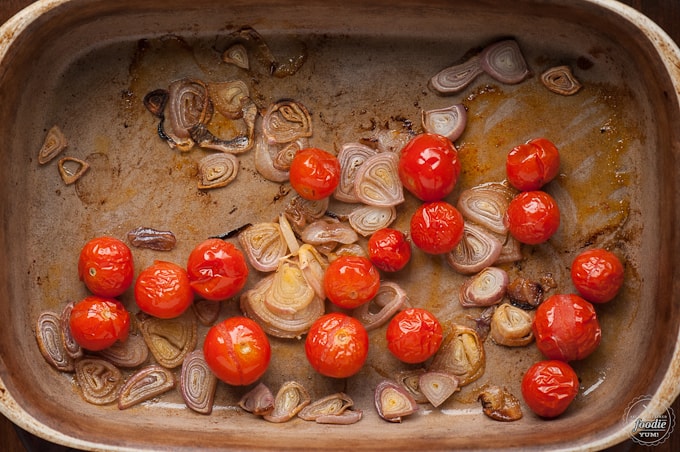 Next step was to roast the shallots and cherry tomatoes in the oven. Instead of using olive oil for this step, I poured in some of the oil from the sun dried tomatoes. Yum.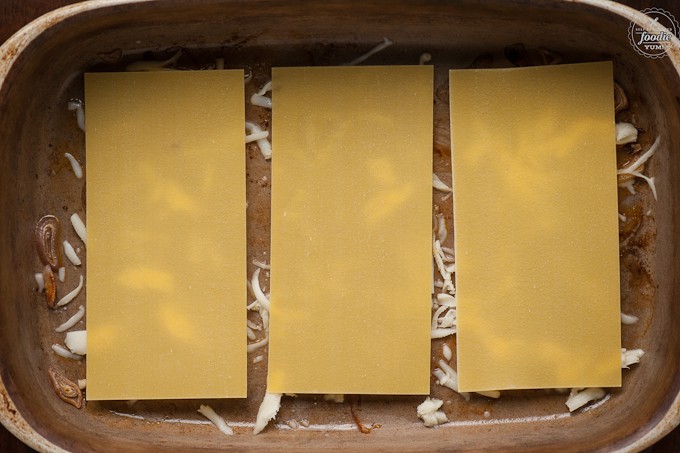 Then comes the assembly portion. When I used to make lasagna as a kid, I would use the noodles that you had to boil and then lay flat. They always ended up sticking to themselves and it was basically a form of torture for my growing brain. Thank god no boil noodles exist. Just throw them in right out of the box. I always put a thin layer of cheese under the noodles. If this was a saucy lasagna, the sauce would have gone underneath, but this is a pasta bake and not a lasagna and I was totally winging it.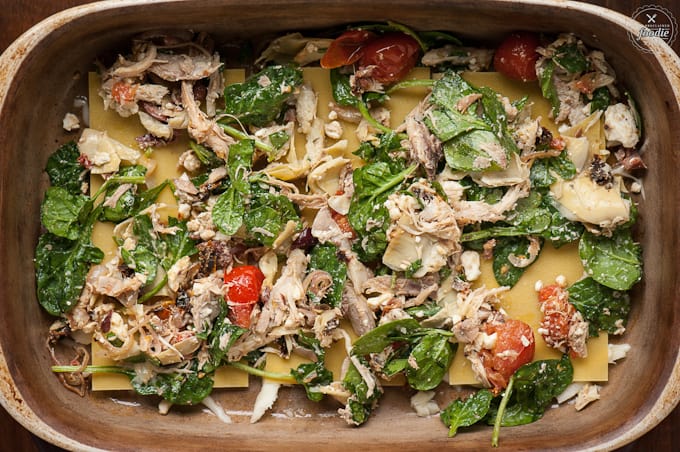 Then, dump a layer of that awesome salad that had been tossed with your warm cherry tomatoes and shallots.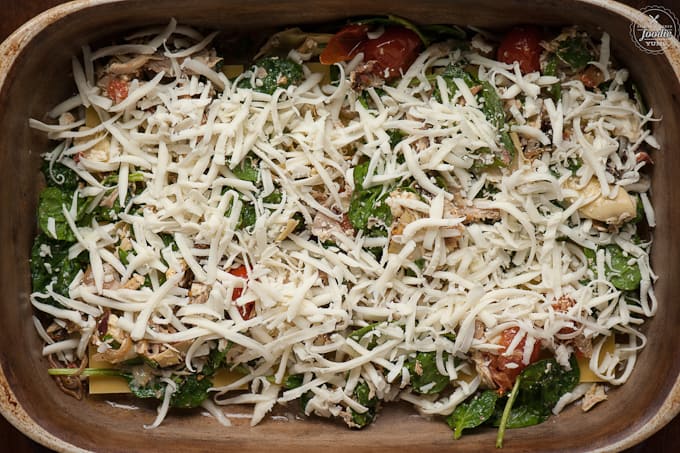 Add some glorious shredded mozzarella because I did, after all, name this "cheesy" chicken Mediterranean pasta bake.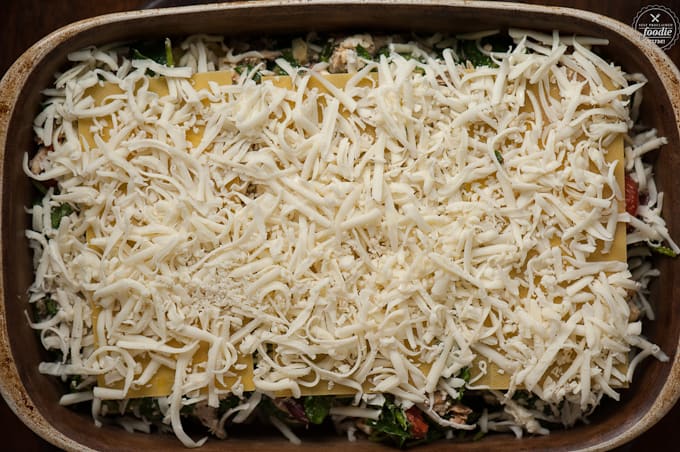 Then repeat, repeat, repeat until you're done. Now, keep in mind that raw spinach is going to stack your pasta bake high but it will deflate to about half the size. Nothing to be concerned about. I just wanted to let you know. If you want to make a really big pasta and cram twice as much into your casserole dish, you're going to have to wilt the spinach first so that the final outcome will be the same size as when you assemble it.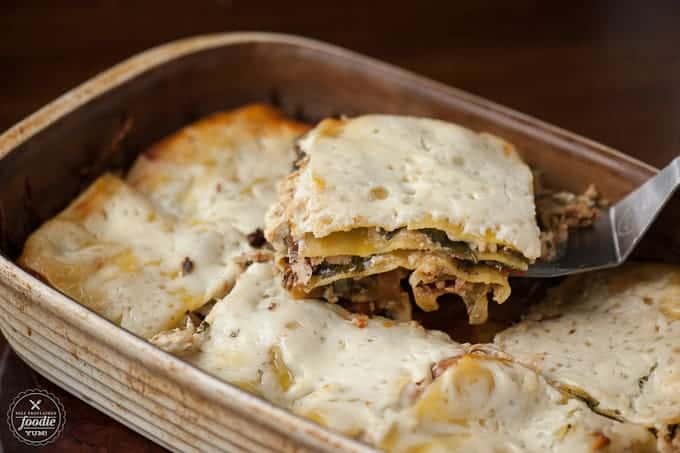 Oh man, this one dish dinner was so flavorful. It was packed full of everything a meal needs: lean protein, lots of veggies, carbs, and cheese!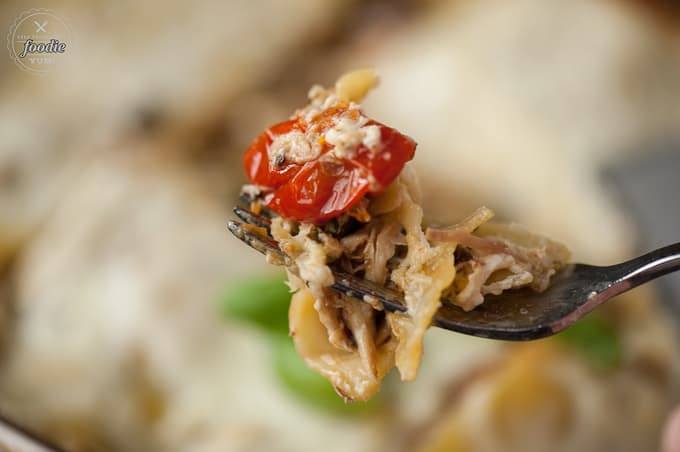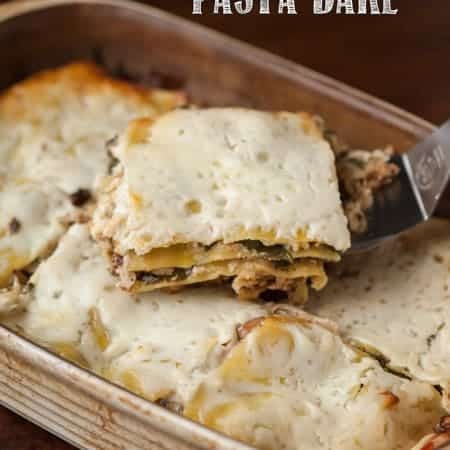 Cheesy Chicken Mediterranean Pasta Bake
Cheesy Chicken Mediterranean Pasta Bake is an easy to make flavorful one dish dinner full of tons of tasty ingredients that your entire family will love.
Print
Pin
Rate
Total Time:
1
hour
20
minutes
Ingredients
8

ounces

cherry tomatoes

2

large shallots

thinly sliced

2

cups

chicken

cooked and shredded

6

ounces

crumbled feta

I found some at Trader Joe's with Mediterranean herbs

4

cups

baby spinach

leaves torn

1

cup

marinated artichoke hearts

drained and chopped

1/2

cup

kalamata olives

chopped

2

tablespoons

sun dried tomatoes marinated in oil

drained and chopped

12

ready to cook lasagna noodles

about 8 ounces

16

ounces

mozzarella

shredded
Instructions
Heat oven to 425 degrees F. Add tomatoes and sliced shallot to casserole baking dish and drizzle with oil from sun dried tomatoes. Bake in preheated oven until tomatoes split and shallots begin to brown, about 20 minutes. Remove from oven.

In large bowl, combine chicken, feta, spinach, artichoke hearts, olives, sun dried tomatoes, and cooked shallots and cherry tomatoes. Toss to combine.

Add a small amount of the mozzarella to the bottom of the casserole dish. Top with three of the noodles. Top with 1/3 of the chicken mixture and 1/4 of the mozzarella. Continue to layer with noodles, 1/3 chicken mixture, 1/4 mozzarella. Top with three remaining noodles and remaining cheese. Cover with aluminum foil and either refrigerate for a later dinner or cook at this point.

Reduce oven temperature to 375 degrees F and bake for 40 minutes until noodles are soft. Garnish with ribbons of basil.