Cauliflower Garlic Breadsticks use an entire head of cauliflower to make a cheesy, gluten free, low carb alternative to traditional breadsticks.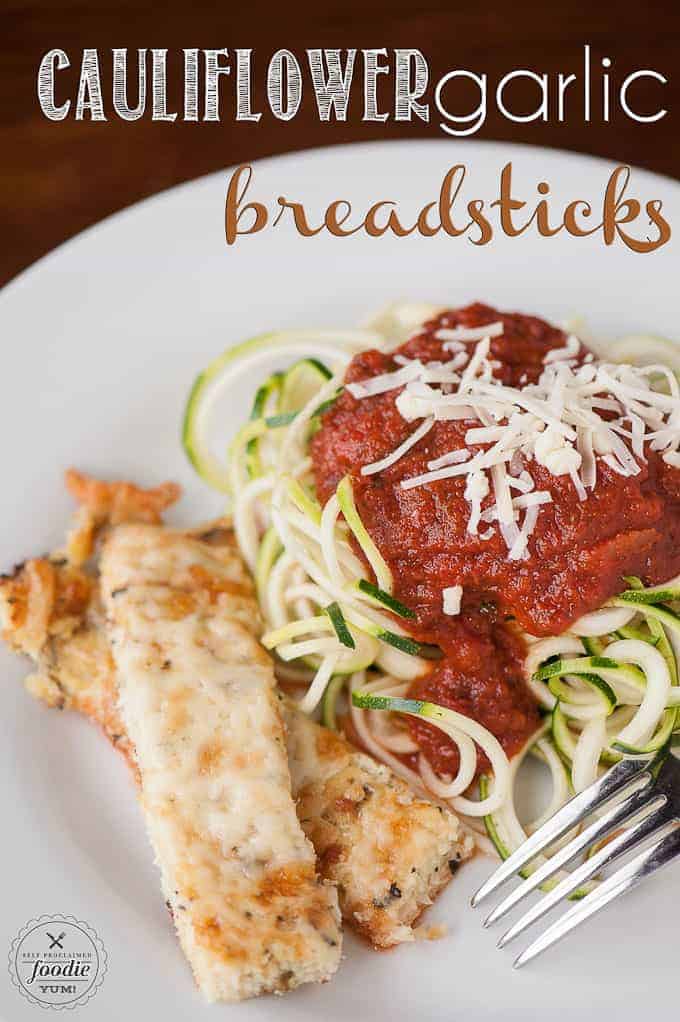 I don't like cauliflower. There. I said it. I apologize in advance to all of you who love that disgusting white vegetable that seemingly doesn't have a rightful place in the vegetable world. My words in this post will most likely offend you. Here's the scoop: I have a food blog. I can't make the same thing over. You might get bored reading about how awesome Taco Tuesday in our house. So, it is my job to bring you new ideas so that you don't get stuck in a food rut. I work long hours and I can't always eat when I should. That means that I often eat after 8pm and then fall asleep within an hour. That's not good. When I eat like that, I really try to go the low carb route. I do enjoy eating zoodles, but I need bread, or the illusion of bread, to go with it. Enter: cauliflower garlic breadsticks.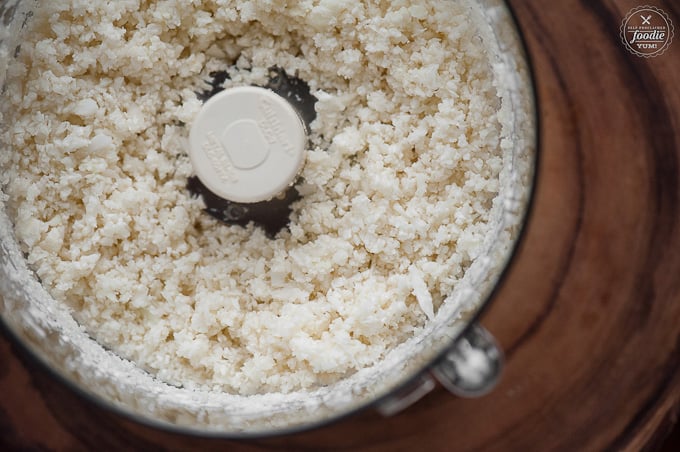 You start by chopping the entire head of cauliflower in your food processor. I thought it may have been too much, but then I asked myself "what the hell are you going to do with the rest of it if you don't cook it up now?" When the acnswer was "toss it", I figured I may as well just do the entire head. I steamed it up in some salted water. At this point, I started to worry that I was going to make my husband mad because he detests cauliflower and the smell the steaming process was producing smelled like ass, I kid you not. I pressed out as much of the liquid as I could, then I squeezed out even more in a towel.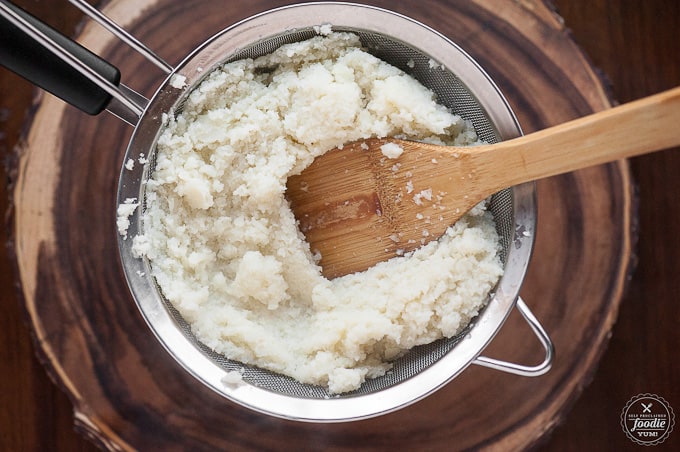 I mixed in an egg as binder, some raw garlic, some dried herbs, and some Italian shredded cheese. I couldn't believe it. That nasty cauliflower smell was almost gone!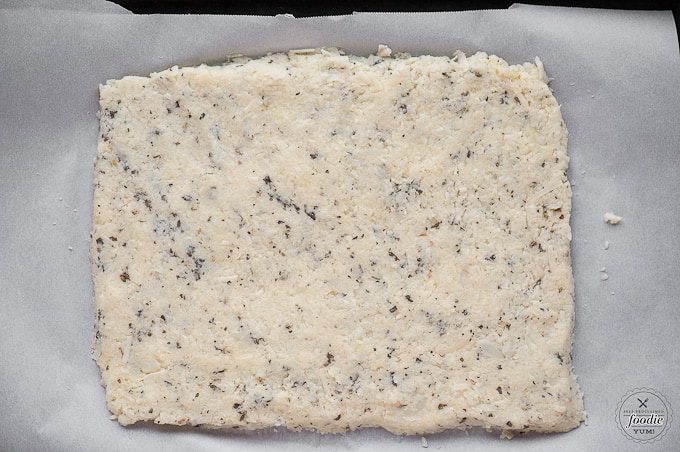 It baked into this beautiful garlic-y cheesy thing.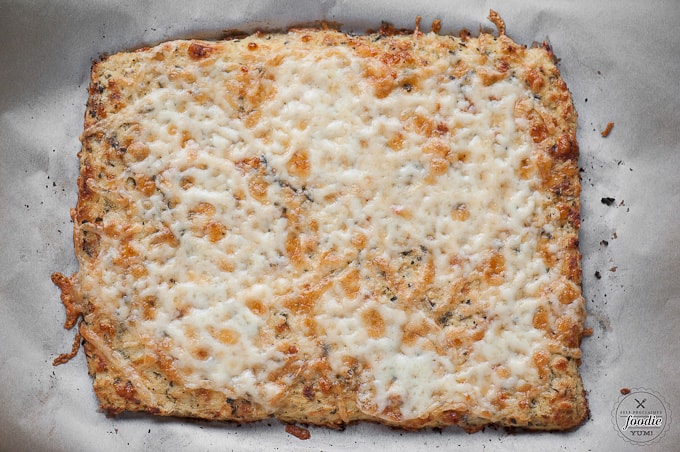 When my kids came home my son, who is only in kindergarten yet has a super refined palate (he makes me so proud) said "mmmm, smells like broccoli with cheese". Pretty darn good guess, if you ask me. Especially considering there are a lot of kids out there who couldn't even identify a piece of cauliflower because all they eat is McDonalds and chicken nuggets. He ate two of them and thought they went well with his spaghetti. I brought them into work and gave them to my cauliflower loving friend and he liked them. For me, they were tolerable, even borderline tasty, and that equates to quite delicious for the cauliflower hating person that I am.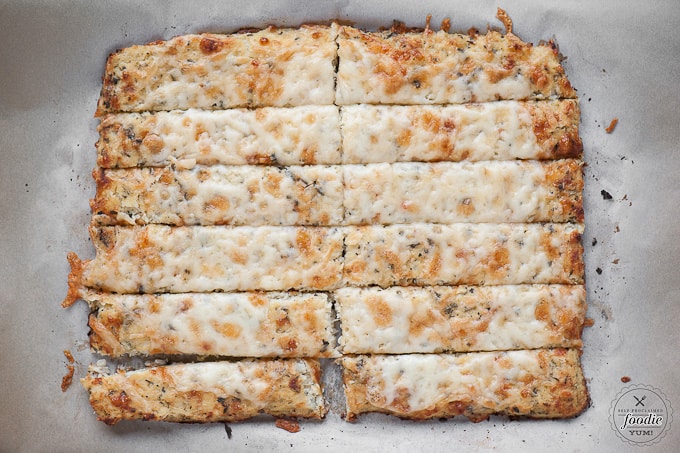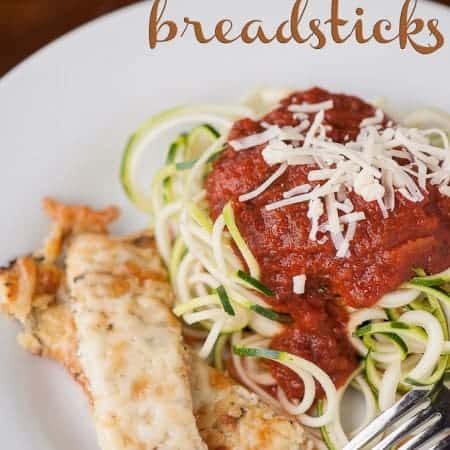 Cauliflower Garlic Breadsticks
Cauliflower Garlic Breadsticks use an entire head of cauliflower to make a cheesy, gluten free, low carb alternative to traditional breadsticks.
Print
Pin
Rate
Ingredients
1

head cauliflower

1

teaspoon

kosher salt

2

cloves

garli

minced

1

large egg

beaten

1

tablespoon

basil

1

teaspoon

oregano

1 1/2

cups

shredded Italian cheese

divided (I used a blend of parmesan, asiago, fontina and provolone)
Instructions
In several batches, pulse raw cauliflower in food processor until you get pieces that are about the size of rice. Add all minced cauliflower along with kosher salt and about a 1/2 cup water to a medium sized pot. Cover, and cook over medium heat to steam the cauliflower until tender, about 15 minutes. Using a fine mesh strainer, use a large spoon to press out as much liquid as you can. Once cauliflower has cooled enough to handle, put remaining cauliflower in a clean dish towel and squeeze out remaining liquid. You want it as dry as possible.

In a medium sized bowl, combine cauliflower with garlic, egg, basil, oregano, and 3/4 cup (half) of the shredded cheese. Stir to combine.

Preheat oven to 450 degrees F. Line a baking sheet with parchment paper. Shape cauliflower mixture into a rectangle that is about 3/4 - 1 inch high. Bake in preheated oven until lightly golden on top, 15-20 minutes. Top with remaining shredded cheese and cook until melted and golden brown, another 5 minutes. Allow breadsticks to cool on baking sheet at least 5 minutes before slicing. They will be more flimsy than traditional breadsticks.