These Carne Asada Tacos with Mojo Sauce take an inexpensive cut of meat and transforms it into the most tender flavorful meal that the whole family will love.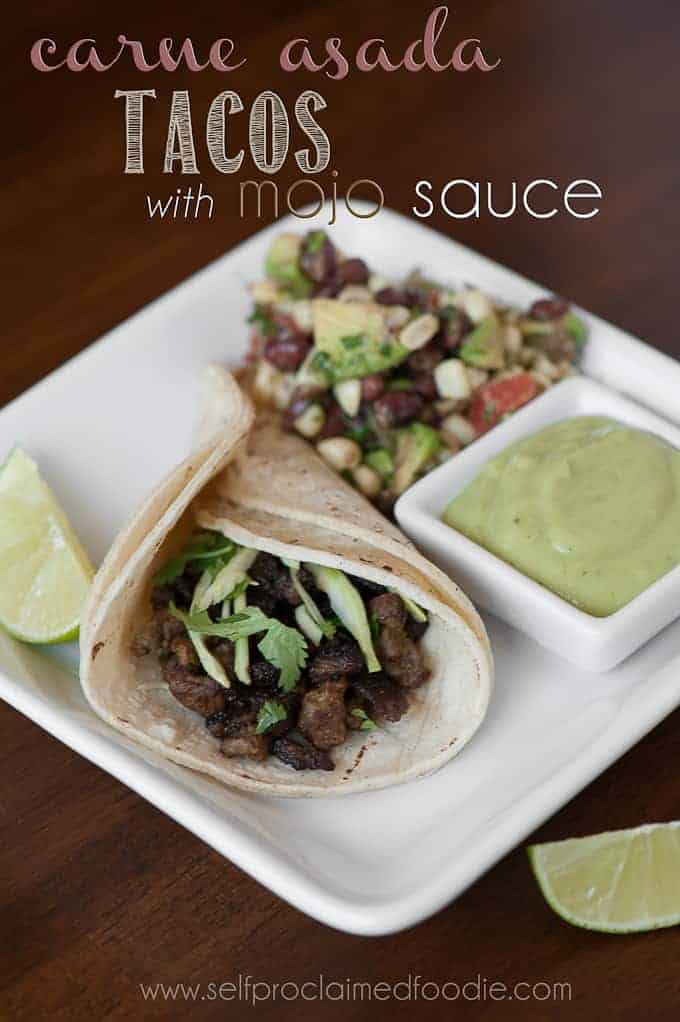 Warning! Do not read this blog post on an empty stomach! You will only torture yourself!
Why? Because I'm about to go on and on about how delicious these tacos are. I served them with my avocado tomatillo salsa. I'm not saying you have to serve it with that salsa, but I'm highly recommending it. I will also highly recommend you serve it with that beautiful black bean and corn salsa parked right next to my taco, but that recipe won't go live on the blog until Wednesday (check back!). So, here's the scoop. Each year our Foodie family buys a quarter cow and a half a pig from a pasture farm in Eastern Oregon. I highly recommend (sheesh, I'm full of advice today) every meat eater does this for a few reasons:
1. You can't go wrong when you buy straight from the source. Cut out the middle man, know where your meat is coming from, and directly help your local farmer.
2. You cannot beat the taste or the quality. Hands down.
3. All of your meat is from the same cow. When you buy it from the store, your ground beef can be from a collection of cows. Not sure if you've ever thought about that or if it should even gross a person out, but I kinda like knowing each bite in my burger came from the same source. Why am I writing things that might gross you out when my whole intention is to ONLY make you want to drop everything and cook these tacos?!?
4. When you buy a quarter cow, or even if you buy a smaller share, you're guaranteed to get cuts of meat you have never cooked before (unless, of course, you tell them to grind everything up). This, next to the high quality of the meat, is my favorite reason for buying straight from the farm. I often talk about how one of my favorite reasons for getting a CSA produce box every week is because its full of fruits and vegetables I wouldn't ordinarily buy. Same thing goes for the meat. I would never go to the store to buy a cheap cut of meat like a round steak. If you couldn't throw it on the grill, I didn't want to buy it. Let me tell you, those cheap cuts of meat can make the most wonderful meals. Either you braise them and make things like Cuban shredded beef, or you dice them up and cook them in a wonderful sauce to make things like these superb tacos.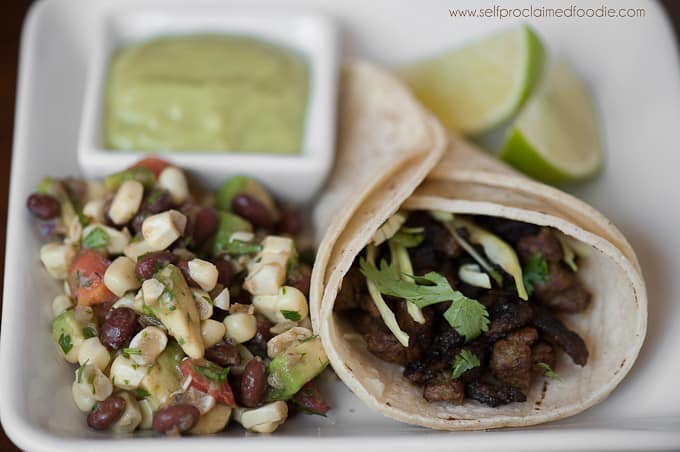 These carne asada tacos with mojo sauce are so freaking good. I really have no other way to describe them. Serve them up along side a blended watermelon margarita and you'll have a record breaking day when it comes to taste bud excitement.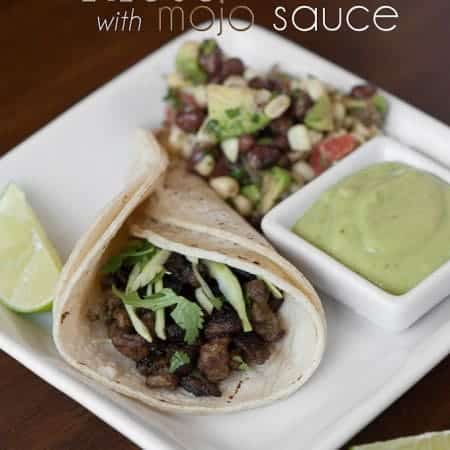 Carne Asada Tacos with Mojo Sauce
These Carne Asada Tacos with Mojo Sauce take an inexpensive cut of meat and transforms it into the most tender flavorful meal that the whole family will love.
Print
Pin
Rate
Ingredients
12-16

ounce

round steak

2

cloves

garlic

1/2 - 1

whole raw jalapeno

small handful cilantro

1

lime

juiced

1

small orange

juiced

1

tablespoon

apple cider vinegar

1/4

cup

plus 1 tablespoon avocado oil

divided *

1

teaspoon

kosher salt

16

corn tortillas

cabbage

shredded

cheese

shredded

sour cream

avocado tomatillo salsa

sliced limes
Instructions
Slice your meat into small squares, 1/8 - 1/4 inch big. Meat is easiest to slice when still partially frozen. Start by making thin slices, turn them on their side to make thin rows, then cut cross ways to dice into small squares. Can be cut in food processor, but you'll get more uniform pieces if cutting by hand with a sharp knife.

To make mojo sauce, blend garlic, jalapeno, cilantro, lime juice, orange juice, apple cider vinegar, 1/4 cup oil and salt in blender. Taste and adjust ingredients, if desired.

No less than 1 hour, but no more than 8 hours, before cooking, pour mojo sauce over diced meat and refrigerate until ready to cook.

Heat large heavy bottom skillet on medium high heat. Drizzle remaining tablespoon of oil to coat pan. When oil is hot, add meat without marinade. Spread over pan to a single layer and allow to brown and crisp up, stirring only once to equally brown all sides, about 5 minutes.

To serve, stack two tortillas for each taco and warm for a few seconds in microwave or steam with tortilla warmer. Add a couple spooonfuls of meat to each set of tortillas and top with shredded cabbage, cheese, sour cream, avocado tomatillo salsa, and garnish with limes.
Notes
* I used avocado oil because 1) I already have it, 2) it has the highest smoking point among cooking oils at 500 degrees F and 3) avocado and carne asada go together like peanut butter and jelly. Feel free to use olive or canola oil if you don't have avocado oil.