I can't imagine a better morning treat than this ooey, gooey, outrageously delicious, fun for all ages Caramel Pecan Bacon Monkey Bread.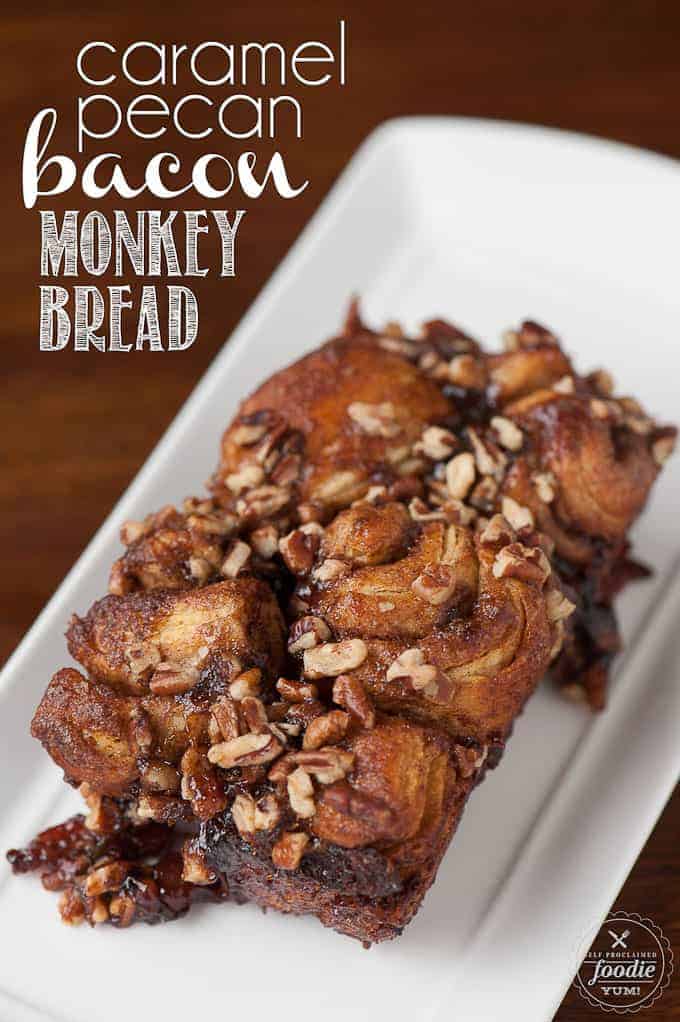 MY OTHER RECIPES
I'm always interested in an easy breakfast idea. I love monkey bread. Its a breakfast treat that I get to enjoy as part our family's annual summer trip to Sunriver, Oregon. I love the monkey bread that I was introduced to by my mother-in-law and it was the only kind I had ever had, until I found out that Pepperidge Farm makes Pecan Caramel Sweet Rolls.  Oh yes. If you haven't gotten these yet, they are pretty darn amazing. Then I had an idea. I should take something that already looks decadent and amazing and make it even more so. That how a self proclaimed foodie does it, right?
Here's what you get inside the tube: four monster rolls, the caramel sauce, and, much to my satisfaction, a heck of a lot of pecans.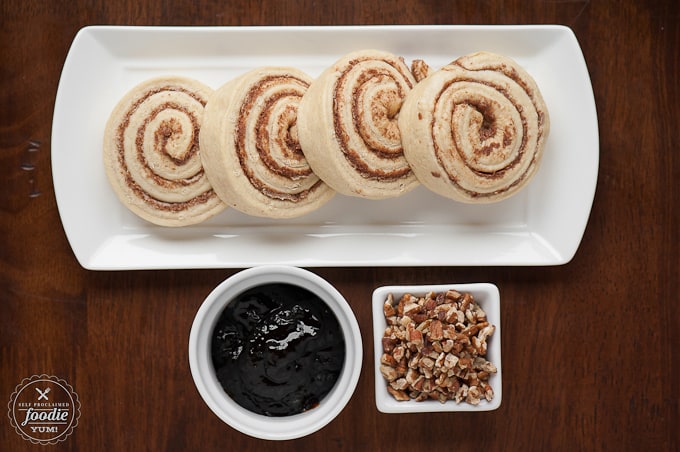 To make this monkey bread, you start by cutting each of the rolls into quarters, then you roll those in a cinnamon sugar mixture, drop half of them in a heavily buttered loaf pan, cover that first layer with bacon pieces…  Wait. We should all pause here and really absorb what you just read. Cover them with BACON pieces. Mercy. I'm not talking a couple crumbs of bacon either. I'm talking perfectly sized morsels of flawlessly cooked chewy and flavorful applewood smoked bacon. I wasn't messing around here. Okay, back to the recipe. Next you cover those amazing pieces of bacon with more rolled roll pieces (you can see the finished one on the left and the halfway finished one on the right.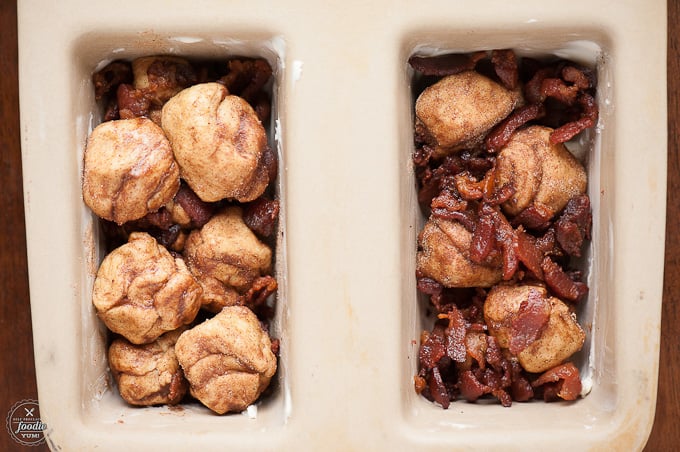 Next comes the best part… You melt some butter and combine that with the caramel sauce and the remaining sugar, pour it over the rolls, then top it with all those wonderful pecan pieces. See?  I told you I wasn't messing around here.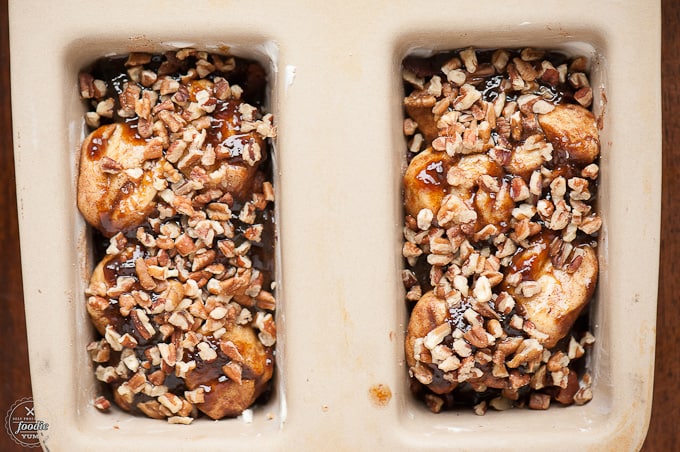 Bake them to perfection, let them rest for a few minutes in the pan, then invert them onto a plate.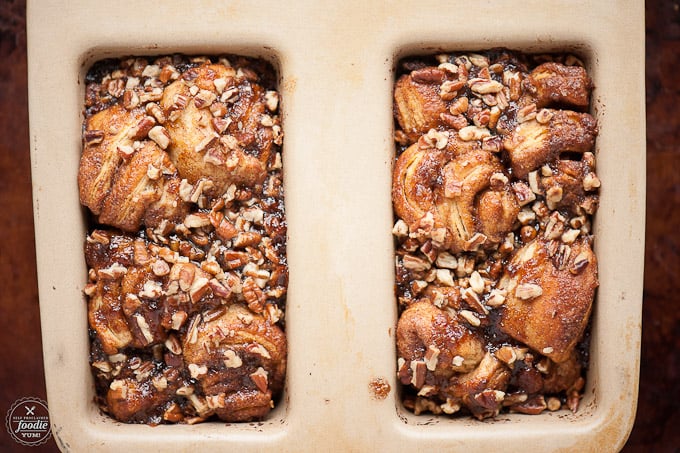 I wanted the pecans on the top so after I inverted the monkey bread on a plate, I just picked it up and put it right side up. Do with it what you will. It doesn't matter. It will all get consumed in a matter of minutes anyway.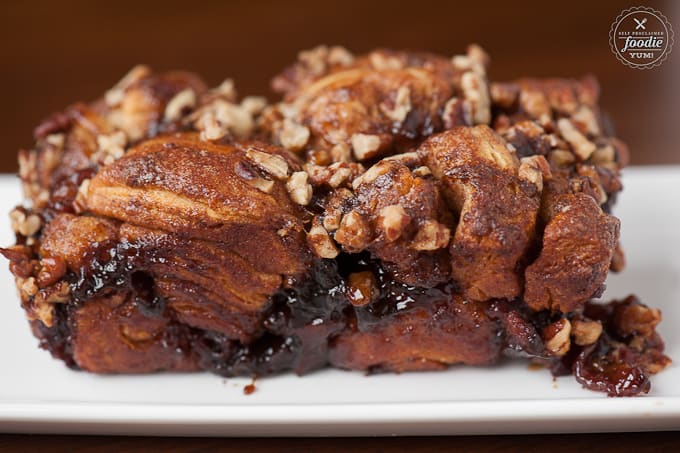 This photo below needs no words. I just want you to envision that sweet and salty, chewy and crunchy, two bite piece of heaven I got to eat. How jealous are you?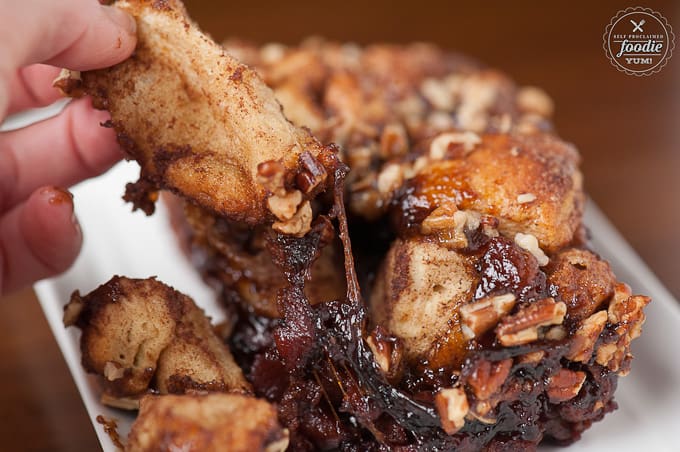 The ratio of bacon to pecans to caramel-y goodness was perfect and every bite got a little bit of just want I wanted.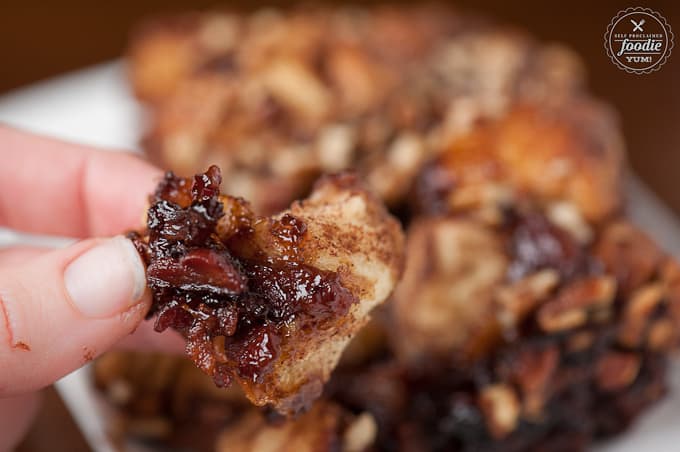 Sorry for the picture overload, but I wanted to show you every delicious angle. Now, I know not everyone can find these pre-made caramel pecan cinnamon rolls, so just use regular biscuit dough and follow the instructions for granny's monkey bread but add lots of bacon!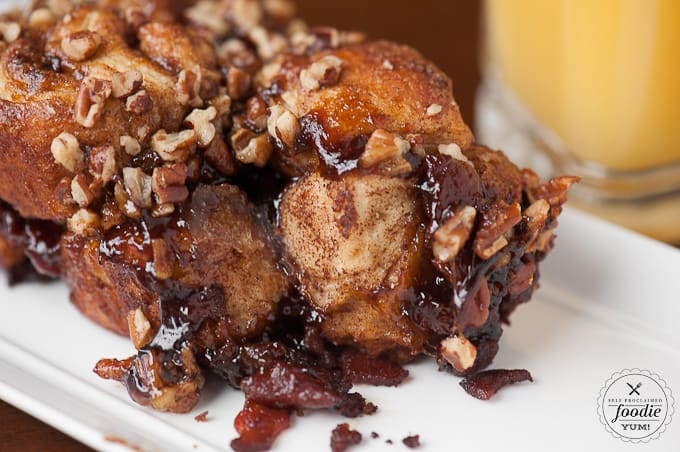 I can't imagine a better morning treat than this ooey, gooey, outrageously delicious, fun for all ages Caramel Pecan Bacon Monkey Bread.
Ingredients
8

ounces bacon ends and pieces

Pepperidge Farm Pecan Caramel Sweet Rolls

2

tablespoons sugar

1/2

teaspoon cinnamon

1/4

(4 tablespoons) cup butter
Instructions
Cook bacon ends and pieces (if you bought the 16 ounce package, cook the whole thing up and either make a double batch of this insanely good monkey bread or save half the bacon for a different recipe).
Preheat oven to 375 degrees F. Heavily grease two mini loaf pans or one regular sized loaf pan with butter.
Open up Pepperidge Farm Pecan Caramel Sweet Rolls and cut each roll into quarters. In small bowl, combine sugar and cinnamon. Roll each sweet roll quarter in the cinnamon sugar mixture and place in the loaf pan. Repeat until half of the sweet rolls are in the pan(s). Top with cooked bacon ends and pieces. Then roll the remaining roll quarters in the cinnamon sugar mixture and add to the loaf pan(s).
Melt butter, then combine with remaining cinnamon sugar mixture as well as contents of caramel packet that came with the sweet rolls. Stir well to combine, then pour evenly over the roll pieces. Top with pecan pieces that came in the sweet roll package.
Cook in preheated oven until sweet roll pieces are cooked through, 15-20 minutes.
Remove from oven and allow to cool in pan for 5 minutes. Cover with plate and then invert to serve.