Grilled Caprese Polenta Bites are a tasty and simple appetizer that is not only easy to make, but perfect for your next summer cookout or outdoor adventure.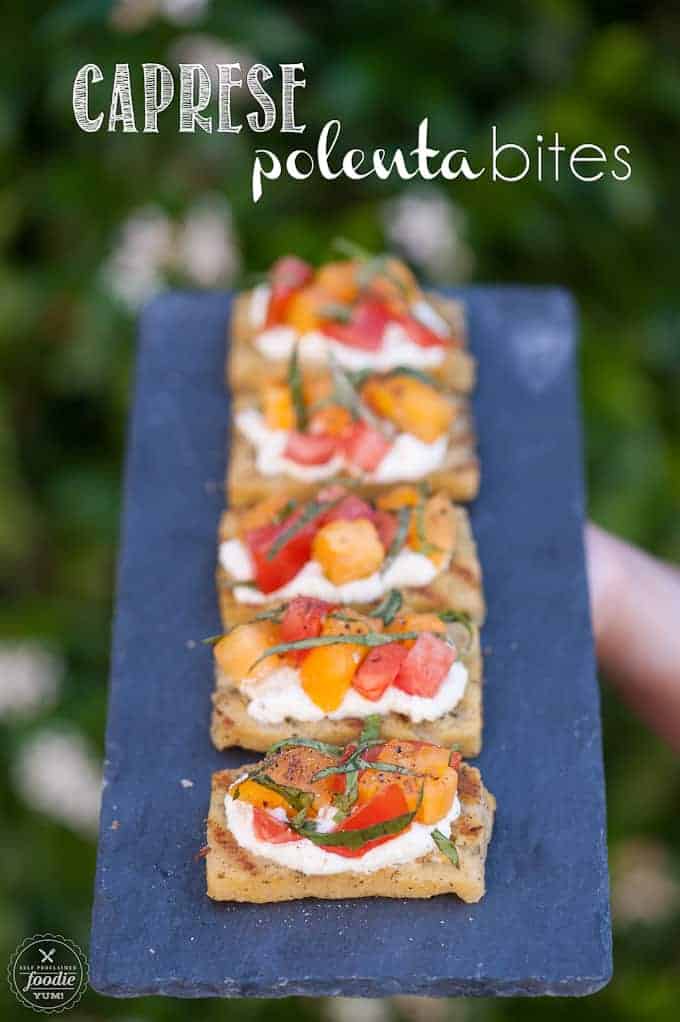 MY OTHER RECIPES
I am so fortunate to live in the great state of Oregon. I didn't grow up here, but had enough sense to make it my home as a young adult. I honestly can't see myself living anywhere else. In addition to being close to the coast, the mountains, and the desert, not to mention the abundance of the color green and endless rivers and waterfalls, I am proud to live in a state that produces the best high quality foods. We are truly a farm to table state and every single person here will tell you how Oregon brands produce high quality products.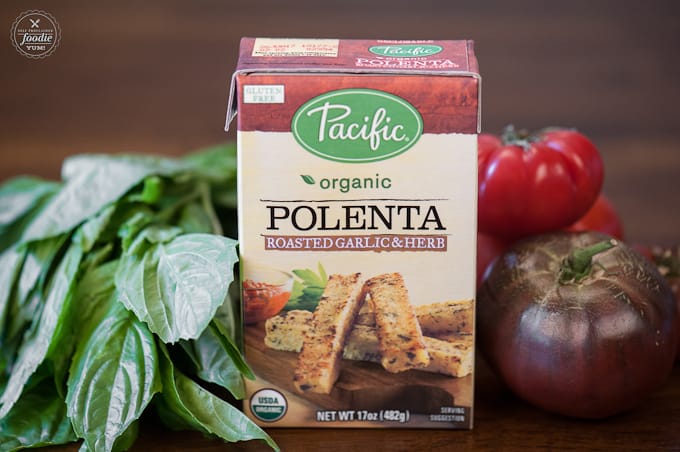 Pacific Foods is one of my favorite Oregon brands. I've been enjoying their products for years. From soups (their tomato soup is a regular on our family dinner table) and stocks to awesome convenient sides like this polenta, they are a well loved brand in our household! Founded in 1987 in Tualatin, Oregon, Pacific Foods is dedicated to sourcing simple ingredients cultivated through sustainable practices, making products that nourish, and increasing access to healthy, wholesome foods. It offers a wide variety of organic products, including flavorful soups, sauces, broths and stocks, as well as the broadest range of non-dairy beverages and a growing collection of dips, meals and sides. Pacific's delicious, nutritious foods are inspired by traditional recipes made convenient for busy, health-conscious consumers. The company's products are sold throughout the U.S. and Canada in mainstream grocery and natural food stores.
Organic, non-GMO, gluten free Pacific Polenta, made with ingredients with integrity, is fabulous for so many countless reasons. You can create your own delicious recipes with their organic polenta including a versatile appetizer like I did, or create a side dish or meal anytime of the day. As a gluten free alternative to pasta, rice, or potatoes, polenta is pre-cooked which makes it super convenient – simply heat & enjoy. Their BPA-Free innovative packaging is shelf stable with a 24-month shelf life which allows for anytime, anywhere consumption and the easy to open carton, made from 65% renewable paper uses 30-40% less retail shelf space than traditional cans. They offer four tasty flavors of polenta: Original, Roasted Garlic & Herb (which is what I used for this recipe), Jalapeno Cheddar (yum!) and Chipotle Cheddar (extra yum!).  Their Certified to the Source™ program tracks the origin and history of every ingredient they use to make their products, all the way back to the source, to ensure the quality and safety of everything they make.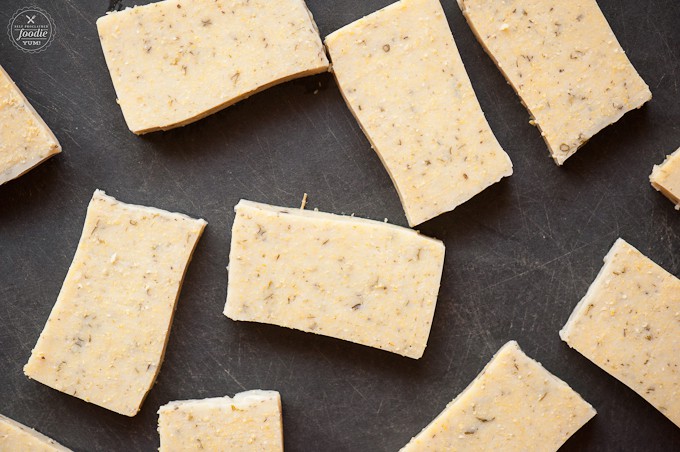 I needed to find an easy recipe that I could share with friends during our outdoor summer BBQ, and this really couldn't have been any easier. All I had to do for the polenta was slice it up, coat it with a thin layer of olive oil, and grill it up. To make this recipe even easier, you can totally grill the polenta ahead of time and store it in a container until you're ready to use it. Perfect if you're planning on taking it on an outdoor adventure like a picnic or camping.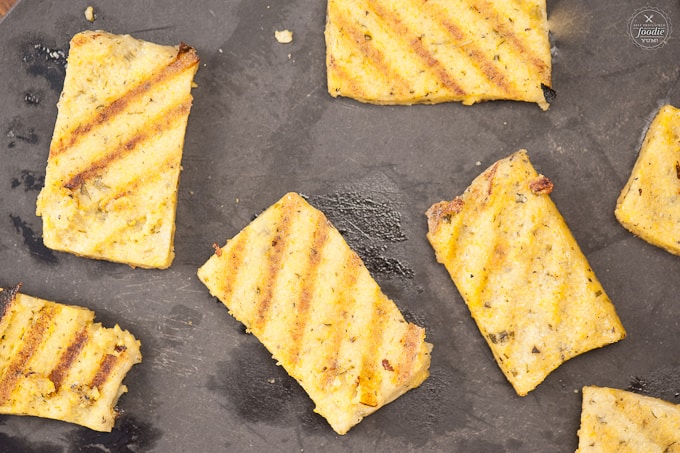 I was going to use mozzarella like I would with any other traditional caprese salad, but I happened to already have whole milk ricotta on hand and I figured it would help keep the tomatoes from rolling off the polenta. That was a good call! Not only did it do the job, but it was so creamy and delicious!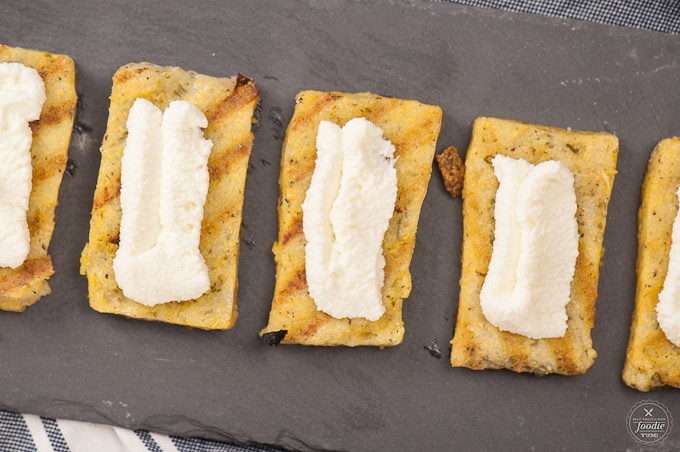 This time of year, gorgeous tomatoes and fresh basil are easy to come by. Just slice them up and toss them together.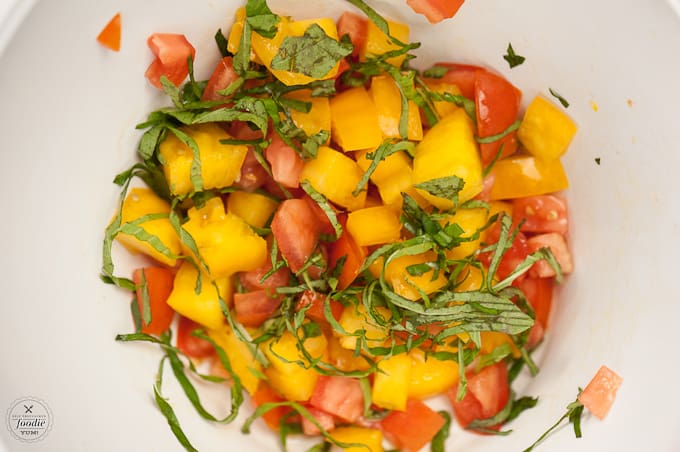 Voila! Top with some freshly ground black pepper and a pinch of Jacobsen Black Garlic Salt and you now have the most mouthwatering two-bite appetizer perfect for enjoying outside in the sunshine.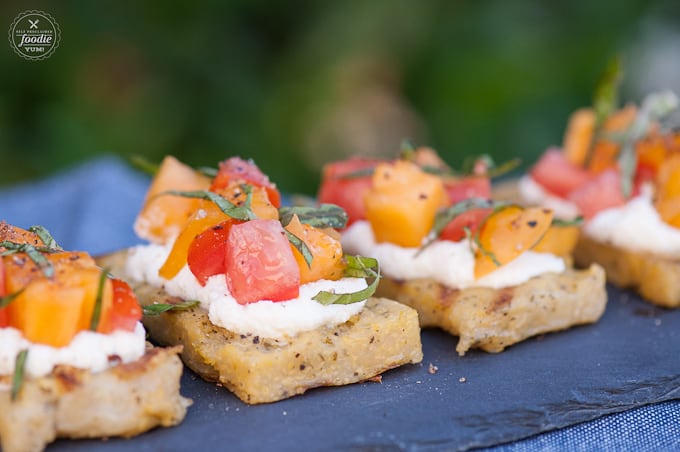 Pacific is partnering with Finex and Jacobson Salt Co. to help encourage fans to get outside and cook something delicious! Be sure to visit the sweepstakes entry link for your chance to WIN a case of Pacific Foods adventure-ready sides, a National Parks Pass, a Finex Cast Iron Skillet, and Jacobsen's Sea Salt!!!  Also, be sure to follow Pacific Foods on Facebook, Twitter and Instagram.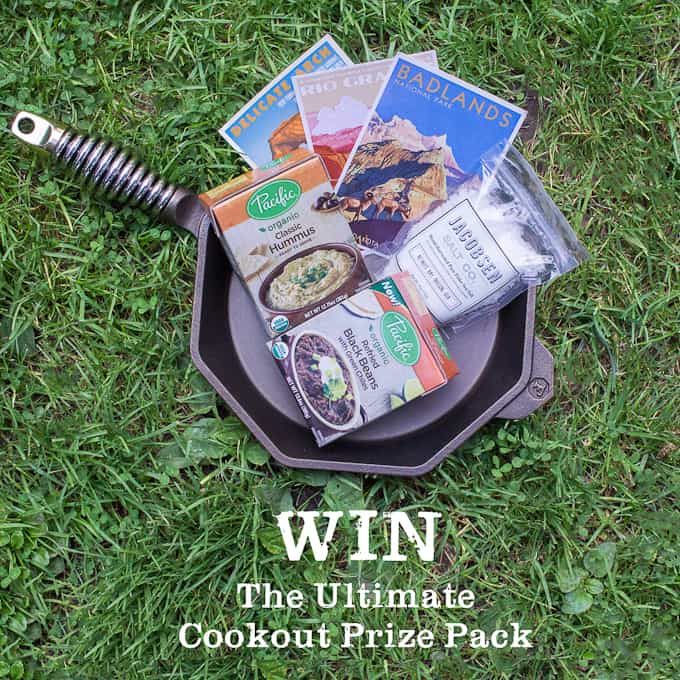 Grilled Caprese Polenta Bites are a tasty and simple appetizer that is not only easy to make, but perfect for your next summer cookout or outdoor adventure.
Ingredients
1

(17 ounce) package Pacific Foods Polenta

2

tablespoons olive oil

1

cup whole milk ricotta cheese

2

heirloom tomatoes, sliced into small chunks

10

fresh basil leaves, sliced into thin ribbons

Jacobsen Black Garlic Salt and freshly ground pepper
Instructions
Remove polenta from package and use a sharp knife to cut 12 slices.
Coat each slice with olive oil and grill over medium high heat for about 5 minutes each side. This can be done ahead of time or just prior to serving.
Add ricotta cheese to a plastic bag and snip off the corner to easily pipe a layer onto the grilled polenta squares.
Mix the tomato with the basil and spoon on top of the ricotta cheese.
Season with salt and pepper, as desired.
"This post is sponsored by Pacific Foods."