Breakfast Egg & Toast Cups are a different yet super easy and elegant way to make breakfast. Perfect as a simple breakfast for two or for feeding a crowd.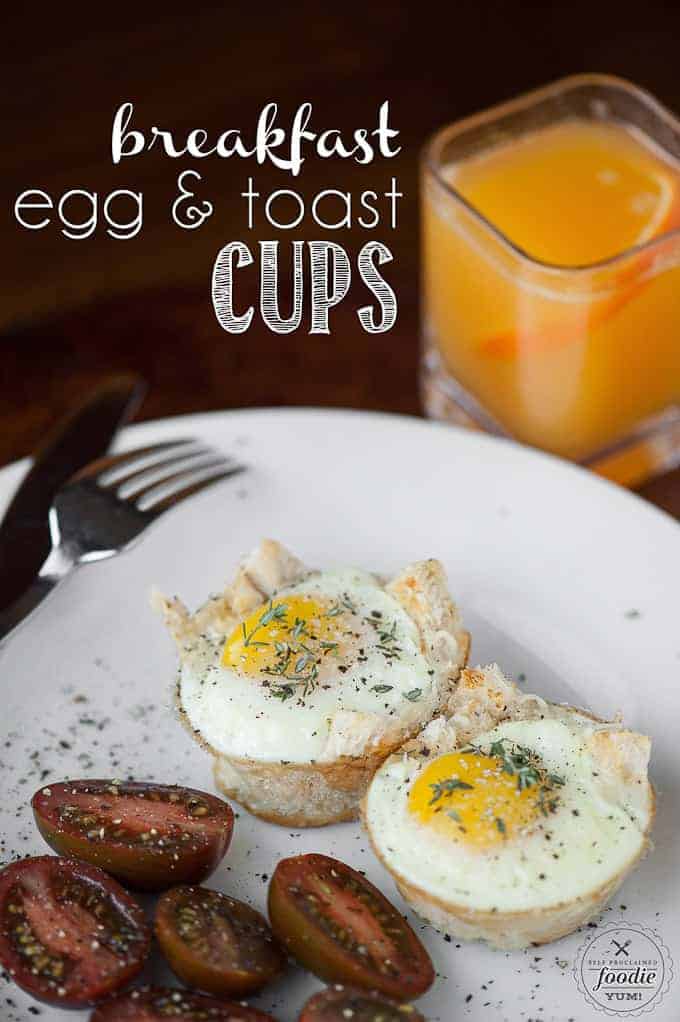 Every so often I come up with an idea,try it out, and am so tickled with myself that it actually turns out well. You might think that since I post recipes daily that I have a pretty high success rate. Well, I'll let you in on a little secret: I make a hell of a lot more food than what I post on this blog. We eat a lot in our family and dining out is a pleasure that's not often enjoyed. So, truth be told, I make a lot of food that either doesn't turn out or it turns out ugly and I would be mortified to show it to the world. I'm happy to say that I was extremely pleasantly surprised with these little breakfast egg & toast cups.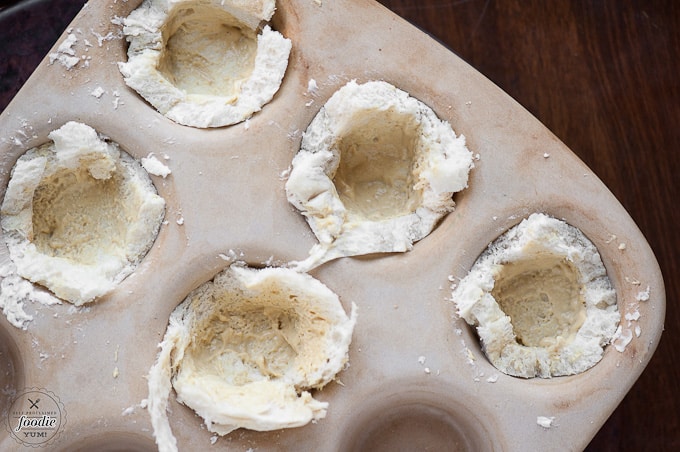 I started with some very large pieces of Trader Joe's sourdough bread. Its fantastic bread that is perfectly sour, but like with all their baked goods, if you don't use it up within a few days it'll go bad. Usually not a problem in our house. I trimmed the crusts off (and ate them), lathered the bottom of the toast up with butter and spread some dijon mustard on the top. Then I baked the bread in a hot oven for about 10 minutes to start the process. I added some ham that was left over from the previous night's dinner, a hefty sprinkle of grated parmesan, and I cracked an egg on top. I usually keep both jumbo sized eggs in my refrigerator along with standard large eggs. For this recipe, the large egg worked best. The jumbo may have spilled over.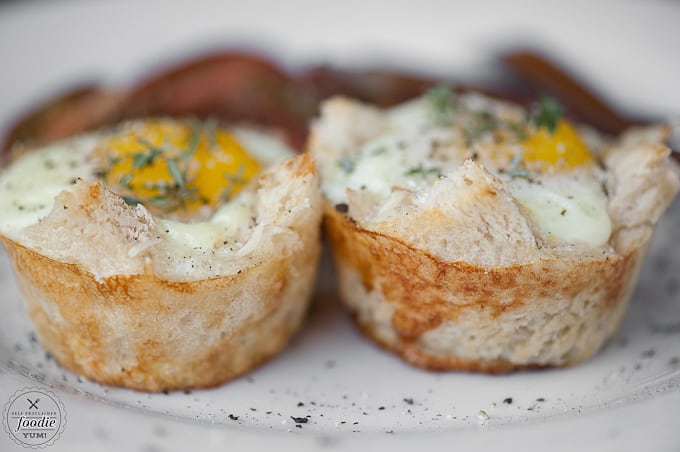 Bake those bad boys until the whites have set. Don't worry – they will jiggle (that's what she said). As long as the whites turn from clear to white they are cooked. Let them sit in the hot muffin pan for a few minutes just to finish off the whites. The end result is a crispy-on-the-outside toast cup with a flavorful-perfectly-cooked egg atop a delicious ham and cheese mixture. Mercy.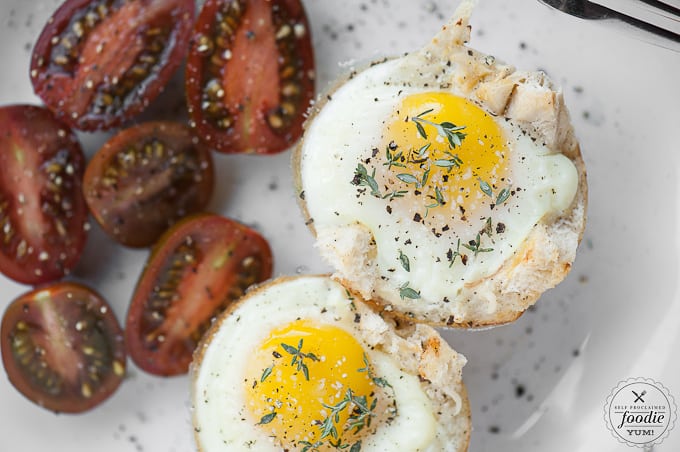 I sprinkled these goodies with freshly ground pepper, kosher salt, and fresh thyme because, well, I love them and thyme is the only herb in my garden that is still alive. Can you believe how perfect the eggs turned out? Just like my poached eggs – cooked whites with runny yolks. Anything else is just plain nasty.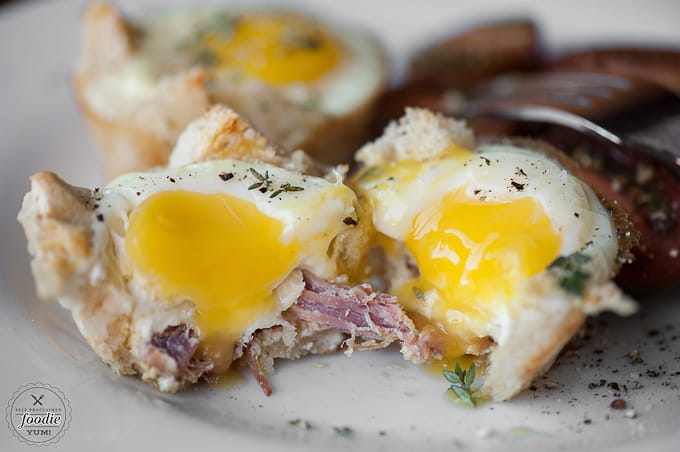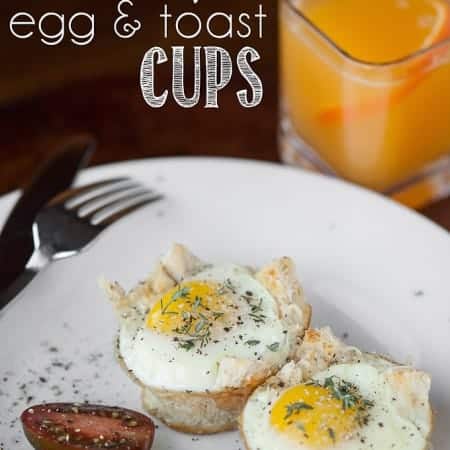 Breakfast Egg Cups
Breakfast Egg & Toast Cups are a different yet super easy and elegant way to make breakfast. Perfect as a simple breakfast for two or for feeding a crowd.
Print
Pin
Rate
Ingredients
2

extra large pieces of sour dough bread

crusts removed

1

tablespoon

butter

room temperature

1

tablespoon

dijon mustard

2

tablespoons

chopped ham

or other cooked breakfast meat

2

tablespoons

parmesan

grated

4

large

not jumbo eggs

Fresh thyme for garnish

salt and pepper

as desired
Instructions
Preheat oven to 350 degrees F.

Slice pieces of bread in half to make four pieces (they should be close to square shaped).

Spread butter onto one side of bread and mustard onto the other side.

Push the bread, butter side down, into the well of a muffin tin. Bake in preheated oven for 10 minutes.

Add ham and parmesan to the bread cup. Crack egg and add to the bread cup. The pan should be hot so as long as you are careful, it shouldn't really spill over.

Bake in preheated oven for another 15-20 minutes or until whites appear cooked but jiggly.

Remove from oven and allow to sit in hot muffin pan for another 5 minutes to ensure eggs are set.

Top with fresh thyme, salt and pepper.