Bratwurst and Pea Mac n Cheese is a a wholesome, delicious, and simple kid friendly mac & cheese dish that takes less than 30 minutes to make.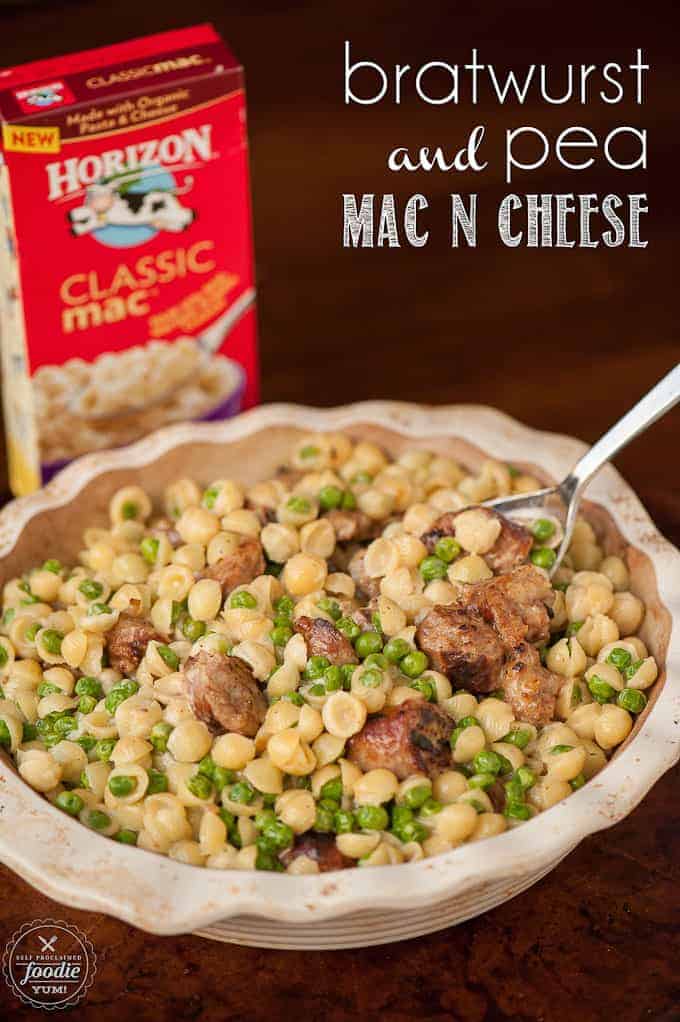 MY OTHER RECIPES
This post is all about the WIN-WIN-WIN that Mac & Cheese brings to the table. With great ingredients, delicious taste AND convenience, it's the perfect dinner trifecta. After all, there is one dreaded question most moms face every day. What's for dinner? We are huge mac n cheese fans in our house. I wanted to create a unique twist to a classic recipe for more advanced taste buds. When I was trying to come up with a recipe, I wasn't sure which protein I wanted to use. My husband was actually the one who suggested sausage.  He said "when I was a kid we used to mix hot dogs in our macaroni all the time."  Knowing that I was unlikely to mix hot dogs in my mac n cheese, his eyes lit up when I said that I thought bratwurst would go really well in this meal.  If there's one thing my kids love almost as much as macaroni and cheese, its bratwurst. They are definitely their father's children.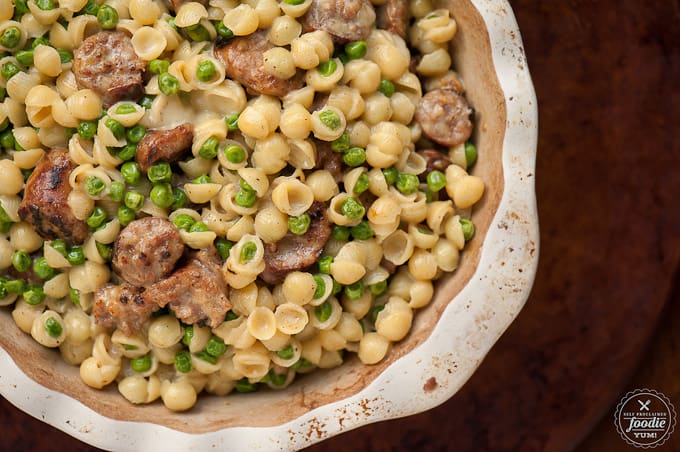 Adding the peas into the recipe was a no brainer. I grew up on tuna casserole, so peas and pasta just go together in my mind. Plus, peas add that perfect little pop to break up the flavor and the color of the meal. Adding the mustard was the final touch to really bring all the flavors of the bratwurst, cheddar, and peas together. The result was a quick and easy dinner recipe that the entire family loved.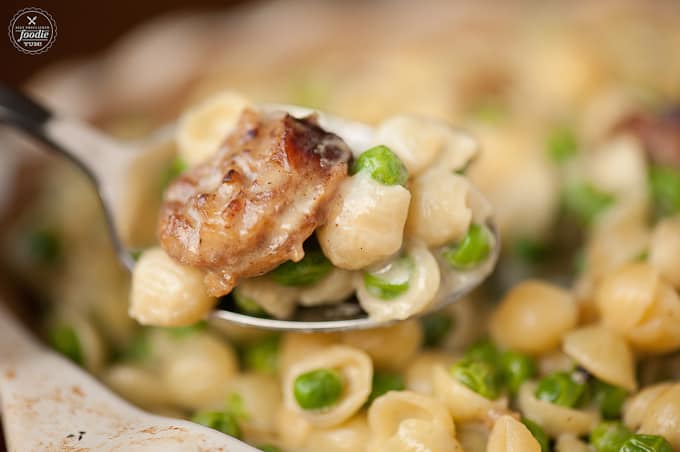 Bratwurst and Pea Mac n Cheese is a a wholesome, delicious, and simple kid friendly mac & cheese dish that takes less than 30 minutes to make.
Ingredients
2

boxes Horizon classic mac (6 oz each)

1

pound bratwurst, uncooked

2

cups peas (fresh or frozen)

4

tablespoons butter

1

cup milk

1

cup extra white cheddar, shredded

2

tablespoons spicy brown mustard
Instructions
Preheat oven to 400°F.
Boil large pot of water for the pasta. While you wait for the water to boil, cook bratwurst in pan over medium-high heat with the lid on. Turn sausage every 1-2 minutes to evenly brown. When outside of sausage is browned, removed from pan and slice into bite sized pieces on a diagonal. Return meat to pan and continue to brown individual pieces uncovered for another 1-2 minutes. Remove from heat and set aside.
Boil the pasta according to package directions. One minute before pasta is ready, add peas to boiling water to blanch with the pasta. Drain pasta and peas, set aside.
In pot you cooked the pasta, melt butter over medium heat and add contents of cheese packet, milk, shredded cheddar, and brown mustard. Stir to combine cheese sauce. When cheese cause is warm and combined, add pasta and peas as well as cooked bratwurst to pot. Stir to combine.
You can serve immediately straight out of the pot or you can transfer meal from pot to a 9-inch square or large pie pan baking dish dish and cook in preheated oven for 5-10 minutes. If making ahead, cover with aluminum foil and heat in oven until heated through, about 20-30 minutes, before removing foil. Then cook for another 5 minutes uncovered until bubbling and golden.