If you're looking for a rich and decadent dessert that is easy to make and perfect for summer, you'll love this Bourbon Raisin Caramel Pecan Rice Pudding.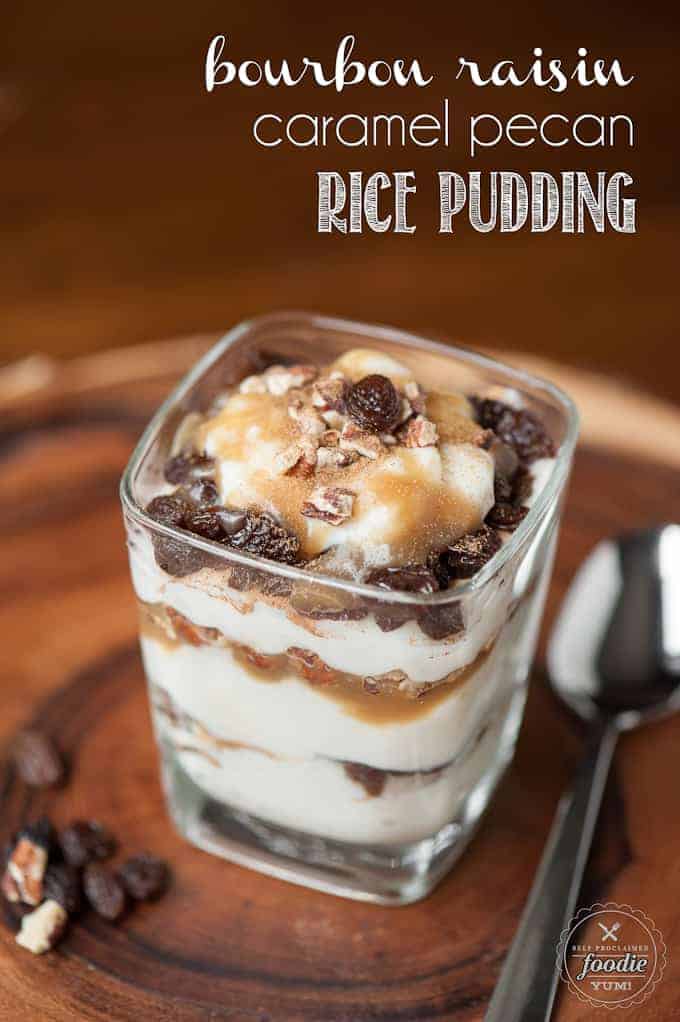 I had some delicious rice pudding in my refrigerator. I love this stuff. Have you ever had rice pudding? If not, you must hear what I have to say. I'm sure you're probably thinking that rice is only meant as a side dish or with sushi. Not true. A good rice pudding is one of my favorite desserts. Its rich and creamy, and the rice gives it a great texture.
I wanted to take my rice pudding to the next level my mixing it with some great ingredients. My husband suggested dark chocolate and caramelized bananas. I quickly shot him down because his ideas are usually weird and not good. He loves to eat but he doesn't create much in the kitchen. Now that I think about it, what he suggested sounds delicious and I will certainly make that my next dessert idea. I went with my sister's recommendation which was to use soaked raisins and spices. I took it the extra mile by mixing in an easy caramel sauce with some pecans for added crunch. 
Did you know raisins cooked in bourbon taste much better than raisins not cooked in bourbon? Go figure.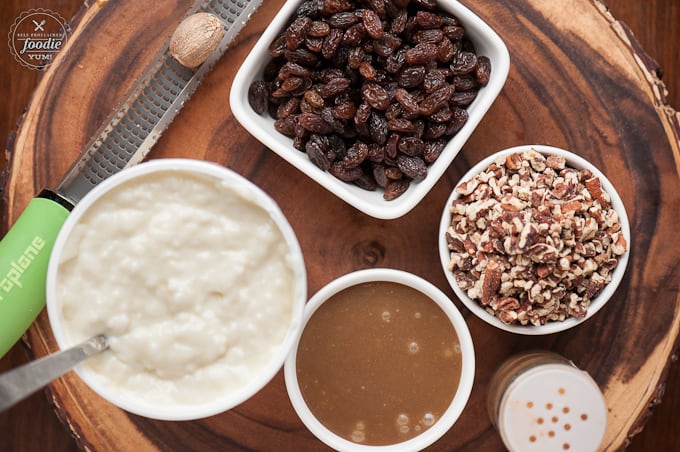 It only takes a few minutes to prepare the raisins and the caramel sauce. Once they're all cooled off, you're ready to break out the pudding and make your parfait.
You can do this part however you like – layer it or mix it, use as much pudding/caramel/raisins as your heart desires. I decided to layer simply because I think it looks pretty and I want people to see what's in there. I started off with a big scoop of rice pudding covered in cinnamon and nutmeg.
Then I covered it with a layer of raisins (after I tossed a few in my mouth).
Followed by another layer of pudding as well as caramel and pecans.
On to that, more pudding, cinnamon, nutmeg, and raisins.
Voila! The end result is a super rich and decadent dessert perfect for summer time. Heaven in a glass.
Don't you just wanna grab that spoon and dive in? I did.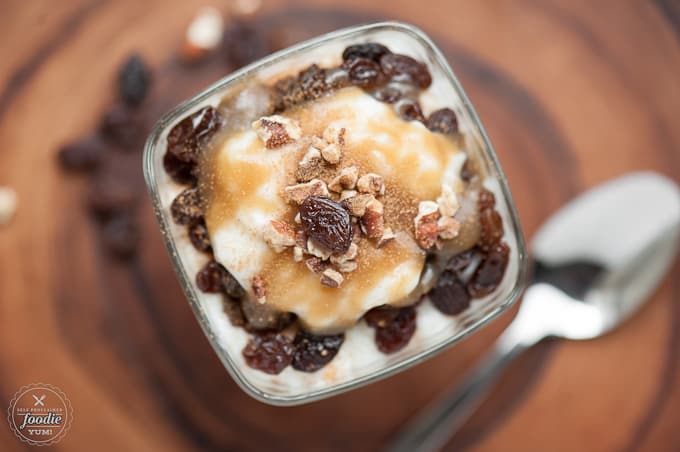 Oh yes. This dessert was quite delicious, indeed!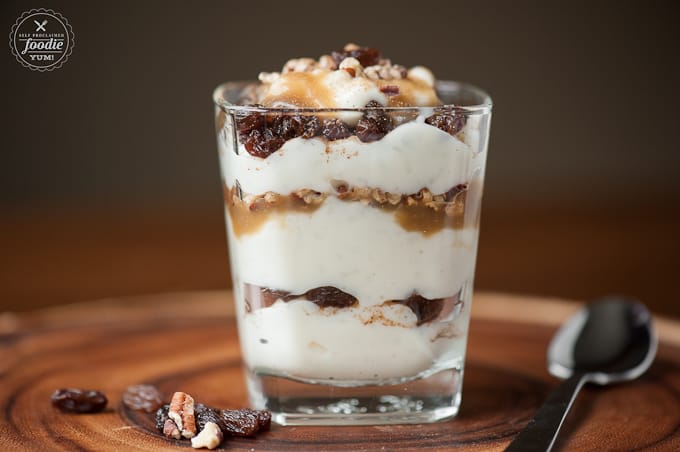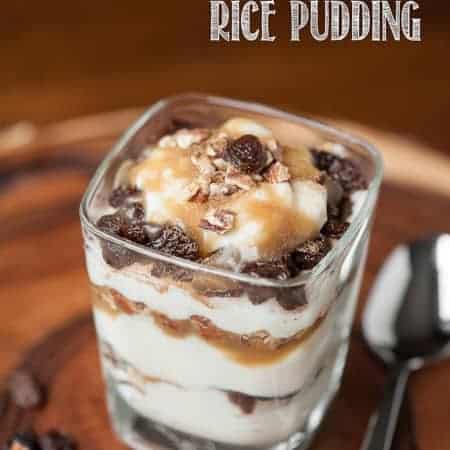 Bourbon Raisin Caramel Pecan Rice Pudding
If you're looking for a rich and decadent dessert that is easy to make and perfect for summer, you'll love this Bourbon Raisin Caramel Pecan Rice Pudding.
Print
Pin
Rate
Ingredients
3/4

cup

raisins

3

tablespoons

bourbon whiskey

1

cup

Brown Sugar

4

tablespoons

1/2 stick butter

1/2

cup

heavy whipping cream

1

tablespoon

Vanilla

Pinch

Of Salt

3/4

cup

pecans

22

ounce

Rice Pudding

1/2

teaspoon

cinnamon

ceylon recommended

dash of freshly ground nutmeg
Instructions
To make the bourbon raisins:
Combine the raisins and the bourbon in a small pot over medium heat. As soon as the bourbon starts to boil, reduce heat to low and cook until all/most of the moisture has evaporated.

Remove from heat and cover pot with lid until raisins are completely cool.
To make the caramel sauce:
Combine the brown sugar, heavy cream, butter, and vanilla in a medium sized pot. Stir to combine and bring to a rapid boil over medium heat, stirring occasionally. Continue to cook for about 5-10 minutes to develop the flavors. Refrigerate to cool. Caramel will thicken as it cools.
To make the parfait:
Alternate layers of

rice pudding

covered with cinnamon and nutmeg with layers of caramel and pecans as well as the raisins. You can choose to stir the cinnamon, nutmeg, and raisins into the pudding as well. How much you use and how you do it is complete personal preference.
Notes
Note: you may have leftover ingredients depending on how much you use.