I can't think of a better rustic dessert to serve during the holidays than this delicious Bourbon Glazed Apple Gingerbread Upside Down Cake.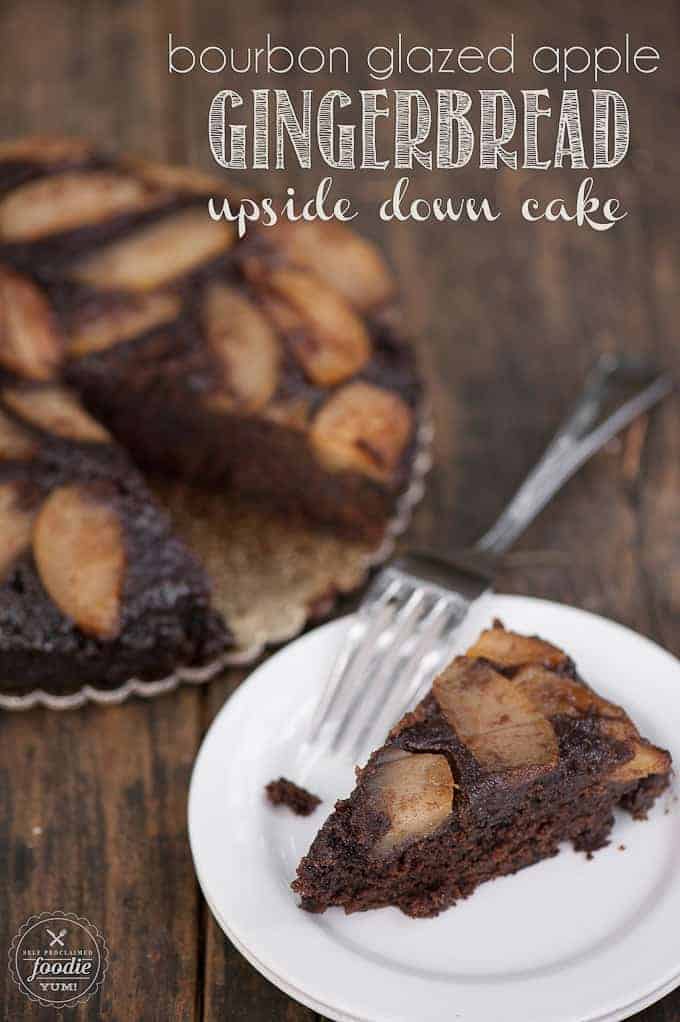 Good Lord, this cake was good. I mean, how can you go wrong with Bourbon soaked tart apples baked into a soft, dark, spicy molasses-y gingerbread cake, only to finish with a sweet crispy edge. Once again my friend Mindy, of Decadent Creations, completely blew my mind when she gave me this "Bad Santa" upside down cake.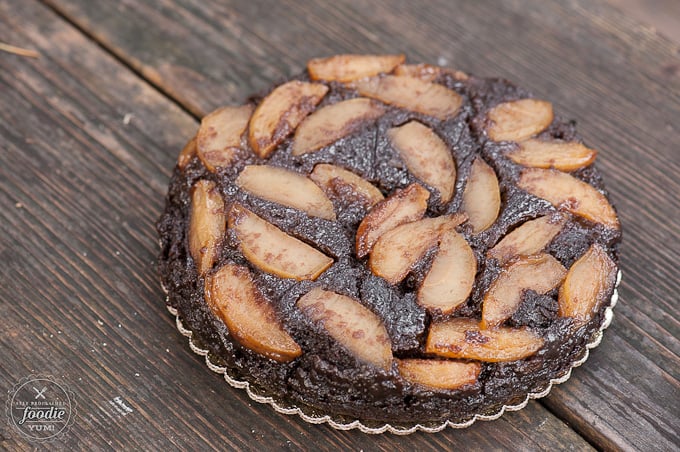 She described the cake as rustic. I couldn't agree more. There are so many food bloggers that use paper that look like distressed wood in their photos. Not necessary here in Oregon. You can find a shabby chic rustic area to photograph food around any corner. All I needed to make these photos complete are some huge pale colored dahlias in an antiqued silver vase and some woodland animals.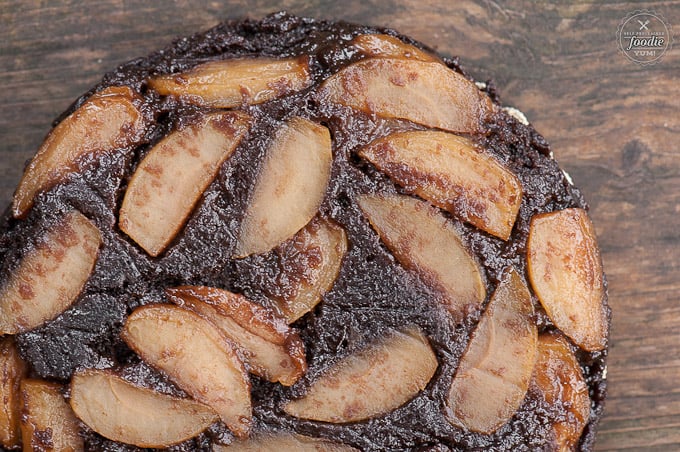 There are so many fantastic elements to this cake. You have soft contrast with crunch. Sweet with spice. And the best part of all is every bite tastes like Christmas.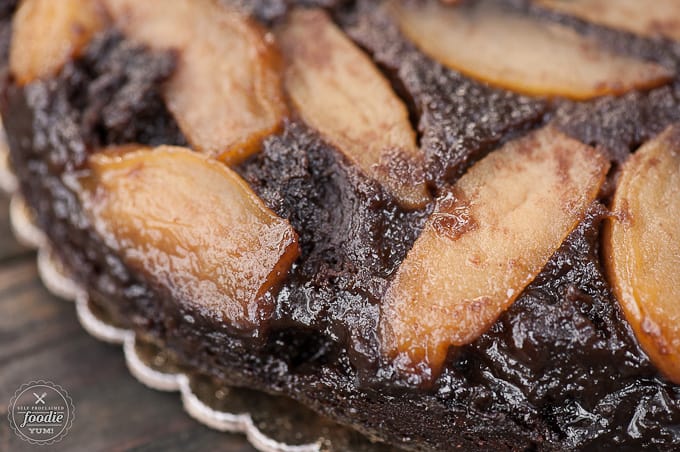 I wanted to show you a couple good close ups of the side of this cake. The whole point of making an upside down cake is so that you can have a delicious glaze on the bottom of the pan with the fruit so that when you invert it, the top of the cake is moist and delicious and the corners and sides get the most wonderful crisp. Mercy.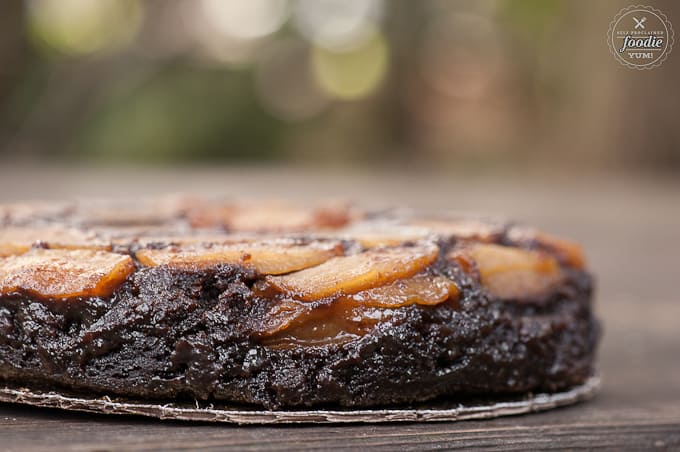 I sliced this cake up and I had to defend it with my life from my salivating children while I got these photos. They inched closer and closer until they heard the last of the shutter clicks at which time they moved in and took their first bite. I wish I would have photographed the looks on their faces.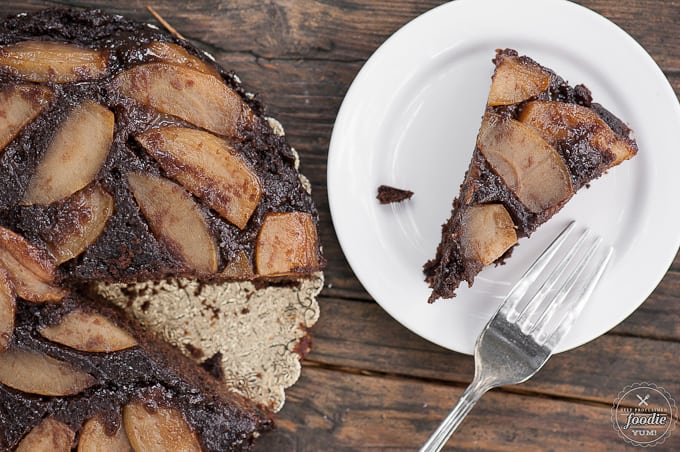 If you're ever in my neck of the woods, you must pay Mindy a visit and drop your entire paycheck on her baked goods – they are that amazing. I understand not everyone can make it to the beautiful town of Portland, Oregon, so lucky for everyone else, you can just follow the recipe below and make a "Bad Santa" cake yourself. Enjoy!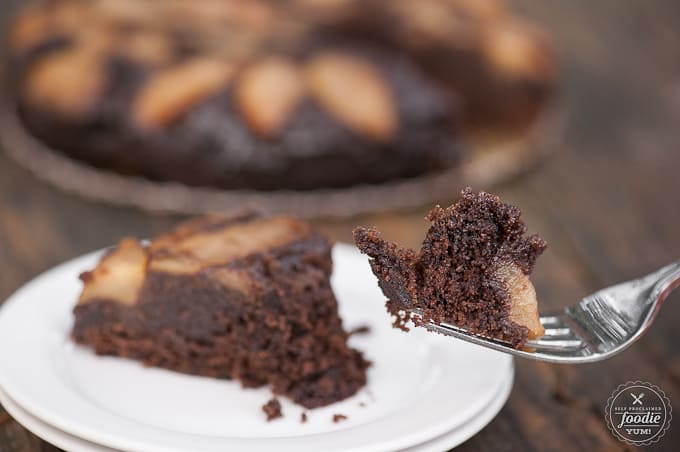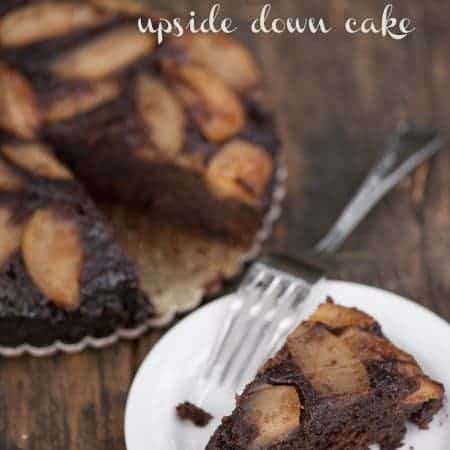 Bourbon Glazed Apple Gingerbread Upside Down Cake
I can't think of a better rustic dessert to serve during the holidays than this delicious Bourbon Glazed Apple Gingerbread Upside Down Cake.
Print
Pin
Rate
Total Time:
1
hour
20
minutes
Ingredients
Cake:
2

medium Granny Smith apples

2

shots

Bourbon

3/4

cup

butter

softened, salted or unsalted, Santa is too drunk to care...

1

cup

packed brown sugar

1/2

cup

granulated sugar

1/2

cup

canola oil

1

egg yolk

3

eggs

1 1/4

cup

molasses

blackstrap preferred

2 3/4

cup

all­-purpose flour

1

teaspoon

Baking powder

1/2

teaspoon

baking soda

1

teaspoon

Ground Cinnamon

2

teaspoon

Ground Ginger

1/2

teaspoon

Ground cloves

1/2

teaspoon

Sea salt

1/3

cup

cocoa

Dutch preferred

1

cup

buttermilk
Pan­Glaze:
1

⁄4 cup butter

softened

1

⁄2 cup brown sugar
Instructions
Peel and chop the apples & place in a small mixing bowl or casserole dish. Pour the Bourbon over the apples, & let them soak while you make the batter.

Cream the first portion of butter and first portions of sugars with the paddle attachment of a stand mixer. Slowly add the combined canola, eggs, yolk, and molasses. Mix until combined. Scrape bowl. Add the combined dry ingredients all at once, while the mixer is off. Turn the mixer on speed 1 and let the wet & dry come together. Then drizzle the buttermilk at a pace that isn't too splashy. Give it one more good scrape. 'Flash' it for a brief moment on moment on a medium speed. Volia! Batter: Done!
Make the pan­ glaze & assemble the upside ­down cake for baking:
In a fresh mixing bowl with the paddle attachment, cream the second portion of butter and second portion of brown sugar. Drain off the excess Bourbon from the soaking apples, then slowly pour in the extra Bourbon & mix until combined.

Line a 9 inch round cake pan with parchment paper and spray with nonstick spray.

Spread the Bourbon­licious pan ­glaze into the bottom of the pan. Disperse the Bourbon­ soaked

apples evenly over the pan ­glaze. Pour the gingerbread cake batter over the top.

Bake in preheated 350 degree F oven for 60 minutes, turn the pan halfway through baking. Cool for 20 minutes. Scrape the sides of the pan with an offset spatula for easy unmolding. Flop the cake out onto a cake board, plate or cake stand.

Carefully peel away the parchment. If some apples stick a little, you can always piece it together. It's rustic, after all!