You can't argue that BLTs are the best, but take your sandwich to a whole new level by making this BLT with sun dried tomato roasted garlic aioli.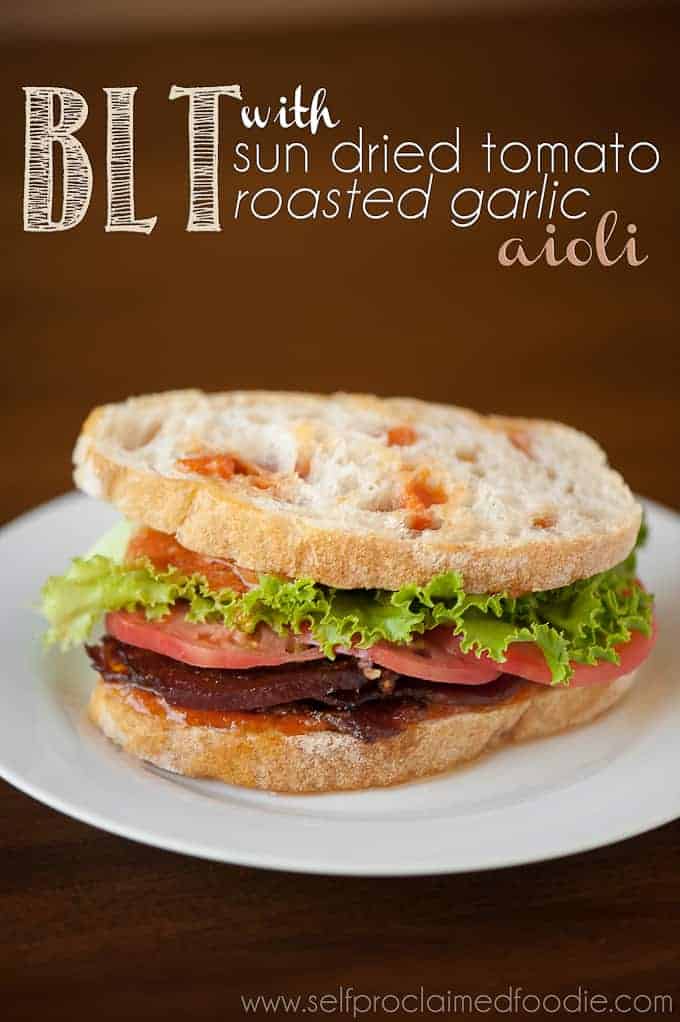 I have a background in Engineering. I have a mathematical mind. I love flow charts. That is why, my friends, that I am not only going to use my words to describe all the wonderful layers that comprise this Bacon, Lettuce and Tomato sandwich with Sun Dried Tomato Roasted Garlic Aioli… but I made you a flow chart:

Allow me to describe how delicious this sandwich is. First, however, I must warn you of two things: 1) I LOVE BLTs. I often choose to have a BLT with salt & vinegar chips for my birthday dinner. I crave BLTs. 2) I'm starving right now. I probably shouldn't write a blog entry when I'm hungry because I end up describing each morsel of food in great detail, thus making myself even more hungry. I tend to write these starving posts when I'm stuck somewhere I can't eat. Why do I punish myself so?
The bread: I usually go for a soft sour dough and give it a light toast. This time I went for a chewy ciabatta. I wanted the aioli to really soak in through the wholes. Plus, I was just too lazy and too hungry to wait for it to toast.
The aioli: I put a lot of roasted garlic in this aioli. If you can't handle it, scale it back by half. This amount of garlic will make you smell like garlic for days. I'm into that sort of thing. You need to ease into it though. Be sure to slather a thick layer of this aioli on both pieces of bread. We had leftover aioli so the next day I mixed it up with a can of tuna. Oh god. The thought is making my stomach growl.
The bacon: I'm a total bacon snob. I swear I can taste nitrates or nitrites. I don't exactly know why nitrates and nitrites are bad, but I just know that they are so I don't buy bacon that has them. I get my bacon when I buy my half pig from a ranch. When that runs out, I get Applewood Smoked or Black Forrest bacon from Trader Joe's. I think bacon deserves its own food group. I always cook my bacon in the oven so that it lays flat. Then I guard it with my life so that it actually makes it all the way to the sandwich before more convert-foodie bacon-loving husband steals it.
The tomato: There is no better kind of tomato than a ripe, large, heavy heirloom during the middle of summer. Gimme a salt shaker, an heirloom tomato, and a napkin to clean up after I've attacked that delicious tomato and you just made me a happy girl. The goodness of bacon can make any old tomato work, but if you put a fresh heirloom tomato on your BLT, your taste buds will thank you.
The lettuce: I'm not super particular here. I prefer big leaves of lettuce as opposed to small dark spring greens when it comes to my BLTs. I like a nice balance of leaf to crunchy stem. But other than that, the lettuce just has to be clean and not rotting and that's good enough for me. See? I'm not a total food snob. Oh wait. It has to be grown organically and preferably locally for me to fully enjoy it.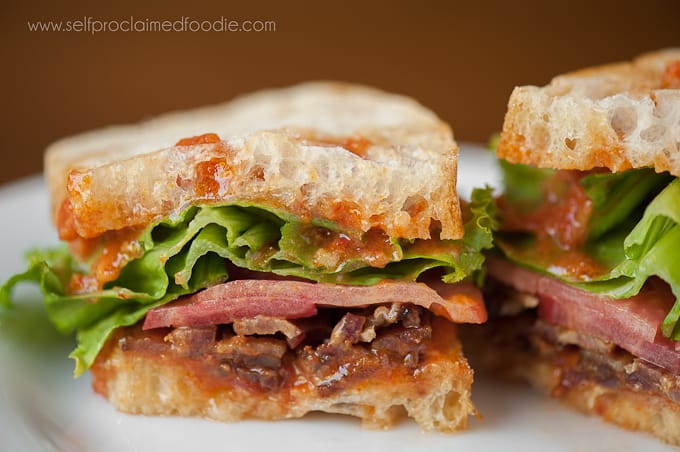 And there you have it. That's how I make my BLT. Now I'm just going to sit here a few more minutes and stare at this photo while I listen to my stomach growl.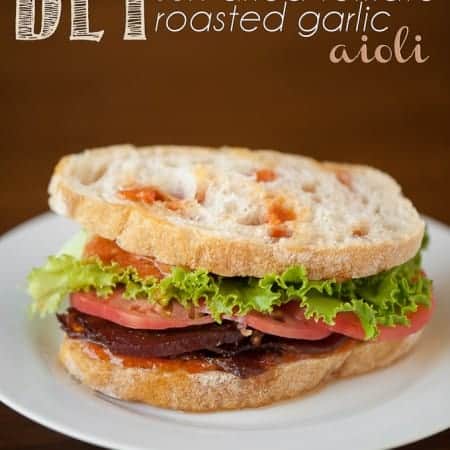 BLT with Roasted Garlic Sun Dried Tomato Aioli
You can't argue that BLTs are the best, but take your sandwich to a whole new level by making this BLT with sun dried tomato roasted garlic aioli.
Print
Pin
Rate
Ingredients
Aioli:
1

head garlic

1

teaspoon

olive oil

1/4

cup

sun dried tomatoes without oil

2

large egg yolks

1

tablespoon

lemon juice

about half a lemon

1/2

teaspoon

salt

3/4

cup

canola oil
Sandwich:
8

slices

bread

ciabatta works great

8-10

slices

cooked applewood sliced bacon

cooked

1

large heirloom tomato

sliced thin

green leaf lettuce
Instructions
To make the aioli:
Cut the top (the part with the root) off the head of garlic and drizzle with olive oil. Roast in 400 degree F oven for 20-25 minutes. Cool enough to handle and remove cloves from papery outside.

In a food processor, blend roasted garlic cloves, sun dried tomatoes, egg yolks, lemon juice and salt. Use scraper to push ingredients back down into bowl and mix again.

With processor blending, slowly pour a small steady stream of oil and blend until thick and creamy.
To assemble the BLT:
Slice the ciabatta. Spread aioli liberally on bread. Layer with warm bacon, tomato and lettuce. Enjoy!
This makes two big sandwiches but you'll have leftover aioli. I actually used mine in place of mayo when making a tuna sandwich for the husband the next day.