Asparagus Gouda Galette is a delicious, rich, flaky dish that can either be served as an appetizer or as a brunch entree when topped with poached eggs.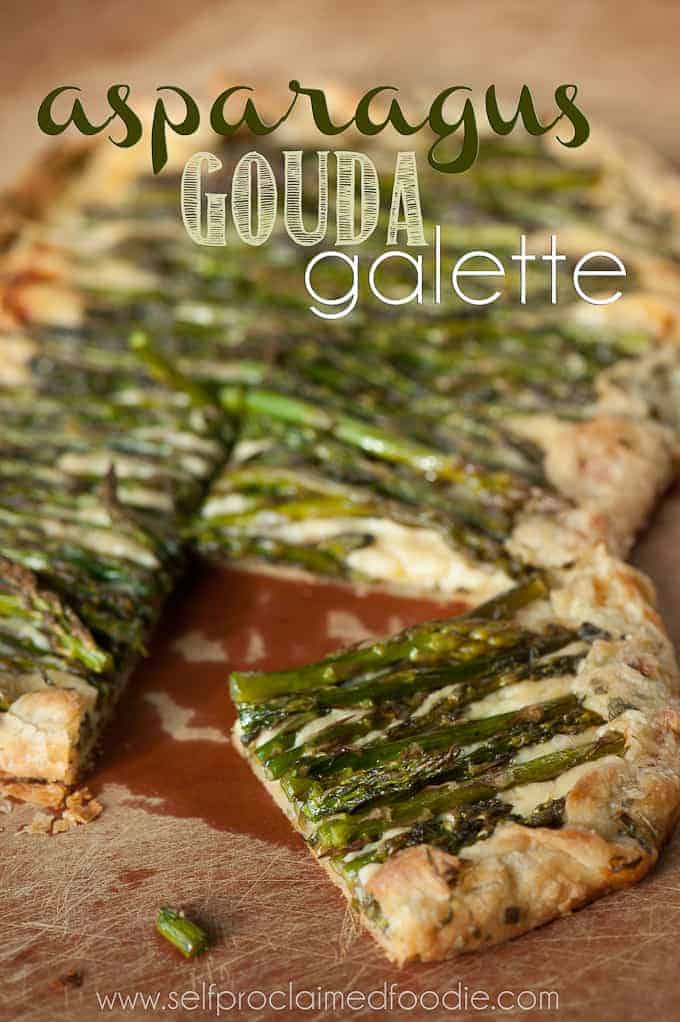 This asparagus gouda galette was one of those recipes I was especially proud of because I just made it up and it turned out really well. More times than not, when I just make something up, its hit or miss. I'm happy to say that the herbed crust remained nice and flaky (the potential of un-flaky pie crust gives me actual anxiety) even after I worked in the herbs. See, my mom is the pie crust master and I'm taking very slow baby steps to master that process. So when she was at our house for a visit, I had her whip up a quick pie crust dough. 3 minutes and a big cloud of flour later, I had a beautiful dough waiting for me. Now what to do with it? I had a bunch of asparagus. My CSA produce box was full of it for a couple weeks in a row. I had already made a spring veggie mac n goat cheese and and an asparagus risotto. Besides whipping up some sort of asparagus soup that I wasn't sure I would like, I thought pie dough + asparagus would be an outstanding combination.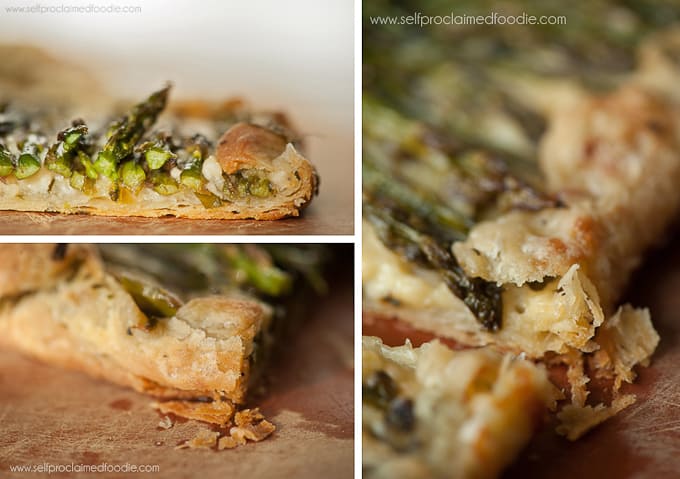 I didn't just want plain pie dough, so I went out to the garden and grabbed a big ol' handful of herbs. I failed miserably at my garden this year. I suck at gardening, but most years I can usually wing it. This year I put this expensive organic mulch on that seemed more like poison, so my tomatoes and zucchini, which are normally easy to grow, are beyond pitiful. It pains me to see everyone's lush garden pics on facebook. Anyhoo, my herbs were already established when I put the fancy poison mulch down so they're actually growing. I used whatever I could find – basil, chives, oregano, rosemary, marjoram, thyme. Then I minced that up and folded them into the crust. I wish I had taken a photo because it was beautiful. The recipe calls for both gouda and parm. I cheated a bit and used a gouda parm blend from Trader Joe's. I love their combo cheeses.
This was really delicious on its own and will surely impress anyone, but when we topped it with poached eggs. Oh my god. You know how hollandaise always pairs well with asparagus? Well, hollandaise is basically egg yolks, butter and lemon juice. When the yolks from the poached eggs ooze out all over this galette, I was pretty sure I got a glimpse of what heaven might be like.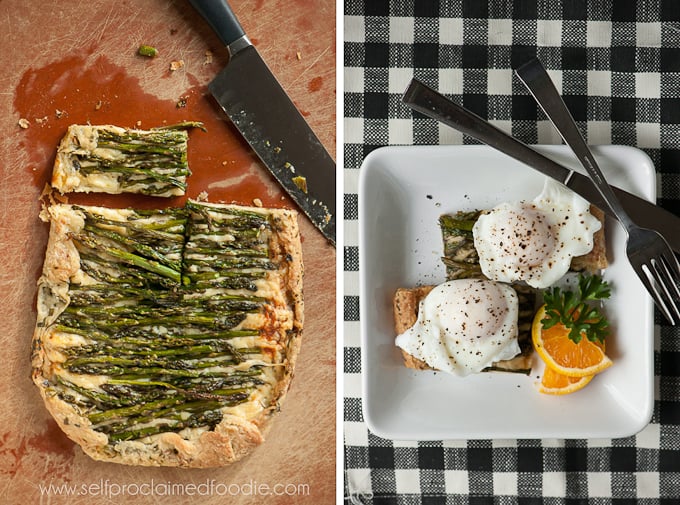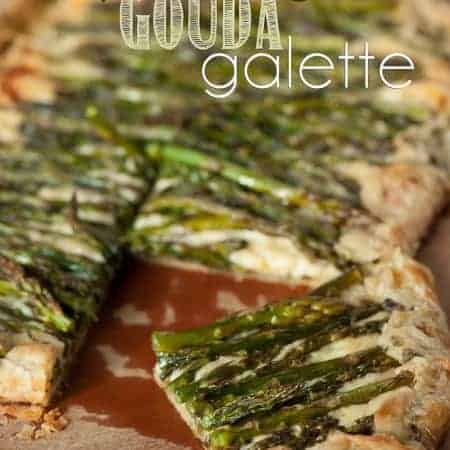 Asparagus Gouda Galette
Asparagus Gouda Galette is a delicious, rich, flaky dish that can either be served as an appetizer or as a brunch entree when topped with poached eggs.
Print
Pin
Rate
Ingredients
1/2

cup

minced herbs

basil, chives, thyme, marjoram, oregano, rosemary, or any combination

2

cups

gouda

shredded

1/2

cup

parmesan

shredded

1

pound

thin asparagus

bottoms trimmed

1

tablespoon

olive oil or olive oil spray

Optional: poached eggs
Instructions
Preheat oven to 400 degrees F.

Make a single

pie crust dough

. Gently fold in the minced herbs, handling the dough with care to ensure it will turn out flaky. Roll dough out onto lightly floured baking sheet into a 10x16 inch rectangle shape.

Spread shredded gouda and parmesan over the dough, leaving a 2 inch space around the edges.

Arrange the asparagus over the gouda, alternating directions, in a single layer until all of the cheese has been covered.

Fold up edges over dough over the ends of the asparagus, overlapping and sealing edges as you move around the rectangle.

Lightly drizzle or spray olive oil over the surface.

Bake for 25-30 minutes or until golden brown.

Slice and serve as appetizer or top with

poached eggs

for brunch.