Create a fall classic by making this rich and decadent Apple Compote Vanilla Bean Cheesecake, complete with a gingersnap crust and all the right spices.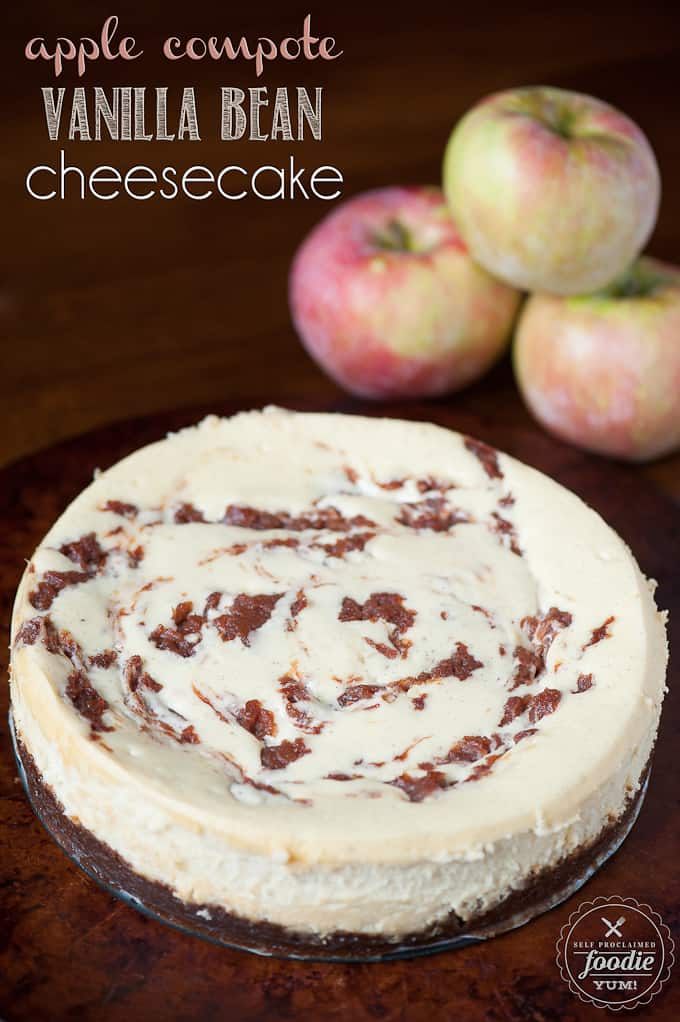 With all the things I make, I usually have an origin to their beginnings. This one started when I went a little crazy and made a ton of homemade vanilla bean honeycrisp applesauce. You see, when I made my applesauce I put everything in the slow cooker on high for 4 hours and, BAM, it turned out perfect. I had so many apples that I had to make like 6 different batches. By the time I put in my last batch before bed, I figured 4 hours on high was the same as 8 hours on low, right? Wrong. When I woke up, I had this wonderfully flavorful dark applesauce. It wasn't burnt, it was just darker and more rich than what I like in my typical applesauce. So, what was I to do? Make an apple compote vanilla bean cheesecake, of course.
I consulted my friend and one of the best bakers I know, Mindy, who owns and operates Decadent Creations, about the best cheesecake recipe she had and she sent on over her version of vanilla bean cheesecake. I thought it would be more "fall" if I were to swap out the graham cracker crust with a gingersnap crust, and oh man, was that the right decision. I also didn't want to compromise the textural integrity of the cheesecake with applesauce that had too much liquid, so I just strained my overcooked applesauce, kept the thick compote for this recipe, and saved the leftover cider to make some delicious Maple Bourbon Apple Cider.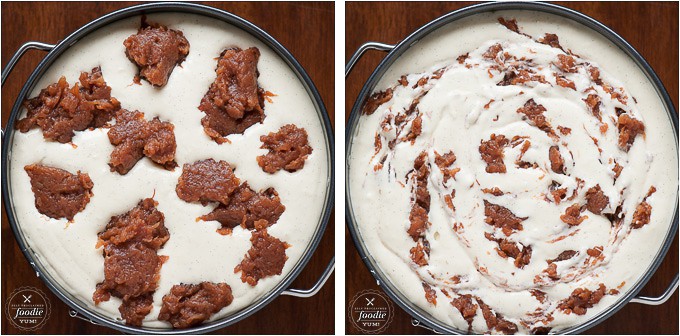 Once I prepared the springform pan, molded the gingersnap crust in the bottom, poured in the cheesecake mixture, I put big dollops of apple compote on the top. Then I took a butter knife to swirl it around the best I could. You can really use as much apple as you want depending on the amount of apple you want to taste. I feel like the amount I used was a nice balance between rich vanilla bean cheesecake and the wonderful fall flavors of slow cooked spiced apples and spicy gingersnaps.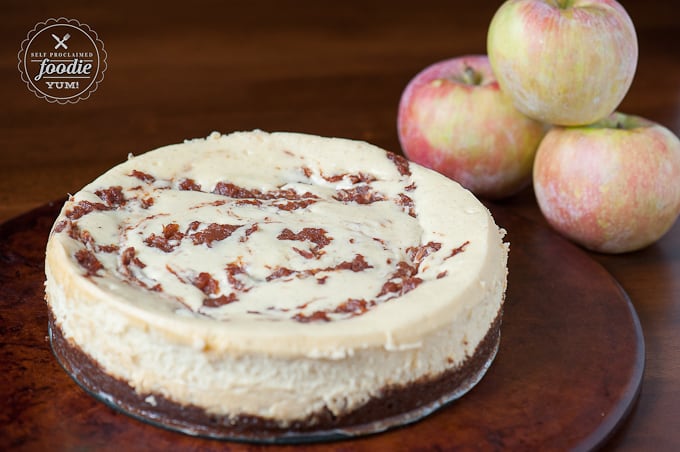 Is it weird how excited I get every time I see vanilla bean seeds in recipes? Every time I bake with them you will get a close up macro shot. I cannot get enough vanilla bean in my life.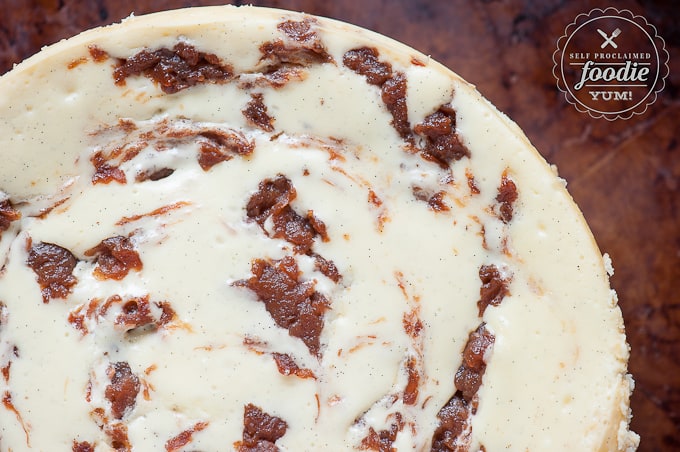 As this recipe nears its completion, you need to give it some jiggles to make sure it has set. You only want it to barely jiggle as it will continue to set as it cools. Typically I like cheesecake, but I don't love it. Something about it makes me gag. But this cheesecake was so much better than so many I've tried. My convert-foodie-husband said it was the best cheesecake he's ever eaten. This is an impressive compliment considering he never holds back on critical critique.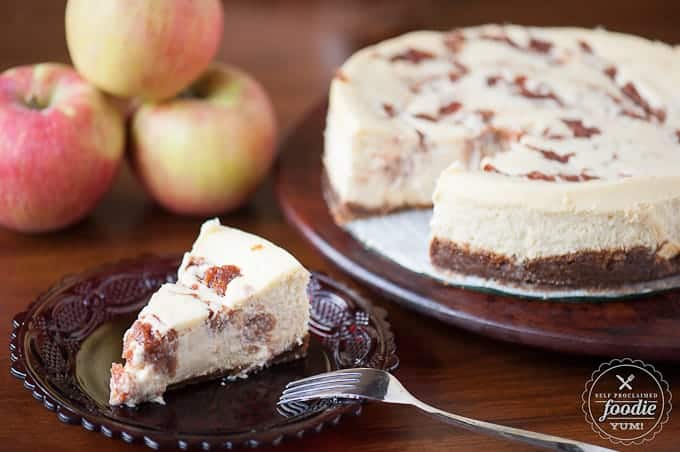 You'd better believe I always eat what I make, and that typically happens the second I put my camera down. I'm kind of a pig that way. No shame here. When I came up for air half way through inhaling that first piece, I figured I'd snap one last photo to show you how beautiful it turned out with the creamy white vanilla bean speckled filling and luscious globs of that wonderful apple compote. YUM!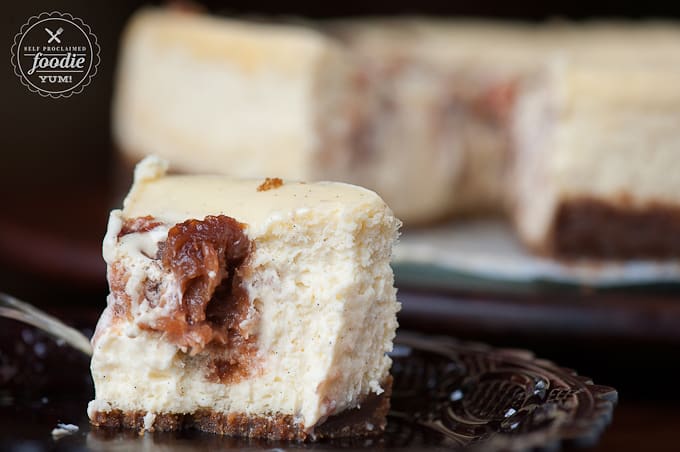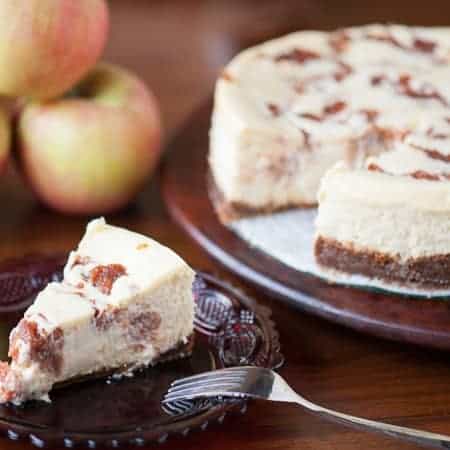 Apple Compote Vanilla Bean Cheesecake
Create a fall classic by making this rich and decadent Apple Compote Vanilla Bean Cheesecake, complete with a gingersnap crust and all the right spices.
Print
Pin
Rate
Ingredients
Apple compote:
4

large honeycrisp apples - peeled

cored, sliced

1

vanilla bean pod

scraped with seeds

1

cinnamon stick
Crust:
10

ounces

ginger snap crumbs

10

tablespoons

unsalted butter

melted
Cheesecake:
24

ounces

cream cheese

1 1/3

cup

sugar

3

eggs

whole

3

egg yolks

3

teaspoons

cornstarch

1/2

teaspoon

salt

2

teaspoons

vanilla extract

1

vanilla bean pod

scraped

1/2

cup

heavy cream

1 1/2

teaspoons

lemon juice
Instructions
To make the compote:
Cook apples, vanilla bean pod with scraped seeds, and cinnamon stick in slow cooker on low heat for 8 hours. You may also cook them on the stove over medium low heat, covered, until extremely soft and turn into a applesauce like texture when stirred. Strain to separate compote from juice. Reserve juice for another use or just drink it. Chill compote in refrigerator until ready to use.
To make the crust:
Prepare 9" springform pan by lining bottom with a 9 inch parchment round.

To make the gingersnap crumbs, pulse in food processor until you only see fine crumbs, about 1 minute.

Thoroughly combine crumbs and melted butter. Press an even layer firmly into bottom of pan.
To make the cheesecake filling:
In a stand mixer bowl, beat cream cheese on medium high speed with the paddle attachment until completely smooth and fluffy, scraping occasionally, about 3 minutes.

Add the sugar and cream mixture until well combined. Scrape again.

Add whole eggs and egg yolks. Mix until combined. Scrape again.

In a separate bowl mix cornstarch, vanilla extract, vanilla bean pod with scraped seeds, heavy cream and lemon juice. Stir very well to get any and all cornstarch lumps out. Combine well with the cream cheese mixture. Prior to pouring batter, remove vanilla bean pod.
To bake cheesecake:
Preheat oven to 350 degrees F.

Pour cheesecake batter onto crust in springform pan.

Spoon large dots of apple compote on top of cheesecake batter. Use a butter knife to create a swirl design between compote and cheesecake batter.

Bake at 350 degrees F for 10 minutes. Reduce heat to 275 degrees F and bake and additional 45-50 minutes.

Chill overnight before removing from springform pan.