I've rounded up delicious and romantic recipes for 25 Valentine's Day Treats featuring heart shaped food as well as red velvet, chocolate and berries.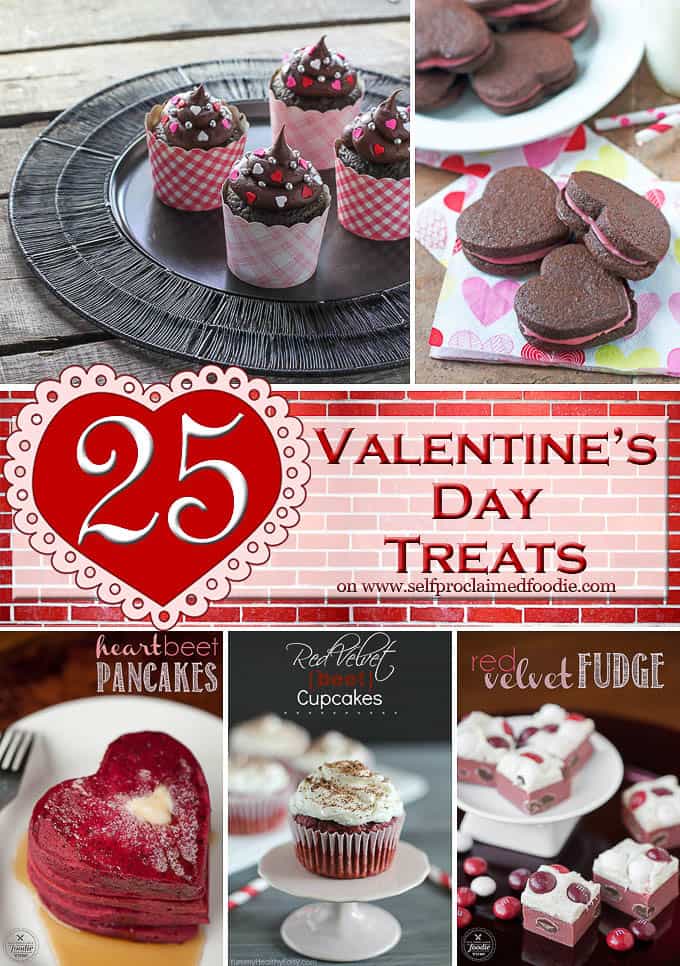 Valentine's Day has gotten so commercial over the years. In my younger years, the thought of Valentine's Day was completely depressing to me. Mostly because I was usually boyfriend-less on Valentine's Day, or I was with a less than perfect guy who didn't do anything special. These feelings continued into my 30s even after I was married. My husband has never been the type of person to do anything on Valentine's. In fact, I remember a few years back when he handed me a "gift" the day after Valentine's… it was a Snoopy Valentine's mug that he got 50% off because of the day-after sale. Romantic, eh? I totally resented that stupid cup at the time, but its one of my favorites now. Then, something miraculous happened. The two of us really needed a special night away. Last year we stayed at these luxury cabins in the Columbia Gorge. We didn't plan for it to happen, but the one night we spent away was Valentine's Day. We, only because I wanted to, went to some mineral baths in the evening. For me, that part was heaven. For him, he kept his eyes down and his junk covered in the men's bath house. Then, we went back to the cabin and enjoyed my most favorite romantic meal which includes lots of wine, a variety of cheeses, cured meats, crusty french bread, olives, and fresh juicy fruits. For dessert we had this amazing box of assorted goodies from Decadent Creations. We relaxed and we enjoyed. Well, my friends, I'm no spring chicken and have lived a reasonably long life thus far, and I can tell you I no longer hate Valentine's Day. Last year was so perfect that I already let him off the hook for this year and said that last year was so wonderful he gets two years of credit.
As with every single event or holiday, the very best thing is the treats. This post will not disappoint. Head on over to the next page where I will share with you 25 of my favorite heart shaped, red velvety, chocolate-y, berry filled recipes.