I've rounded up the best 25 Spring Asparagus Recipes including mouthwatering breakfasts, tasty appetizers, easy side dishes, yummy main dishes, and soups.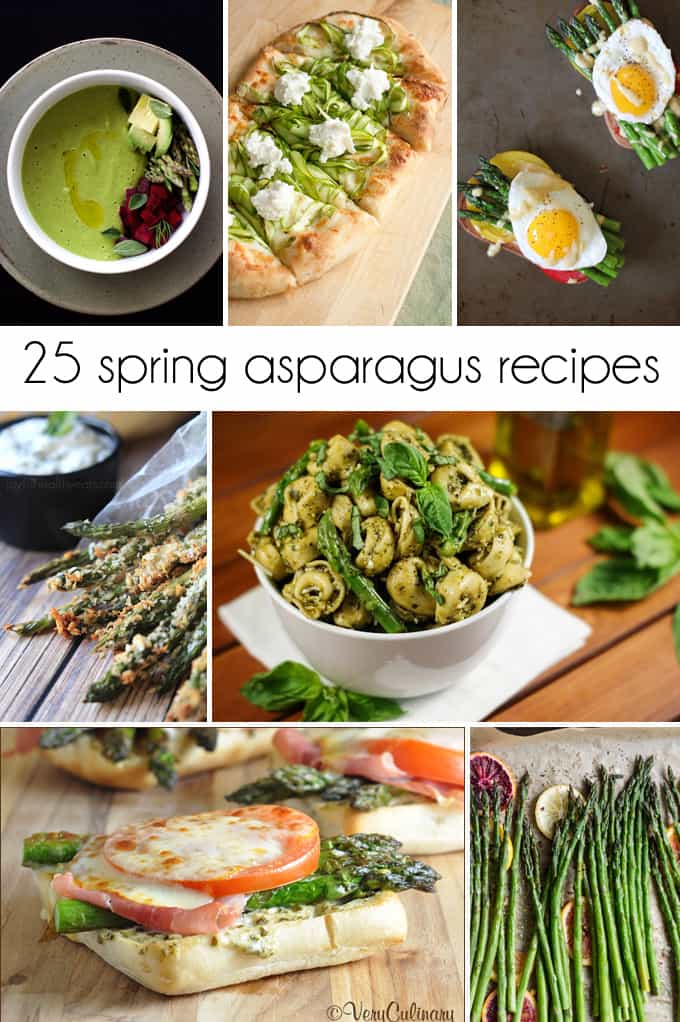 We'll start with five fantastic breakfast recipes that feature this beautiful green stalk.
Everyone knows breakfast is the most important meal of the day and that we all need to eat lots of veggies, so why not kill two birds with two stones and eat a delicious healthy breakfast with lots of asparagus?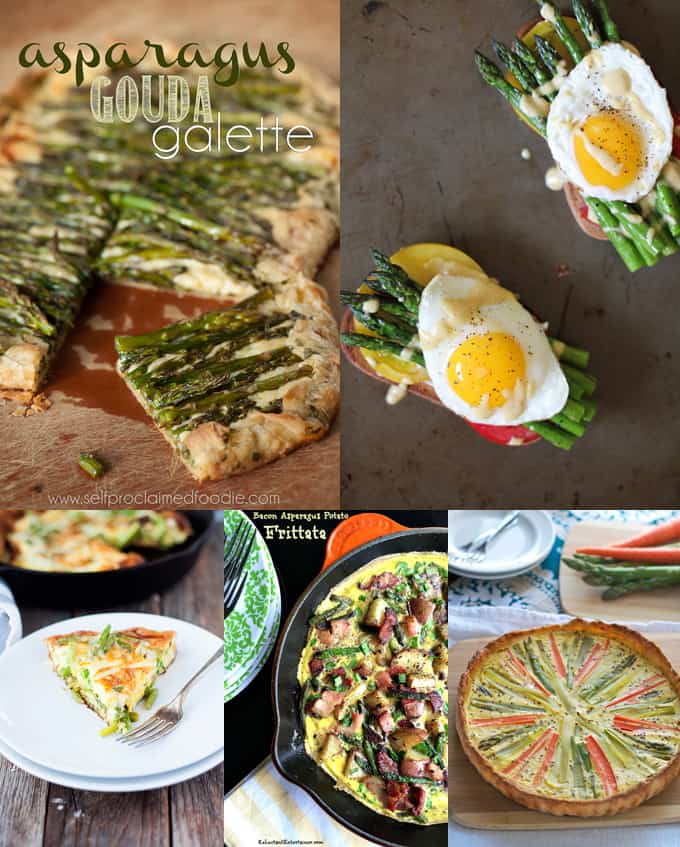 Top Row: Asparagus Gouda Galette | Roasted Asparagus Tomato Toasts with Mustard Aioli
Bottom Row: Asparagus Frittata | Bacon Asparagus Potato Frittata | Sunburst Spring Vegetable Quiche
Everyone loves a good appetizer. Whether you're entertaining or just don't feel like eating a traditional meal, there's something so wonderful about a mouthwatering appetizer. Using asparagus in your appetizer recipes is a healthy and delicious way to incorporate a green vegetable into these finger foods.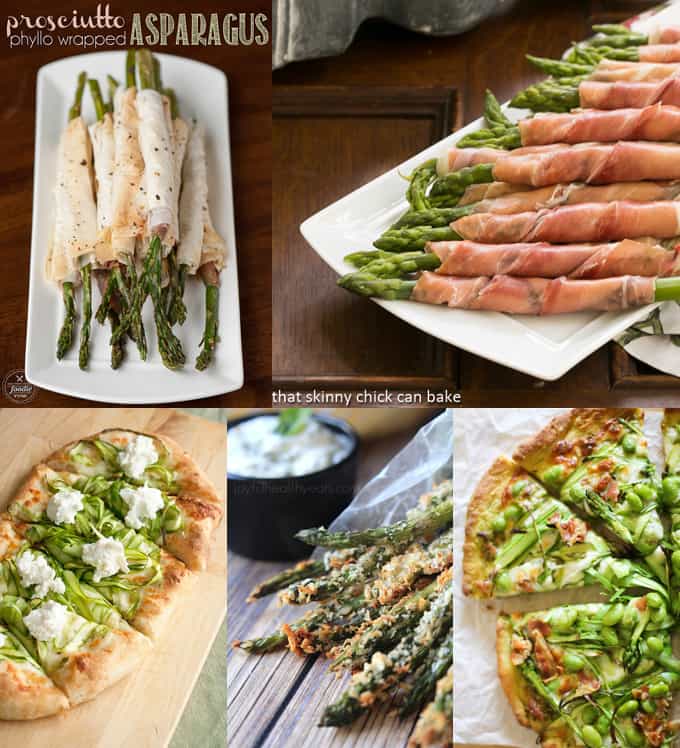 Top Row: Prosciutto Phyllo Wrapped Asparagus | Asparagus Wrapped in Prosciutto
Bottom Row: Shaved Asparagus Pizza | Baked Asparagus Fries with Lemon Herb Aioli | Asparagus Pancetta Pesto Pizza
And here we have how you probably know asparagus the best: in a side dish. Here are five recipes to inspire you for your next meal where you'd like to have asparagus on the side.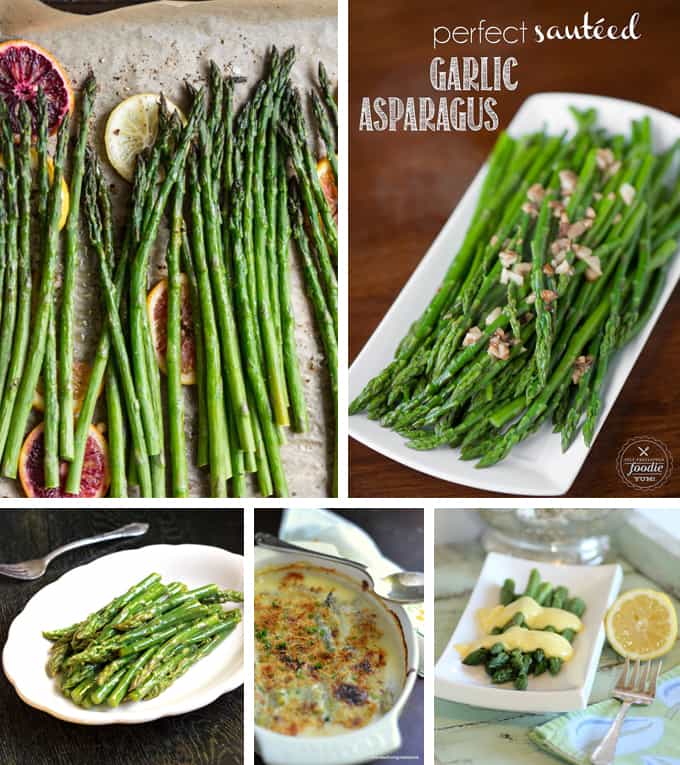 Top Row: Oven Roasted Asparagus | Perfect Sauteed Garlic Asparagus
Bottom Row: Easy Asparagus | Asparagus Gratin | Asparagus with Hollandaise Sauce
Have you ever featured asparagus in your main dish? On the next day I'll show you some recipes for inspiration for your next lunch or dinner.
There are so many ways to incorporate asparagus into your main dishes. Serve up these healthy and tasty meals from pasta to casseroles that are loaded with asparagus.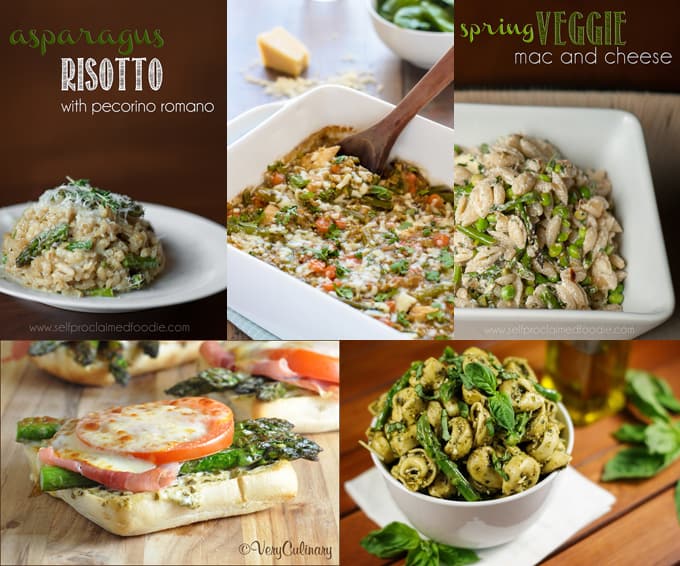 Top Row: Asparagus Risotto with Pecorino Romano | Asparagus Casserole | Spring Veggie Mac and Cheese
Bottom Row: Asparagus Muenster Melt with Pesto Spread | Pesto Tortellini Salad with Asparagus
And last but not least, I have five creamy savory asparagus soup recipes for you.
Have you ever made asparagus soup? Not only are they full of this vibrant green healthy veggie, but they are super tasty as well.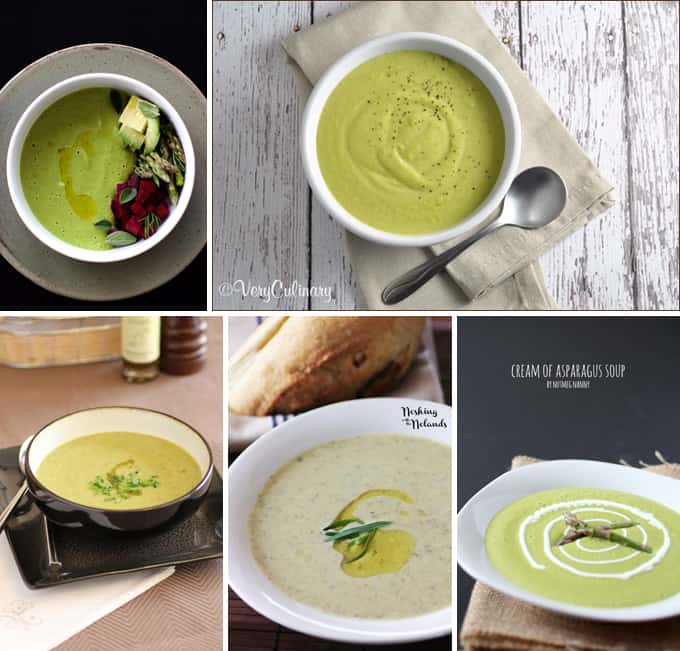 Top Row: Asparagus and Pea Soup | Creamy Asparagus Soup
Bottom Row: No Cream of Asparagus Soup | Roasted Asparagus Brie Soup | Cream of Asparagus Soup