I've rounded up 25 Game Day Recipes featuring bacon (of course), chili, dips, sliders and sweets that will complete any tailgating or Superbowl party.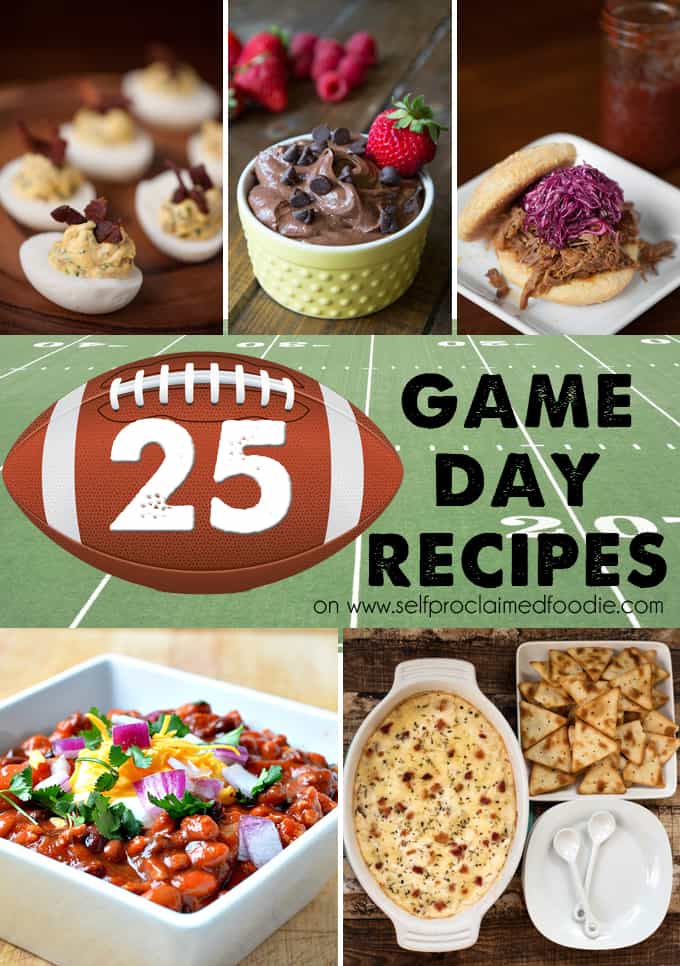 Let's be honest, I really don't care about football. What I do care about is the game day grub. I've searched far and wide to bring you the very best game day recipes the internet has to offer. For your reading pleasure, I've organized them into the five game day food groups: bacon, chili, dips, sliders, and sweets. Head to the next page and prepare to indulge…


Ah, bacon. It is deserving of its own food group, regardless of whether it is enjoyed during a game, for breakfast, in your dinner, floating in a spicy bloody mary, or as a delicious snack (yes I think bacon is an appropriate snack). Even though I picked my favorite bacon recipes to feature here, don't be surprised when you see it pop up in more than one category later in this post… including in the sweets.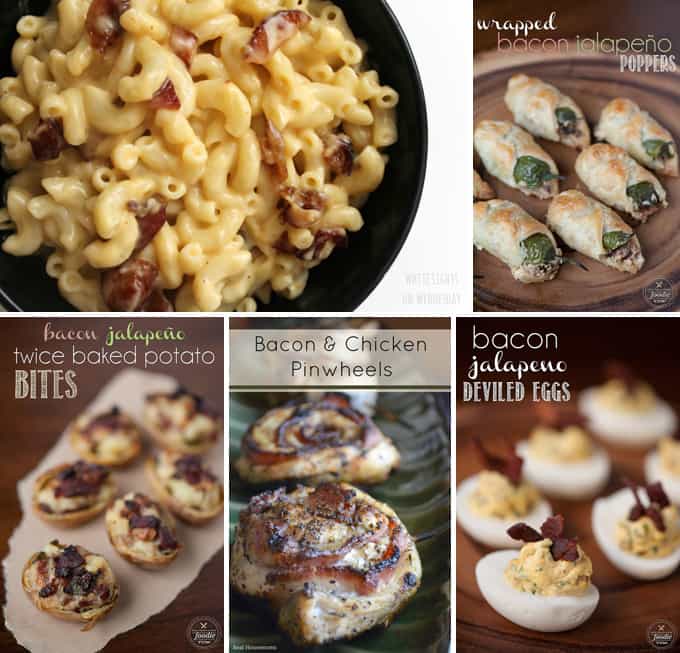 Top Row: Jack Daniels Bacon Mac n Cheese | Wrapped Bacon Jalapeno Poppers
Bottom Row: Bacon Jalapeno Twice Baked Baked Potato Bites | Bacon & Chicken Pinwheels | Bacon Jalapeno Deviled Eggs
Head on over to the next page to see some delicious CHILI recipes.


Chili is pretty much a necessary component of any game day feast. Here are five mouth watering recipes that allow you to enjoy your chili straight from the bowl or just by using your fingers.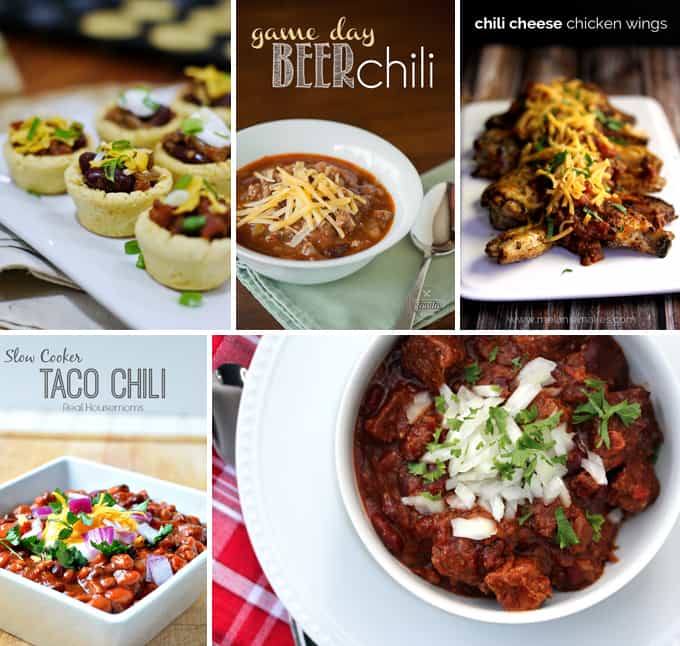 Top Row: Chili Bites in Mini Corn Bread Cups | Game Day Beer Chili | Chili Cheese Chicken Wings
Bottom Row: Slow Cooker Taco Chili | Chili con Carne
On the next page you'll find some recipes for unbelievably good DIPS.


Ah, dips. Why must you torment me so. Once I start eating you, I cannot stop. So full of flavor, you coat my chips and/or bread so well. I love you.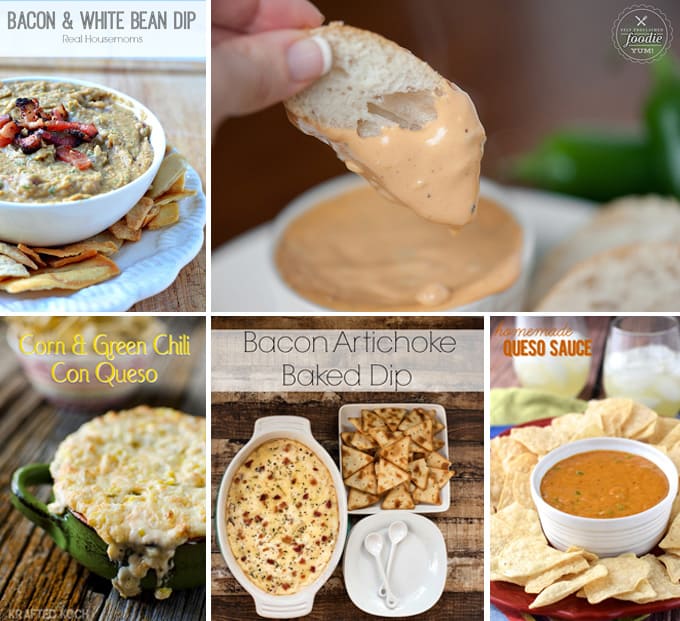 Top Row: Bacon & White Bean Dip | Bacon Jalapeno Football Fondue
Bottom Row: Corn & Green Chili Con Queso | Bacon Artichoke Dip | Homemade Queso Sauce
You can't forget the SLIDERS. From pulled pork to burgers to vegetarian sliders, I've got you covered on the next page.


My mouth is totally watering right now just thinking of all of these amazing sandwiches, any of which can be a full on meal or made teeny tiny as bite sized sliders. These are crowd pleasers, for sure.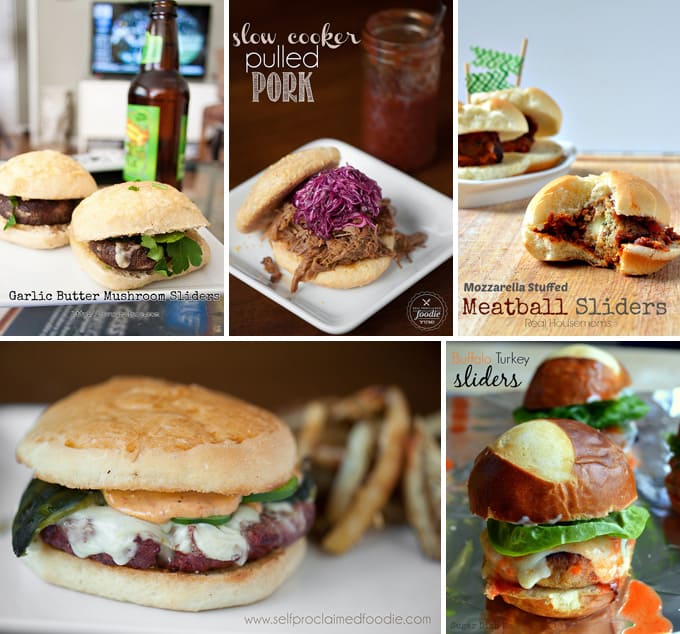 Top Row: Garlic Butter Mushroom Sliders | Slow Cooker Pulled Pork | Mozzarella Stuffed Meatball Sliders
Bottom Row: Poblano Jalapeno Chipotle Burger | Buffalo Turkey Sliders
And finally, on the next page, you will find five of the best recipes for game day SWEETS.


In my humble opinion, a game day sweet must fall into one or more of the following three categories: bite sized, eat it with your hands, or you dip something in it. I've got you covered with these naughty treats.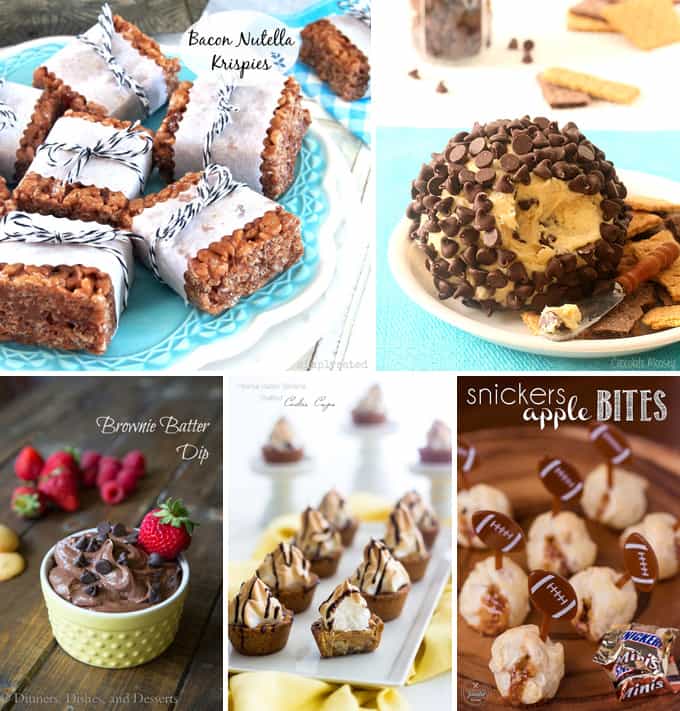 Top Row: Bacon Nutella Krispies | Chocolate Chip Cookie Dough Cheese Ball
Bottom Row: Brownie Batter Dip | Peanut Butter Banana Stuffed Cookie Cups | Snickers Apple Bites