Perfect for a quick lunch or dinner, this single serving 10 Minute Lobster Pasta with tomatoes, basil and garlic is absolutely delicious.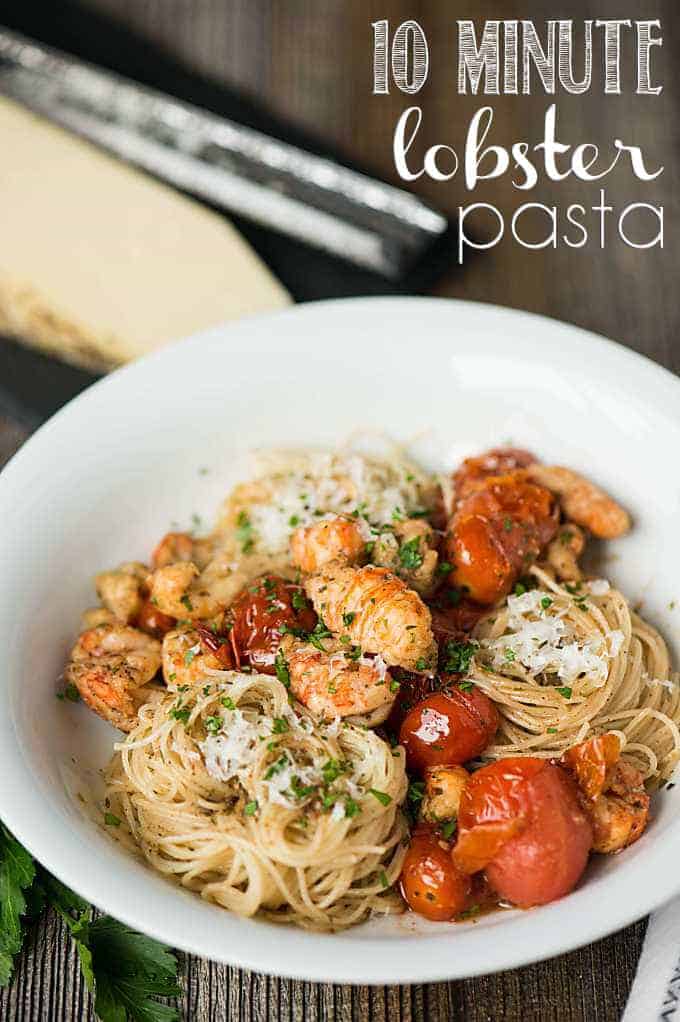 What do you eat for lunch on a typical busy work day? Leftovers? PB&J? Well, fret no more. You can enjoy this mouthwatering meal for lunch or a super quick dinner because it only takes 10 minutes. I kid you not.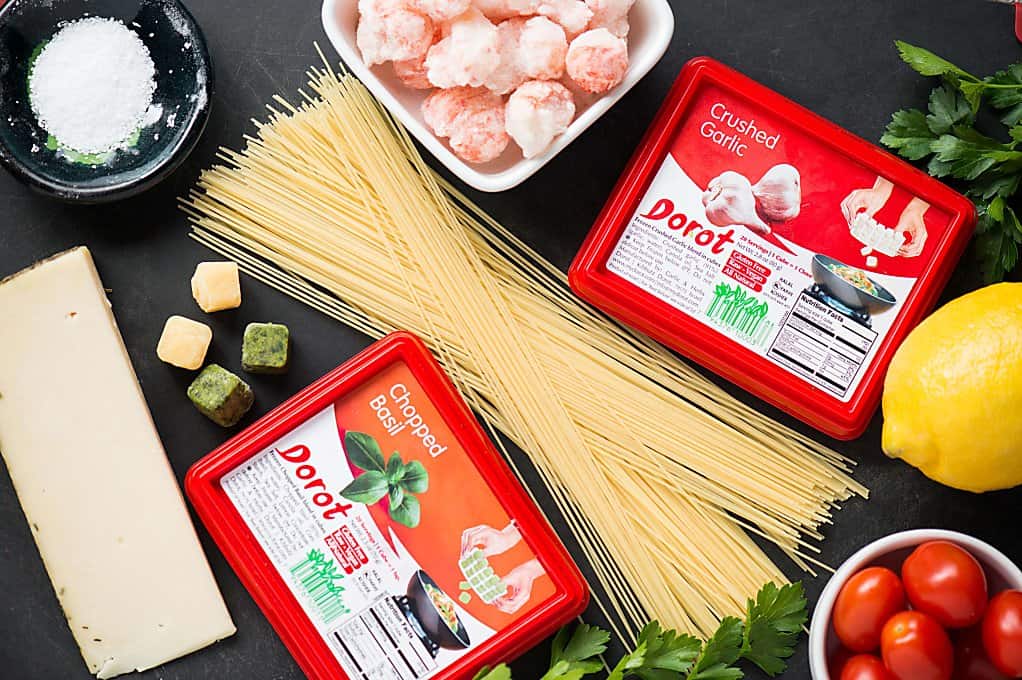 MY OTHER RECIPES
How do I accomplish this astonishing feat? Super easy. Allow me to share a few tricks I have up my sleeve. First, use Dorot frozen herbs including their Basil and Garlic. No need to store fresh herbs on hand when you can have these at the ready in the freezer and they last well over a year!  Have you ever used Dorot herbs in your cooking? If yes, you already know how wonderful they are. If not, you will be thanking me by the end of this blog post.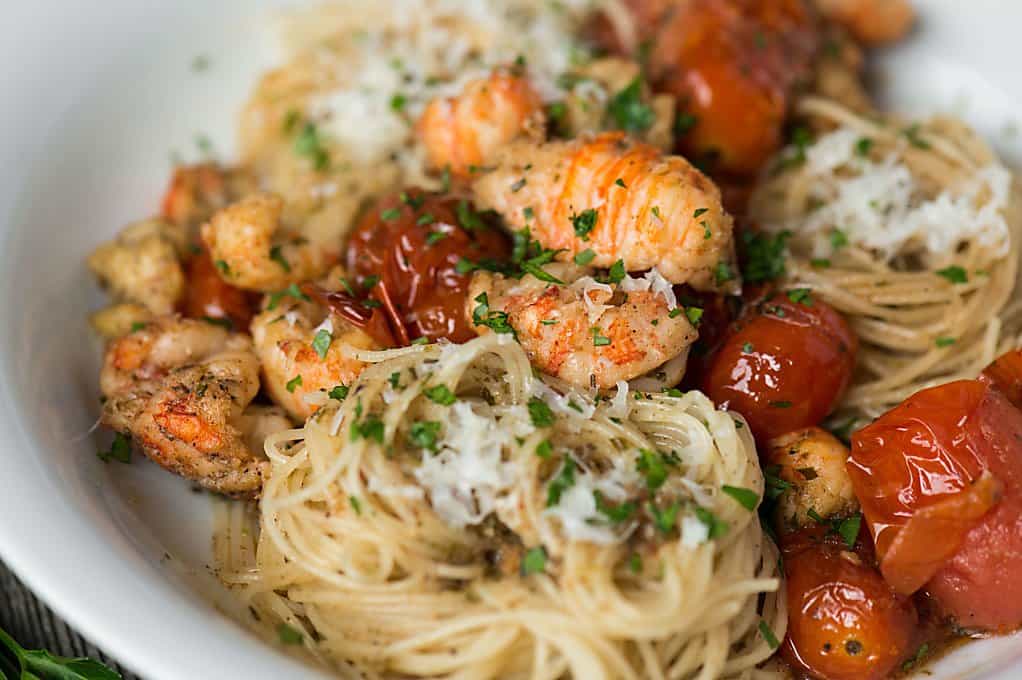 Second, always have a bag of frozen langostino at the ready. Now, I know I call this 10 Minute Lobster Pasta, and langostino isn't technically lobster, but it tastes just like it (in my opinion), its much more affordable, and the small pieces are super convenient and cook up fast.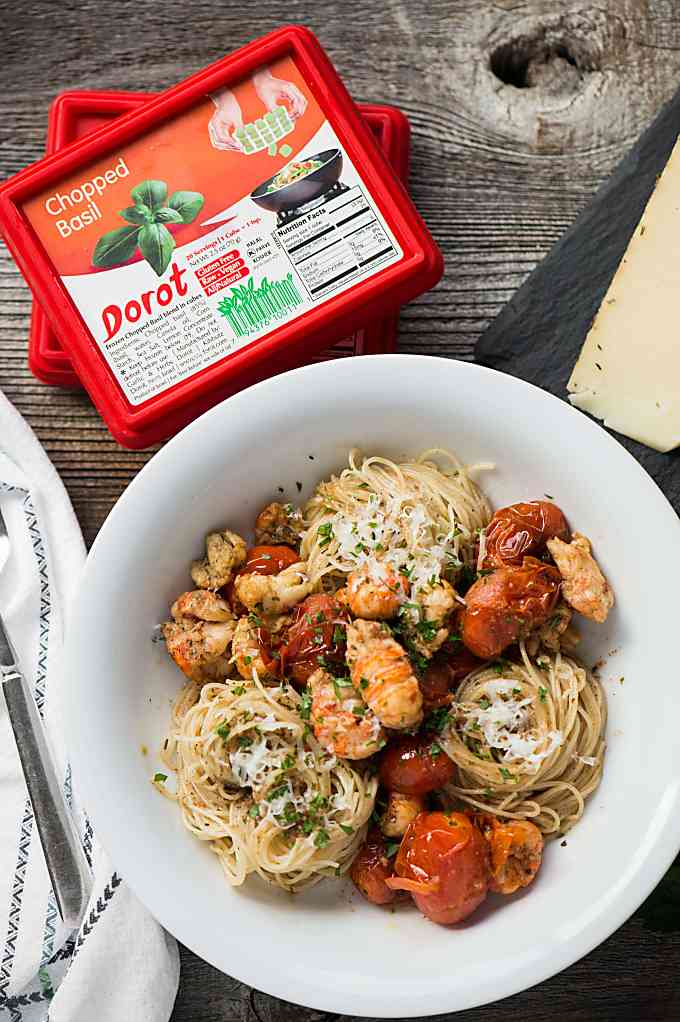 Third, you must use cappelini pasta because it only takes 3 minutes to cook and frankly, it tastes the best with this meal.

10 Minute Lobster Pasta
Perfect for a quick lunch or dinner, this single serving 10 Minute Lobster Pasta with tomatoes, basil and garlic is absolutely delicious.
Ingredients
2 tablespoons butter
2 tablespoons olive oil
1/2 cup whole cherry tomatoes
3 ounces langostino, frozen
2 cubes Dorot Basil
2 cubes Dorot Garlic
2 ounces capellini (angel hair) pasta
garnish with a squeeze of lemon, fresh parsley, grated asiago, and salt & pepper to taste
Instructions
Over high heat, start a covered pot of salted water to boil for the pasta. Do not add pasta yet.
In a medium sized skillet, heat butter and olive oil over high heat. When it starts to bubble, add tomatoes and toss occasionally to blister the skin, about 3-4 minutes.
At this point, add the pasta to the boiling water. It should only take 3 minutes to cook.
While the pasta is cooking, add the langostino (lobster meat... well sort of) along with the frozen Dorot basil and garlic cubes to the tomato mixture. Toss to combine, reduce heat to medium, and cook 3 minutes.
Drain the pasta and add to the mixture. Toss to coat and garnish with lemon, parsley, and cheese, as desired. Serve immediately.
Dorot herbs
effortlessly add delicious flavor to your dishes. What they are is a signature line of pre-portioned fresh garlic and herbs. First, they start by growing their own garlic, basil, cilantro, parsley and ginger.  At peak freshness they pull their products from the fields, process and flash freeze them into their convenient trays within 90 minutes of harvest. That is much better than I ever did with my own garden!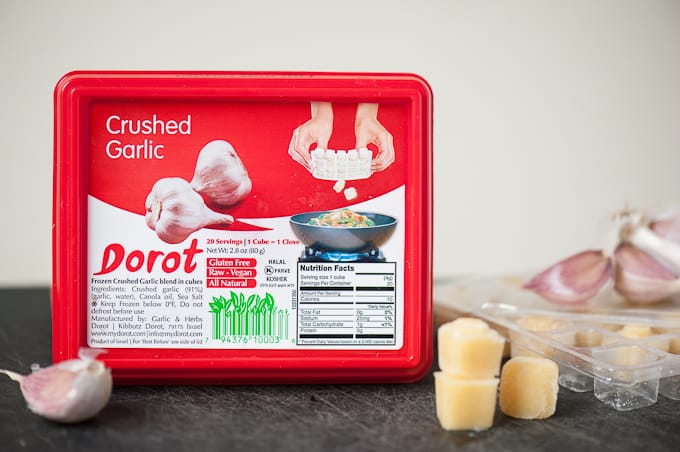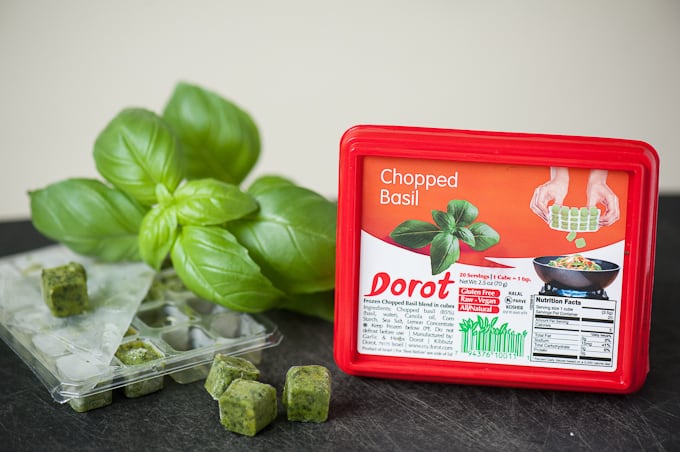 Let's talk about where to find these wonderful additions to your cooking. These wonderfully delicious herbs are nicely nestled in the freezer section at Trader Joe's.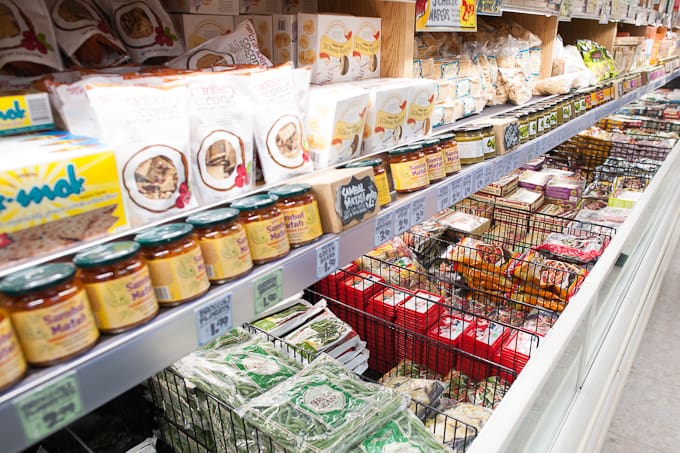 With a full-year shelf life you can have fresh Garlic, Onions and Herbs year round with the simple "pop" of the tray. Dorot pre-portions their garlic, onions and herbs which eliminates chopping and measuring, making it effortless to season and flavor your cooking.  I can't even begin to tell you how many recipes I make that require fresh herbs, and to have them always available in my freezer is my favorite kitchen hack.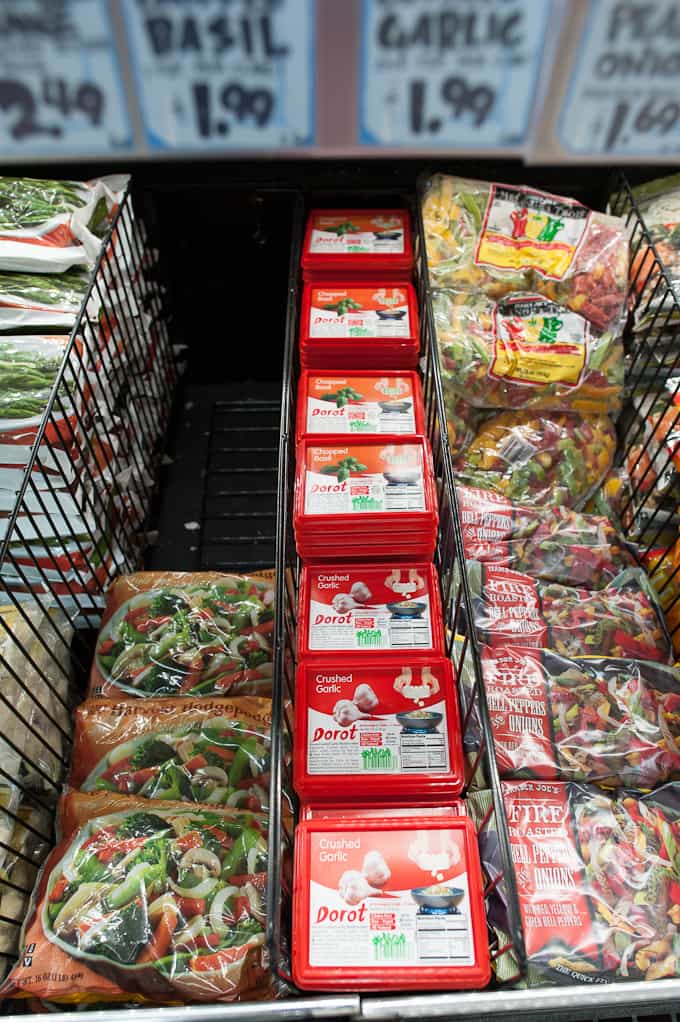 Did you know Dorot carries all of these varieties? Who needs a garden, right?
Crushed Garlic
Crushed Ginger
Chopped Basil
Chopped Parsley
Sautéed Glazed Onions
Chopped Dill
Chopped Cilantro
Chopped Chili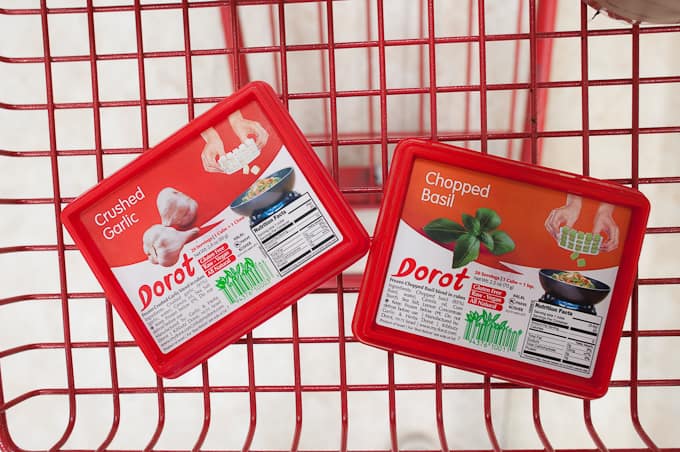 Dorot is happy to present a $1.00 off coupon for our new and long-time customers.