Winter ain't quite over yet, so I've rounded up 10 of the Best Soup Recipes to keep your family warm, well fed, and happy with the best known comfort food.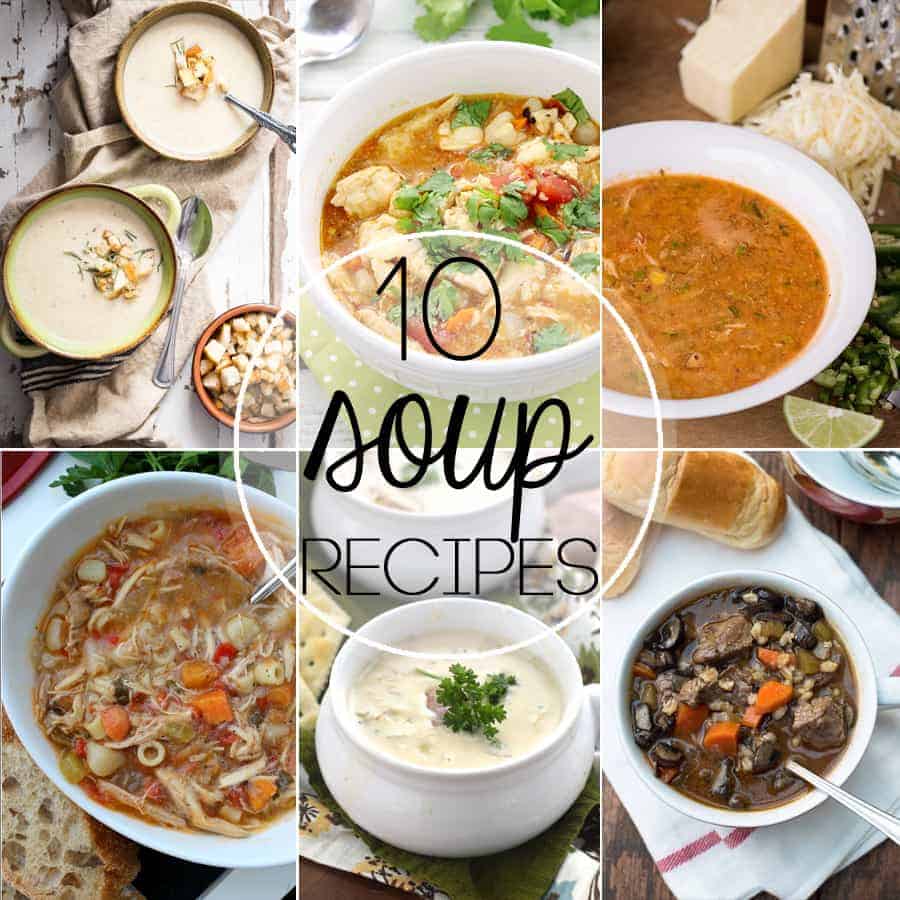 Can you believe its March already? I can't. Not one bit. Some of you know I blog for fun and I have a full time bread & butter (get it? food reference?) career that has nothing to do with food blogging. Well, it turns out February is the busiest month out of the entire year at my real job. I won't go into too much detail about what I do for a living because I tend to keep some things rather private because, of course, all the crazies out there look at soup recipe round up blog posts for personal information that they can use in all sorts of creepy ways, right? My point being that if you're going to have a single month be crazy busy and stressful at work, February is pretty much ideal. I mean, its not summer time where I'd rather be outside grilling, at the park, on a hike, on a bike, at the coast, (and this list could go on and on and on).  Its not fall where we're getting the kids settled into a new school year and I'm not in full blog mode which so happens to be early fall all the way through Christmas because that's when everyone, myself included, likes to put on our comfy clothes and create masterpieces in the kitchen. Lastly, its not spring, when the days start to get longer, the flowers start to bloom, and I start to come out of my seasonal depression funk and remember that life ain't so bad after all. No – if I could pick a single month that would be crazy hard and stressful at work, it would definitely be February, which is probably reason #43 why I love my full time career so much.
Now that you have all the background on how stressful my life was last month, you may 1) forgive me for the lack on new content on my site and 2) explore all these yummy soup recipes. Soup is what kept my family full with homecooked meals this past month when I was too tired and stressed out to think of anything new. I just took out the frozen turkey broth I had made after Thanksgiving and made my leftover turkey and wild rice soup.  I also used up some frozen beef stock that was in the freezer and made my favorite winter minestrone. Twice. Bottom line: soup is good food.

MY OTHER RECIPES
Sicilian Chicken Soup, A Dash of Sanity
Slow Cooker Chicken Posole, Love Bakes Good Cakes
Chicken Tortilla Soup, Self Proclaimed Foodie
Roasted Parsnip Soup, Foodness Gracious
Copycat Chili's Chicken Enchilada Soup, Tried and Tasty
Slow Cooker Meatball Soup, Mommy Hates Cooking
Slow Cooker Vegetable Beef Barley Soup, From Valerie's Kitchen
Lasagna Soup, EazyPeazyMealz
New England Clam Chowder, Wine and Glue
Tomato Noodle Soup, Around My Family Table